Ben's Cat: 6 races to remember him by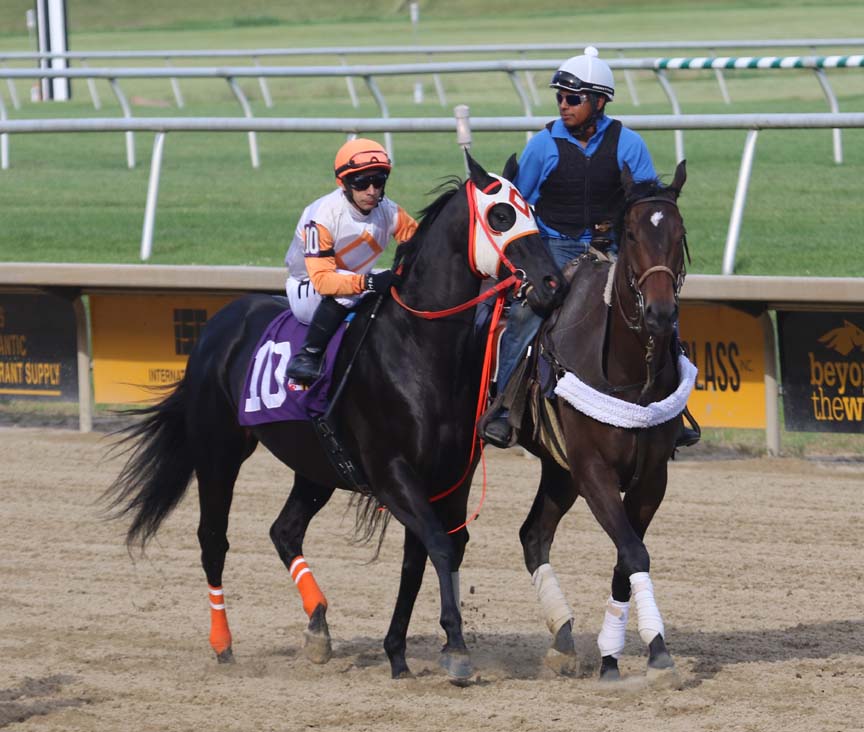 by Frank Vespe
With the Ben's Cat celebration coming up Saturday at Laurel Park, we dipped into the archives to find some of his best races. Following, six races to remember him by:
#6. 2014 Fabulous Strike
"What an outstanding performance!"
The 2014 Fabulous Strike wasn't Ben's Cat's last great performance; he still had a few more of those up his sleeve. But it was the last win of his last great season.
In 2014, at age eight, Ben's Cat ran off four wins and three other in-the-money finishes from eight starts, logging $458,000 in earnings that season — the last of four straight years he'd earn at least that much. And while he'd finished a disappointing fourth in the Grade 3 Jaipur at Belmont Park on Belmont day, he return to run first and second in Parx Racing's two graded stakes that same year.
And then he finished the season with this gem, at Penn National on Thanksgiving eve, romping to an easy victory under Julian Pimentel at odds of 3.20-1.
#5. 2012 Maryland Million Turf Sprint
"What a cool cat he is!"
Heros Reward was an accomplished runner in his own right, winning 16 times in his career, earning more than $1.3 million, and winning multiple graded stakes in a career that, coincidentally, also continued into his 11-year-old season. But when he and Ben's Cat faced off in this event — with Heros Reward at the ripe old age of 10, and Ben's Cat a spry six-year-old — there was no question who was king of the local turf sprinting hill.
The win was Ben's Cat's third consecutive in the event, and such was his dominance in this handicap race that he was assigned 128 pounds — 11 more than any of his rivals, 12 more than Heros Reward — and still went off at 2-5. Once again with Pimentel in the irons, Ben's Cat surged to control nearing the furlong marker and was never threatened.
Ben's Cat never did win a fourth Maryland Million race, however. Though a fourth win would have been a record, Maryland Million, Ltd. spiked the Turf Sprint following this running and shortened the Turf to one mile. That left trainer King Leatherbury betwixt and between — choose the slightly too long Turf or the slightly the wrong surface Sprint on the dirt. In 2013 and 2014, he chose the Turf and both times Ben's Cat led late before settling for second. In 2015, he tried the Sprint with a similar result, and in 2016, again in the Sprint, Ben's Cat finished up the track.
That nevertheless left him with a remarkable three Maryland Million wins and six consecutive in-the-exacta finishes in Maryland Million races.
#4. 2011 Grade 3 Turf Monster
"Ben's Cat is absolutely flying!"
When King Leatherbury bred Ben's Cat, he did not nominate him to the Breeders' Cup.
Why bother? The odds of a Maryland-bred of modest background — he was sired by Parker's Storm Cat, a stallion who soon thereafter washed out of Maryland altogether — making the Breeders' Cup were so tiny that the few hundred bucks it would have cost seemed likely to be money down the drain. When, because of a broken pelvis, Ben's Cat didn't even make the races until age four, Leatherbury's decision certainly seemed a wise one.
But when the now-five-year-old rallied along the outside under jockey Jeremy Rose to run down Perfect Officer late in the 2011 Turf Monster at Parx Racing, a so-called "win and you're in" race, Ben's Cat had secured himself a fees-paid spot in the Breeders' Cup Turf Sprint. But for one problem: he still had to be nominated, and while the nomination would have cost just a few hundred bucks when he was a baby, by this point it would have cost Leatherbury a cool hundred grand.
When Leatherbury couldn't put the funds together, Ben's Cat ended up the in the Laurel Dash — which, oddly enough, he lost, to the talented filly Jazzy Idea. Meanwhile, at Churchill Downs, three horses Ben's Cat had defeated in this race — Regally Ready, Perfect Officer, and Chamberlain Bridge — filled out the trifecta in the Breeders' Cup Turf Sprint.
#3. 2014 Grade 3 Parx Dash
"The incomparable Ben's Cat gets the nod!"
Lots of horses race for a long time. Very few maintain top-level form for a long time.
Yet Ben's Cat, who won his first stake at age four and his last age 10, is one of those who beat the odds, a fact made clear yet again in the 2014 running of the Grade 3 Parx Dash, when he closed fast on the outside under Julian Pimentel to pip favored Tightend Touchdown at the wire to score. The win was Ben's Cat's fourth and final in graded company.
Ben's Cat was a tough-luck second in the Turf Monster two months after this race. In his three subsequent graded starts, he could do no better than third. But here, on this day, there was no inkling yet that his best days were about to be behind him.
#2. 2010 Mister Diz Stakes
"This cat does it all!"
Back before he was, you know, BEN'S CAT, Ben's Cat was just another horse trying to find his way. And trainer King Leatherbury was just a conditioner trying to put his horse in spots he could win. To start with, those spots were all on dirt; Ben's Cat made his first four starts on dirt.
When the Maryland-bred Mister Diz Stakes came up, Leatherbury decided to give his talented pupil — with four win in four starts to that point — his first try on grass. That proved fortuitous; Ben's Cat romped in this race under Rosemary Homeister, Jr., and went on to establish himself as one of the foremost turf sprinters in the country and ultimately won this race an astonishing six consecutive times.
The rapidity of Ben's Cat's rise was particularly surprising. Leatherbury had debuted him in $25,000 maiden claiming company with the sound premise that no one was likely to claim a modestly-bred four-year-old just making the races in his first start. He won that pretty easily at 4.90-1, and then followed that up with another win against claiming rivals, this time at 6-1.
"I said, 'What are you doing?'" recalled Avon Thorpe, Leatherbury's longtime assistant, who thought from the get-go that Ben's Cat was good enough not to face claiming horses. "He was like, 'Avon, he's four-years-old.'  I said, 'I'm telling you, he's that good.'"
He was, in spades. He took a pair of allowance races on the dirt for his third and fourth consecutive, career-starting wins, and then he shifted to the turf for this facile score. Ben's Cat would ultimately start his career with eight consecutive wins before running second in a stake at Aqueduct later that year.
#1. 2016 Jim McKay Turf Sprint
"Here comes the Cat!"
At the end of the 2015 season, there were questions about whether it was finally time to retire Ben's Cat. He lost his last three starts of the year, including a fifth-place finish in the Grade 3 Turf Monster — a race he'd won twice before — and a dismal seventh-place result in the Fabulous Strike on Thanksgiving Eve at Penn National
But he hit the ground running in 2016, surging late — again — to win an allowance at Laurel Park by a neck. That put him back in the McKay, a race he'd won four previous times. Under jockey Trevor McCarthy, Ben's Cat surged late between horses to win by a neck, prompting track announcer Dave Rodman to exclaim, "2016 is the year of the Cat!"
This is the race that King Leatherbury points to as the one he considers most memorable. "There's no way he can win that race," Leatherbury says. "And he does. He gave me many thrills, but people still tell me that was the most exciting race they've ever seen."