Shore Bets: Monmouth Park July 8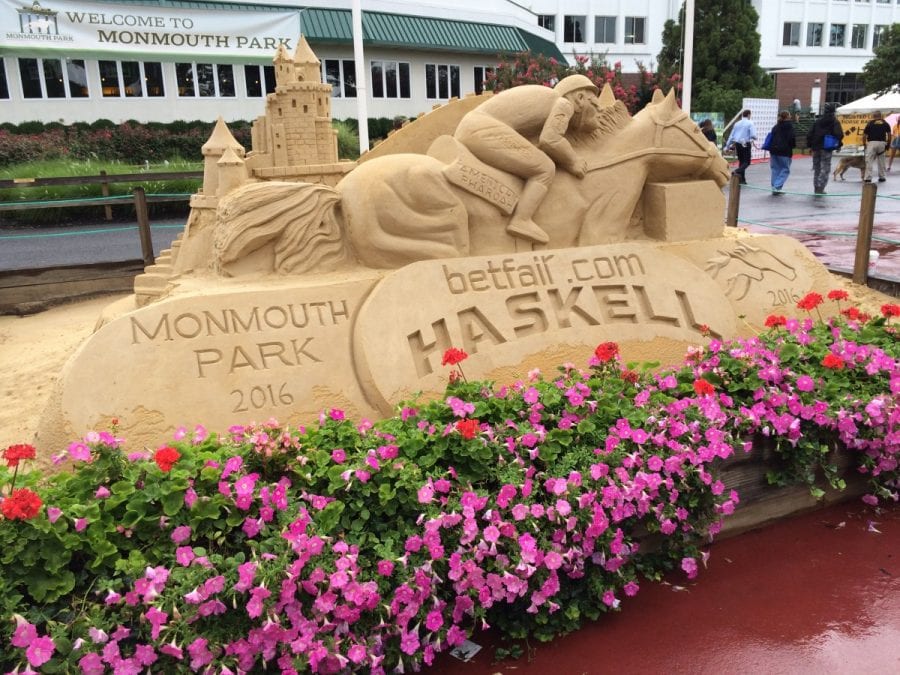 by John Piassek
Another Saturday of racing on the Jersey Shore beckons, with 11 races at Monmouth Park on the schedule. The first race is, as usual, going to go off at 12:50 PM EDT.
Race 1: Claiming $16,000 (n/w2L), 3yo and up, 1 Mile 70 Yards
2- One Step Closer: Maryland invader has won his last two races, both going gate-to-wire. Marylander Katie Davis comes down for the ride. She ought to move this gelding straight to the lead, and not look back.
3- Running for Ryan: You won't see too many of these around these parts: a New Mexico-bred! He was dull at Parx last out, but ran brisnet figures in the mid-70s steadily at Parx earlier in the year. He'll be stalking the pace.
5- Offlee Brawn: Takes a big step down in class from the n/w1x allowance level. Broke his maiden around two turns at Gulfstream Park more than a year ago, earning a figure of 83, so will have to refind that form to be a contender.
Race 2: Maiden Claiming $10,000, 3yo and up, 1 Mile
7- Howlin Mad Smith: Lost by just two lengths at Keeneland for $20,000 two races ago, with a very good figure of 79. He was last seen running at Belmont in a flat effort, but should improve going around two turns.
5- Spider John: Got shuffled back in his first race of the year, but held on to finish fourth. He didn't do too badly in that two-turn affair.
2- Lead Investor: He moves back on to the dirt after two solid grass efforts, and ran as high as a 71 on the dirt last fall at Penn National.
Race 3: Claiming $12,500, 3yo and up, 1 Mile (Grass)
3- Shake Things Up: Almost wired a similar bunch at Delaware Park last out. He still earned a great figure of 85, and ran an 88 when winning at Monmouth two races ago. He'll be going right to the lead over the speed-favoring Monmouth grass.
1- Lakota Brave: Makes his third start off the layoff. He did not do much at the $16,000 level last out, but showed punch against horses not unlike today's company in the past. Usually runs in the low-to-mid 80s.
2- Talent Show: Another speedster here; he's won gate-to-wire in the past, but he may be better off trying to stalk Shake Things Up.
Race 4: Maiden Special Weight, 3yo and up, 1 Mile
5- Mister Henry Lee: He's hit the board in three out of five lifetime, with figures of 90 in each of his last two races. If he can keep that up, he is going to smoke this bunch.
3- Spanish Villa: Moves back to a route after a string of sprint tries. Shows decent late pace and usually earns figures in the mid-70s. He's been a big longshot in his last few, don't know if he'll be as high as 57/1, like he was in his last race.
1- British Bulldog: 0-for-16 maiden finished third in his 2017 debut, fourteen lengths behind the runner-up. Last year, he never won (obviously) but usually picked up second or third while running in the mid-80s.
Race 5: Maiden Claiming $16,000, 3yo and up, 1 1/16 Miles (Grass)
7- Due Time: Career maiden finished second for $16,000 two races ago, tried tougher company last out, and it didn't quite work out. Gets a jockey upgrade from Maysonett to Garcia.
6- Spicy Sider: He finished with a sharp closing rally last out, coming from thirteen lengths back to get third. Hopes for another big kick in this race.
4- Hat in the Ring: Will almost certainly try to take the early lead. He couldn't hold it last time, fading to finish fourth. Lost at odds-on in the race before that. Navarro/Castro combination is his saving grace.
Race 6: Maiden Claiming $12,500, 3yo and up, 6 Furlongs
1- Guaranteed: He's hit the board in his last three races, having come from far back in all of them. Ideally, Jose Delgadillo puts him closer to the pace today.
6- Gladiator Heist: Finished a solid second in his first race off the layoff, with a career-high figure of 69. Trainer Enrique Arroyo has quietly had a great meet, with six winners from eighteen starters.
4- Count on America: New York-bred makes his season debut. He wasn't visually impressive at all in his lone dirt race, but earned a respectable figure of 61, which can certainly be improved on for this three-year-old.
Race 7: Claiming $16,000 (n/w2L), 3yo and up, 1 1/16 Miles (Grass)
3- Kitten's Dilemma: Ran big figures of 85 and 89 over the winter at Gulfstream. He's looking to rebound off a disappointing Monmouth debut, where he faded to finish sixth, albeit beaten just three lengths.
4- Animal Trick: Won at this level last out but got disqualified; figures to be the primary early speed.
5- Street Fightin Man: Usually runs in the upper-70s to low-80s. This NYRA invader struggled after a wide trip against $40,000 horses last out. Looks to save more ground here and sit not too far off the pace.
Race 8: Allowance (n/w1x), 3yo and up, Fillies and Mares, NJ-bred, 1 Mile
7- Twofour Six Oh One: Speedy filly won two in a row prior to her last race, tired after setting a fast pace against male Jersey-breds most recently. Getting back in with the females should help.
9- Spring for More: She ran a big figure of 82 when blowing away a n/w2L claiming field at Belmont three races ago. Ships in to Monmouth for the first time and drops from open company.
6- Golden Earrings: She's been second at this level in two consecutive races, and ran a great figure of 80 going two turns two races ago, which is the best figure she's earned recently.
Race 9: Claiming $16,000 (n/w3L), 3yo and up, 5 ½ Furlongs (Grass)
1- Canarsie Kid: Makes his third start off the layoff, with improving figures in each of those two races. Gets Eddie Castro for his Monmouth return, and has plenty of early speed from the inside. The last time he managed to go gate-to-wire, he earned a 96.
3- Bluegrass Luck: Looks to press the pace on the inside, hit the board twice in two grass starts against similar at Gulfstream over the winter.
7- Crowd Funding: Ships in from Laurel Park, tried to mount a rally last out at this distance and fell a head short. He's run in the 80s in his last three grass starts.
Race 10: Long Branch Stakes, 3yo, 1 1/16 Miles
2- Command Post: Comes in off two victories in a row, one of them at Monmouth. He's been able to get away with easy fractions in those first two starts, but has great late pace figures, a good sign for wanting more distance.
5- Talk Logistics: Most recently finished second in Monmouth's Pegasus Stakes, behind heavily favored Timeline. This one finished thirteen lengths ahead of third place, and ran a figure of 103. He hits the board consistently, but hasn't won since his debut at five furlongs.
3- Phat Man: Last won a starter allowance race at Belmont, stalking the pace and rolling by to earn a figure of 98. That's a lifetime top for him.
Race 11: Maiden Claiming $16,000, 3yo and up, Fillies and Mares, 1 1/16 Miles (Grass)
6- Show Me Mo: Improved her figure by 17 points when stretching out to two turns two races ago. Getting a jockey change to Gallardo on the grass, and stretching back from six furlongs on the dirt will help.
7- Common Denominator: Had an awkward break last out, but recovered to finish fourth and earned a lifetime top figure of 67.
5- Fantastic Score: Closed solidly last out to get third against similar. Turned in a solid four-furlong workout in 49.4 seconds last Sunday getting ready for this one.