Right place, right time serving Mike Dini well
by Doug McCoy
Racing is full of tales where fate has played a crucial role changing the careers of those who work in this ever-surprising sport and industry.
Take Mike Dini's story.

Dini, whose string is based at Delaware Park this season, had been, in essence, working two jobs for more than two decades in the business. He trained a modest stable while also hauling horses around the country as a one-man shipping company. The trainer/van man made a niche for himself through those years and actually earned a rather distinctive reputation finding and developing turf sprinters. One of those finds was Rockhurst, a horse Dini claimed for $10,000 who went on to earn some $300,000 racing for Dini and his owners.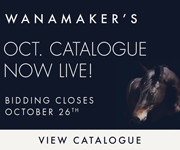 One day five years ago Dini met with one his owners at the Derby Lane greyhound track in St. Petersburg, FL to watch one of their horses run at the Fair Grounds via simulcast. The owner brought a friend with him named Alan Lustig. Lustig, a Dunedin, FL physician, told Dini he was interested in getting into racing as an owner.
"Alan told me he wanted to claim some horses and would I be interested in training them for him," Dini recalled. "I said o.k. and a couple of days later he brought me several checks for horses he wanted to claim and that started the partnership."
Owning and claiming thoroughbreds is an on-going learning experience, and the lessons learned can sometimes be expensive. But early on in their partnership Dini urged his owner (who races as Ballybrit Stable LLC) to concentrate on the future through the purchase of young horses at the sales.
"I explained that while purchasing yearlings and two-year-olds poses its own set of challenges, at least when you get a young horse you've got a clean slate," the horseman pointed out. "With claiming horses, often times you're inheriting somebody else's problems and mistakes. With a young horse they're yours to develop and teach."
Dini has 15 in training for Lustig and the owner has 30 others boarded out that include babies and broodmares.
Dini said he and Lustig don't have a rigid business plan when they head to a sale.
"Basically Alan picks most of the horses from a breeding standpoint and we both check the prospects out at the sale barns prior to them going to the ring," Dini explained. "I don't claim to be a world class conformation expert, but I've been around long enough to see any glaring deficiencies. Then we go to the ring and we decide if they're worth the money."
One 2-year-old purchase that was certainly worth the money was Dynatail. Dini and his owner were among the few prospective buyers still left in the sales pavilion at the end of one of the sessions for the Ocala Breeders' Sales Company's June 2016 two-year-olds and horses of racing age mixed sale when Dynatail was brought into the ring.
Dini figured that Dynatail, a daughter of the virtually unknown sire Hightail, would bring a winning bid of about $30,000.
"We had her marked in the catalog so we hung around just to see how the bidding went," he recalled, "When we bid $5,000 and nobody went any higher I told Alan, 'I have no idea why this filly is going for this kind of money. We've either made a helluva buy or we're dead wrong.'"
As it turned out it was a helluva buy and then some. Dynatail won the $200,000 Penn Oaks on June 3 for her fourth win from 10 starts, her second in stakes company, having captured the $100,000 OBS Championship Stakes Filly Division early in the year.  In her start prior to the Penn Oaks, she was a good third in the Hilltop Stakes at Pimlico, a race Dini feels his filly might have won had her Pimlico experience prior to the race been a better one.
"I shipped her and Bird's Eye View down there for stakes and she wound up being the only filly in the race that wasn't put in the stakes barn," Dini pointed out, "They assigned her a stall that was in one of the noisiest places on the backstretch, with corporate tent construction, band distractions and she was never truly able to relax and settle in.  By the time she went to the paddock she was skittish about everything that moved. She never truly focused in that race and still got beat less than a length so with all things considered, she ran a big race."
Dini is hoping Dynatail's next start will be in the $1,000,000 Grade 1 Belmont Oaks Invitational at Belmont Park next month, but he's going to have wait and see if he'll get an invitation to participate in the rich turf feature.
"She got one of the highest Beyer figures for 3-year-old grass fillies this year so on the numbers she deserves a shot but it's out of our hand and we'll just wait and see."
Dini had just returned from Ocala prior to this interview but hadn't purchased anything at the OBS sale.
"It's never been tougher to find young horses with potential and breeding at a reasonable price," he points out. "We've had several offers to purchase Dynatail and have had other offers for some of our other horses in the past. That's why horsemen with smaller outfits are up against the gun. If they find a good horse, the mega-outfits are on the phone to the owners all the time trying to buy those horses because that's one more competitor they can have control of. There are a lot of good horsemen in the business who were in the same position I was before I met Alan (Lustig). Finding an owner who is willing to put up the money and who understands that the business is one full of surprises and uncertainties can be the key to a trainer's career."