Preakness profiles: Multiplier
<center><a data-flickr-embed="true" data-footer="true" href="https://www.flickr.com/photos/90815214@N08/albums/72157683983292055" title="Multiplier"><img src="https://c1.staticflickr.com/5/4176/34609194231_5aa6dc35e9_z.jpg" width="640" height="458" alt="Multiplier"></a><script async src="//embedr.flickr.com/assets/client-code.js" charset="utf-8"></script></center>
Staff Reports
In our Preakness profiles, we look into each of Saturday's Preakness contenders.
WHO IS MULTIPLIER?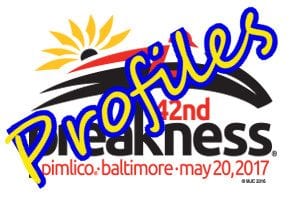 This Brendan Walsh-trained son of The Factor was up late to take the Grade 3 Illinois Derby last out in his first start against winners. He now has two wins, a second, and a third from four career starts and has earned triple his purchase price of $62,000.

WHAT THEY'RE SAYING ABOUT MULTIPLIER
"He's quite an angular horse," Walsh told the Daily Racing Form. "If you were told he was a turf horse, you'd believe it. Nothing bothers him. His temperament is what allows him more than anything. He's so switched off. He wants to eat and sleep, and that's it, but in a race, he shows great desire."
WHY HE COULD WIN
You really can't criticize anything he's done since debuting January 21 at the Fair Grounds. He's recorded steadily improving speed figures and made the big jump from maidens to graded stakes horses with aplomb. He won the Illinois Derby breaking from the one-hole, so being drawn inside shouldn't pose an issue for him.
WHY HE COULD LOSE
Winning the Illinois Derby is nice — but there were no Always Dreamings or Classic Empires there; this race represents another big step up. He's a closer in a field full of them, and largely short of early speed, and he'll need to make another big step forward to have any shot at all.
[FAG id=35079]
Multiplier File
Trainer

 Brendan Walsh

Owner

 American Equistock

Jockey

 Joel Rosario

Bred

in Kentucky by Mark Stansell

Breeding

 The Factor-Trippi Street, by Trippi

Record

 4-2-1-1, earnings of $187,310

Career highlights 

Won G3 Illinois Derby

Morning line odds 30-1