Penn National to run daytime cards on biggest days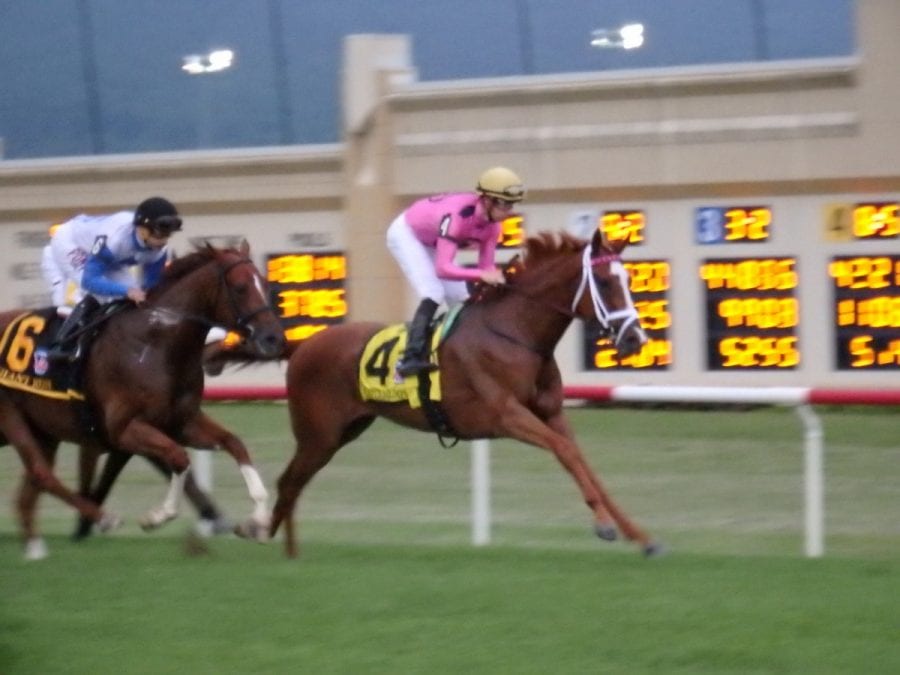 Catch a Glimpse won the 2016 Penn Mile. Photo by The Racing Biz.
From a Penn National release
The Pennsylvania State Horse Racing Commission has given Penn National Race Course approval to adjust post times for the upcoming Triple Crown Saturdays and Penn Mile card.
The Triple Crown Saturdays – May 6 (Kentucky Derby), May 20 (Preakness Stakes), and June 10 (Belmont Stakes) – will see live racing begin at 1:30 P.M., with the eight-race cards expected to be completed by 5:00 P.M.
"Every year we get a couple of thousand very casual race fans that show up on the Triple Crown Saturdays that leave immediately after the feature race" said Eric Johnston, Director of Racing Operations. "By moving our live racing program to the afternoon, we think it will provide a unique opportunity for us to introduce a new customer base to the fun and excitement of our live thoroughbred racing action".
The down time between the last live race and the Triple Crown feature will be filled with a party like atmosphere including live bands on the trackside apron and other promotional events like a Derby Day Hat Contest.
Mountainview Dining room will open at 12:30 P.M. on each of the Triple Crown Saturdays and remain open until approximately 7:00 P.M.. Reservations can be made by going to www.hollywoodpnrc.com/Dining/Mountainview or by calling (717) 469 – 3555.
Penn Mile day on June 3 is the biggest single-day live program on the Penn National calendar, with the featured race being the $500,000 Penn Mile, which will be run as a Grade 2 for the first time in 2017. The ten-race card is headlined by the nationally-acclaimed race that sees the sport's top stables send in the country's leading three-year old grass runners. Live racing on June 3 will begin at 3:45 P.M. as opposed to Penn National's standard 6:00 P.M. first post. The earlier post time is designed to allow for the running of two additional races on the turf without concerns of sunset or light issues.
Under the new structure, the Penn Mile will be run as the ninth race on the card and will anchor an All Stakes Pick Four that will also include the $200,000 Penn Oaks, $200,000 Governor's Cup Stakes and $200,000 Mountainview Stakes.
Penn National, with cooperation from the Pennsylvania Thoroughbred Horse Breeders, have added the $100,000 Lyphard Stakes, the $100,000 New Start Stakes and the $100,000 Danzig Stakes to the Penn Mile program to create a roster of seven stakes with total purses expected to surpass the $1.5 million mark.
Mountainview Dining will open at 2:45 P.M. on Penn Mile day and remain open throughout the live race program.