Md-based El Areeb favored in Gotham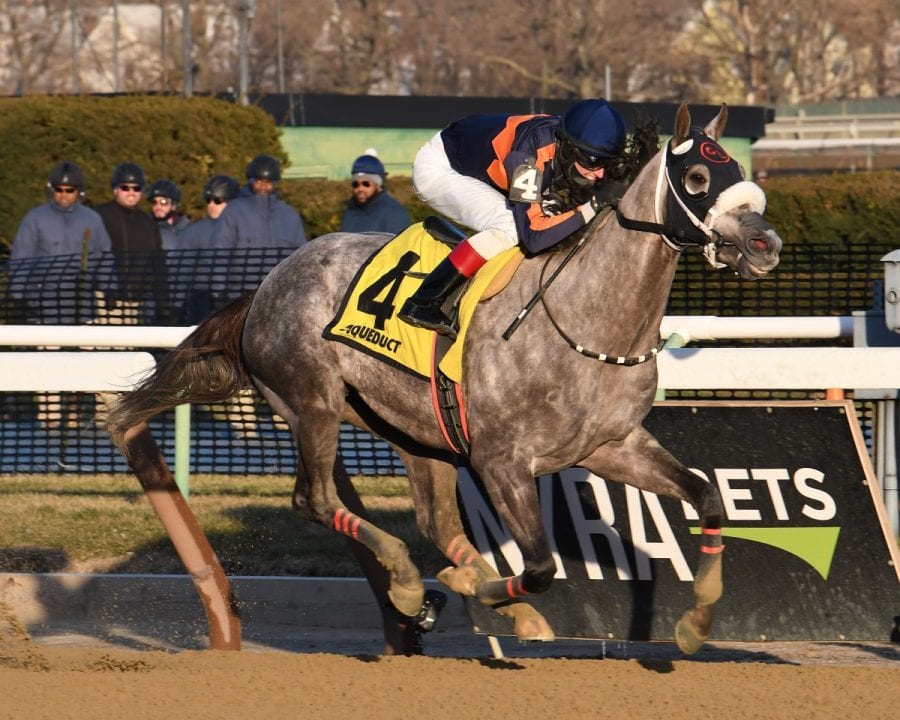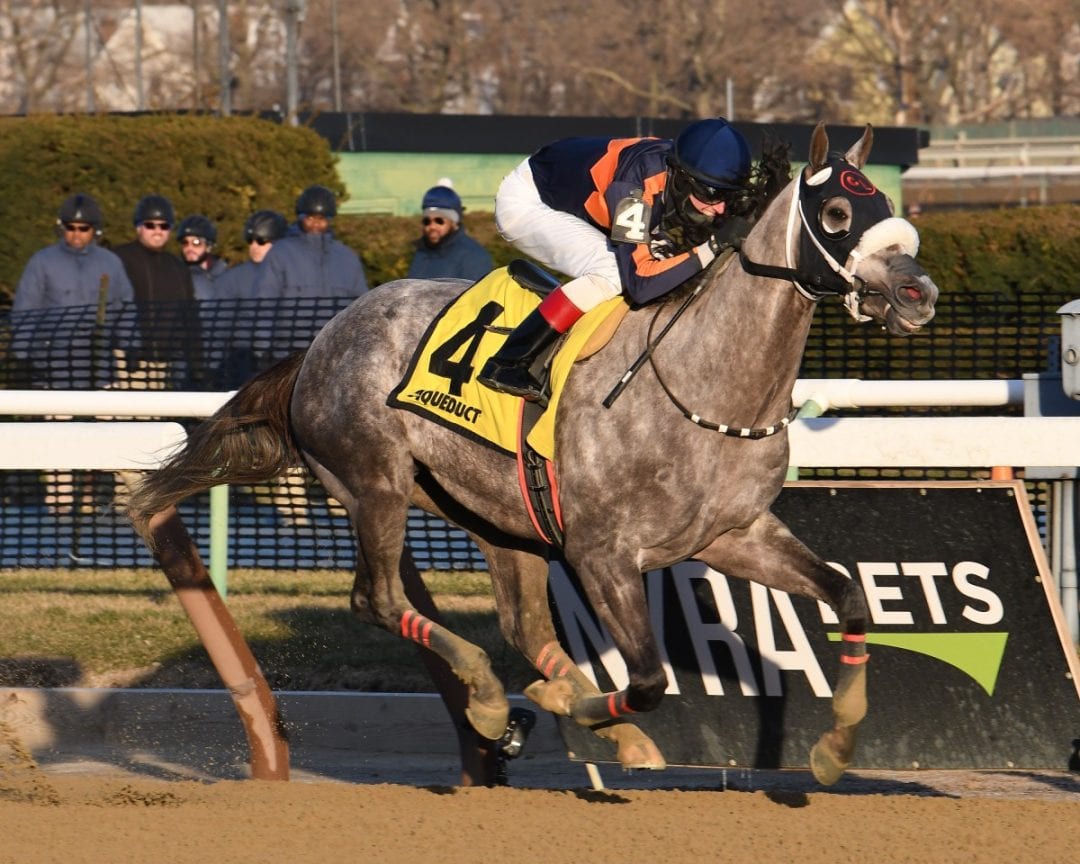 El Areeb won the G3 Withers Stakes easily in early February. Photo by Robert Mauhar.
From a NYRA release
With a four-race win streak under his belt, M M G Stables' Grade 3 Withers and Jerome hero El Areeb will look for win No. 5 as he makes his third stop on New York's Road to the Kentucky Derby, as the 6-5 favorite in a field of 10 for the 65th running of the Grade 3, $300,000 Gotham on Saturday at Aqueduct Racetrack.
The 1 1/16-mile Gotham, which serves as the local prep for the Grade 2, $750,000 Wood Memorial on April 8, will offer the winner 50 qualifying points as the first Kentucky Derby Championship Series qualifying event of the season. Additionally, the runner-up will receive 20 points, with 10 points going to third and five points to fourth. The previous round of preps, including the Jerome and Withers, was worth 10-5-2-1 points to the top four finishers.
Already armed with 20 qualifying points to the "Run for the Roses" on May 6 at Churchill Downs, trainer Cathal Lynch initially intended to pass on the Gotham and point El Areeb to next month's Wood Memorial, worth 100-40-20-10 points, but was persuaded to reconsider by the horse's recent training, including last Sunday's bullet work at Laurel Park where he covered five furlongs in 1:00 4/5.
"That was my plan originally, to skip the Gotham and wait for the Wood, but he's been doing so well," said Lynch by phone from Maryland. "That's a scary thing about him [in the mornings], he looks like he's two-minute licking and then you look down at the watch and it's 47 [seconds], 1:00, 1:13, and stuff. He's clicking right along.
"He's been doing it fairly easy and acting like he wants to go do something," he continued. "We won't stand in his way. I didn't know if I really felt like sitting on him for another four weeks if he's going right."
After beginning his career with a fourth-place finish in a maiden special weight at Parx Racing last June, El Areeb reemerged with a promising runner-up effort at his home base of Laurel on September 30. He ran back just 15 days later to break his maiden by 8 ¾ lengths in front-running fashion, before closing out his 2-year-old season with a gate-to-wire victory in the James F. Lewis III at Laurel on November 19.
The gray colt by Exchange Rate made his sophomore season opener a memorable one in his two-turn debut in the Jerome on January 2 at the Big A. Content to sit just off a sharp pace on a muddy and sealed track, El Areeb overpowered the pacesetting Takaful by the three-eighths pole and drew off to win by an eye-catching 11 ¼ lengths.
El Areeb set out to further hone his tactical skills when he followed up in the Withers on February 4, settling in third early under Trevor McCarthy, who is named to make his seventh start aboard the colt in the Gotham when they break from post 4, and rating from off the pace to cruise to a 4 ¼-length victory over fellow Gotham entrant True Timber.
"He can do that," Lynch said of El Areeb's off-the-pace Withers win. "That was part of the plan. He doesn't need the lead and Kendrick [Carmouche, aboard True Timber] was quite aggressive that day going to the lead, so we let him. Trevor asked me [if he could rate] before the Jerome because, obviously, he won the Lewis wire-to-wire but that only because he could, he doesn't have to. He'll rate and he'll wait for a signal from Trevor. He showed up the last time. We can't ask him to do anything more than he has.
"He's just physically more mature and mentally more there," he explained. "He's aggressive and trains well. He loves it, he enjoys training, he's started filling into his frame since he was a 2-year-old. He's a big boy. We're glad to have him."
Even though El Areeb has won his last four races by a combined 29 ½ lengths and a strong showing on Saturday could secure his colt's spot in the starting gate on the first Saturday in May, the $340,000 2-year-old-in-training purchase has seemingly managed to fly under the Kentucky Derby radar so far this year. In the Kentucky Derby Futures Pool, he made his first appearance as an individual betting choice in Pool 2 following his win in the Jerome where he closed at 32-1, and in Pool 3, after the Withers, he closed at 20-1.
"I don't mind actually, we love being the underdog," said Lynch with a laugh. "Last time he ran, he opened as the short-priced favorite and that makes me more nervous than anything. I'd rather be 12-1, 30-1, whatever.
"We really haven't looked anybody in the eye and I don't think we've seen the best of him. Numbers-wise, I think that's why some of these guys are off of him because 92, 93 Beyers don't seem like a 'wow' number but he hasn't had to do anything more than that. We don't get paid any more if we win by 20 [lengths], I've checked.
The field for the Grade 3, $300,000 Gotham: J Boys Echo (No. 1, Robby Albarado, Dale Romans, 8-1); Gaetano (No. 2, Cornelio Velasquez, Guadalupe Preciado, 50-1); Miggsy (No. 3, Angel Arroyo, Rudy Rodriguez, 15-1); El Areeb (No. 4, Trevor McCarthy, Cathal Lynch, 6-5); Glennrichment (No. 5, Eric Cancel, Rudy Rodriguez, 30-1); True Timber (No. 6, Kendrick Carmouche, Kiaran McLaughlin, 6-1); Apartfromthecrowd (No. 7, Jorge Vargas, Jr., Chad Brown, 12-1); So Conflated (No. 8, Mario Gutierrez, Doug O'Neill, 8-1); Cloud Computing (No. 9, Manny Franco, Chad Brown, 5-1); Action Everyday (No. 10, Rajiv Maragh, Todd Pletcher, 10-1)