Breeders' Cup reps to visit Laurel Park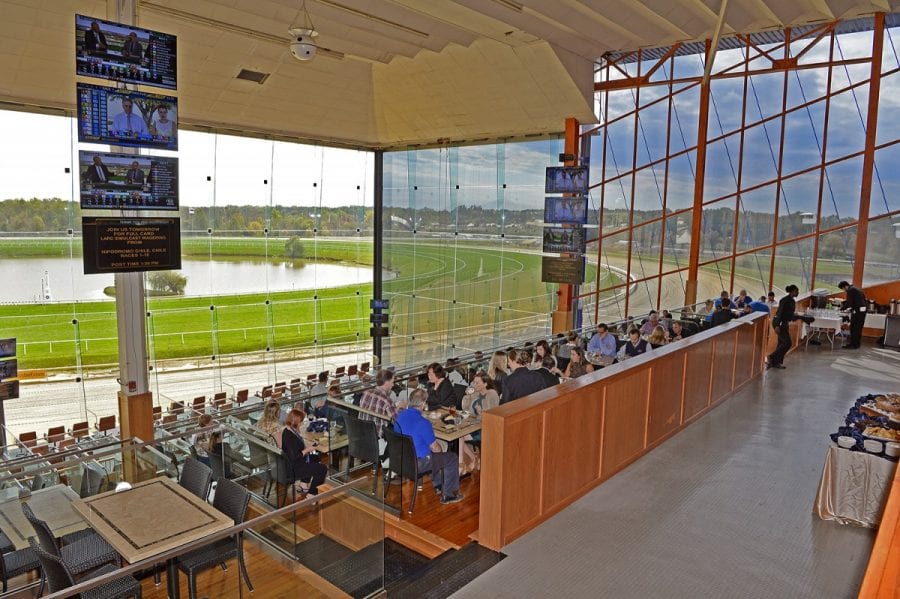 Laurel Park hopes its improved grandstand seating will entice Breeders' Cup reps. Photo by Jim McCue, Maryland Jockey Club.
by Frank Vespe
Laurel Park will host five stakes on March 18, as well as an "0wner-breeder appreciation day" — and a delegation from Breeders' Cup Limited, Maryland Jockey Club president Sal Sinatra told "Off to the Races on The Racing Biz Radio Network" Saturday.
"Tim [Ritvo, Stronach Group chief operating officer] and I are going to have do a presentation trying to lure Breeders Cup to Maryland sometime either in 2020 or 2021," Sinatra said on the show, which airs Saturday mornings at 10:00 a.m. on ESPN 950 in Richmond, VA and via streaming online.
Sinatra and his team have made numerous improvements to Laurel's front- and backsides, including several new barns, with more in process, and enhancements to the grandstand that still are ongoing.
Maryland has never hosted a Breeders' Cup.  Four of the last five Breeders' Cups have taken place at California's Santa Anita Park; the other, in 2015, was at Keeneland. This year's event is scheduled for Del Mar, near San Diego, with the event slated for Churchill Downs in 2018.  The most recent Breeders' Cup to be held outside of either California or Kentucky was in 2007, when it was held at Monmouth Park, in New Jersey.
"I think at some point they'd love to see the event come back East, and I believe it would probably be us and NYRA pitching for it," Sinatra said on the show. "I think for horsemen's sake, for Europe's sake, it belongs on the East Coast again."
While there is substantial work to be done before Laurel is ready to host a Breeders' Cup, Sinatra said he was confident that the facility would be ready for either 2020 or 2021.
"We'd be happy to have it either year," he said. "We'd be delighted to be chosen."
Sinatra believes that, with the assets it already possesses and the work underway, the MJC will be able to make a compelling pitch for Laurel Park to Breeders' Cup.
"With our world-class turf course, and our proximity to the airports, and the possibility of a quarantine barn down by Dulles, I really think that we fit the model good," he said. "I just have to have quality seating for Breeders' Cup to have the VIP experience."