Nearly 600 trainers to compete in Thoroughbred Makeover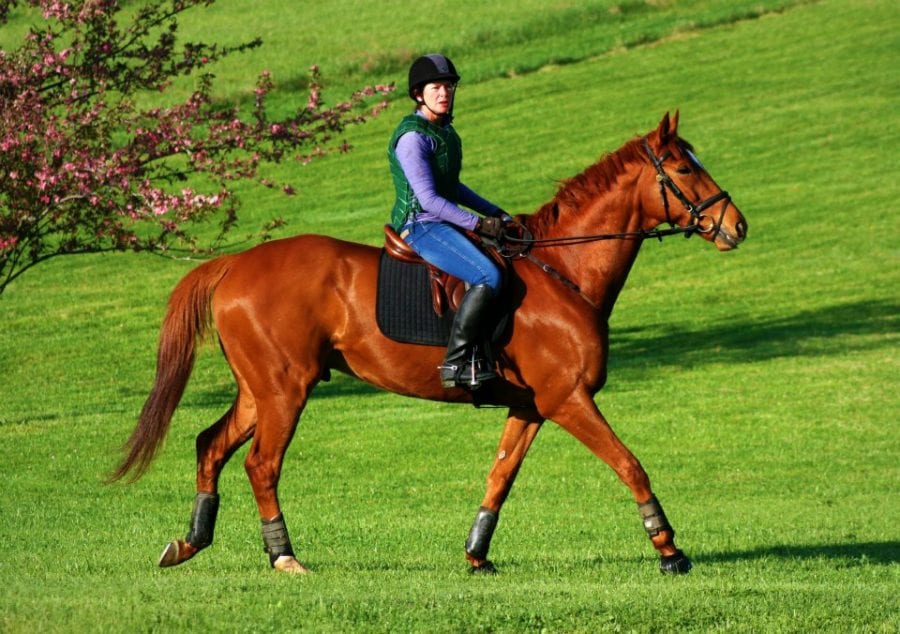 Retired racehorse Rock N' Bid struts his stuff.  Photo by Katherine Turnbull.
From a Retired Racehorse Project release
The Retired Racehorse Project announced today that 578 trainers have been accepted to compete for their share of $100,000 in prize money at the 2017 Thoroughbred Makeover at the Kentucky Horse Park on October 5-8. Of those trainers, 65 applied and have been approved to enter two horses. Two hundred-thirty trainers have registered their horses already, which means there are still more than 300 trainers shopping for horses to use in the competition.
The Thoroughbred Makeover, which is being called the greatest multi-discipline gathering of horse trainers ever, is a racehorse retraining competition. Trainers are approved based on their skills in a primary discipline, but may compete at the Makeover in one or two of ten sports (eventing, show hunter, show jumper, dressage, barrel racing, competitive trails, field hunters, polo, working ranch, and freestyle) depending on aptitude shown during the training process.
Each trainer must acquire a Thoroughbred that meets the competition's guidelines, which states that eligible horses may not have started second career training before the December 1 opening date, and must have raced or had a published work after July 1, 2015.
"Many of the horses that compete in the Makeover each year don't begin their training or even retire from racing until well into the year. I encourage racehorse owners with any horses they are considering retiring this year to list them on our website," said RRP President Steuart Pittman. "It's kind of cool to think about – the winner of this year's Thoroughbred Makeover may not yet have run his or her last race."
Racing owners may list their horses on the RRP website as Makeover-eligible. The website also allows horse owners to list any Thoroughbred – regardless of its Thoroughbred Makeover eligibility – for sale or lease free of charge.
The 578 trainers approved to compete this year include some of the most highly respected in their disciplines.
"We were overwhelmed, not only by the number of applications, but also by the quality," added Pittman. "We have very competent horse trainers in every discipline, including some who have competed at the Olympic level. Our goal has always been to increase the demand, and ultimately the value, of retired racehorses for the benefit of both racehorse owners and retired racehorse owners. I think we're starting to see that happen."
The field of trainers is comprised of 49% professionals, 39% amateurs, and 12% juniors. They are from 44 states, two Canadian provinces, and England, with the highest representation from Pennsylvania (63), Kentucky (61), Virginia (45), Maryland (38), Ohio (31), Michigan (29), Florida (28), New York (26), Georgia (26), and Ontario (25). Twenty-one will travel from the west coast states of California (16), Oregon (3), and Washington (2), and two will fly from England.
Among the mix are Hollywood's leading horse trainer Rex Peterson, Show Hunter Hall of Fame's Lois Serio, Canada's Olympians Ian Roberts and Kelly Plitz, America's top female jockey Rosie Napravnik, Rolex CCI**** winner Nick Larkin, and World Equestrian Games Silver Medalist Dorothy Crowell. The junior riders are an outstanding group that includes members of United States Pony Clubs, offspring of prominent horse racing families, and up-and-coming stars in their respective sports. (See linked trainer highlights by discipline)
Last year's Thoroughbred Makeover winner was Fairway King, a Florida-bred son of Leroidesanimaux (BRZ) who was retrained in the disciplines of dressage and eventing by Lauren Turner of River Birch Farm in Jasper, Georgia. Out of the Robyn Dancer mare Par Golfer, Fairway King was bred by Frank Bertolino and sold as both a yearling at the 2013 OBS August Sale and later as a 2-year-old at the OBS June Two-Year-Olds and Horses of Racing Age Sale the following year. The gelding raced nine times as a 3-year-old for owner Leo S. Nechamkin II, winning once and earning $20,327 before retiring in the summer of 2015.