Analysis: Box-checkers and buybacks at Fasig-Tipton Mixed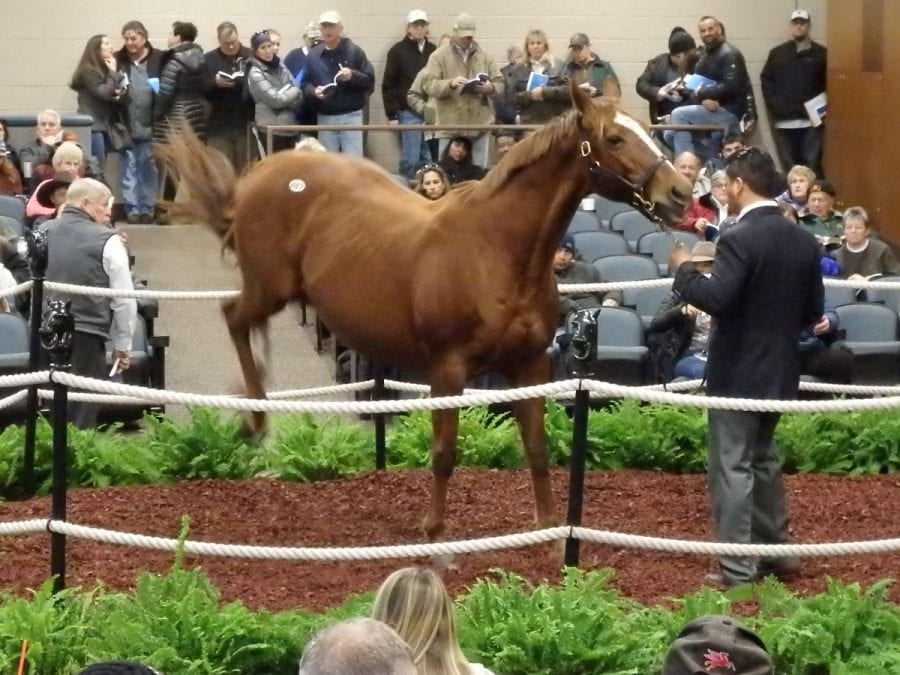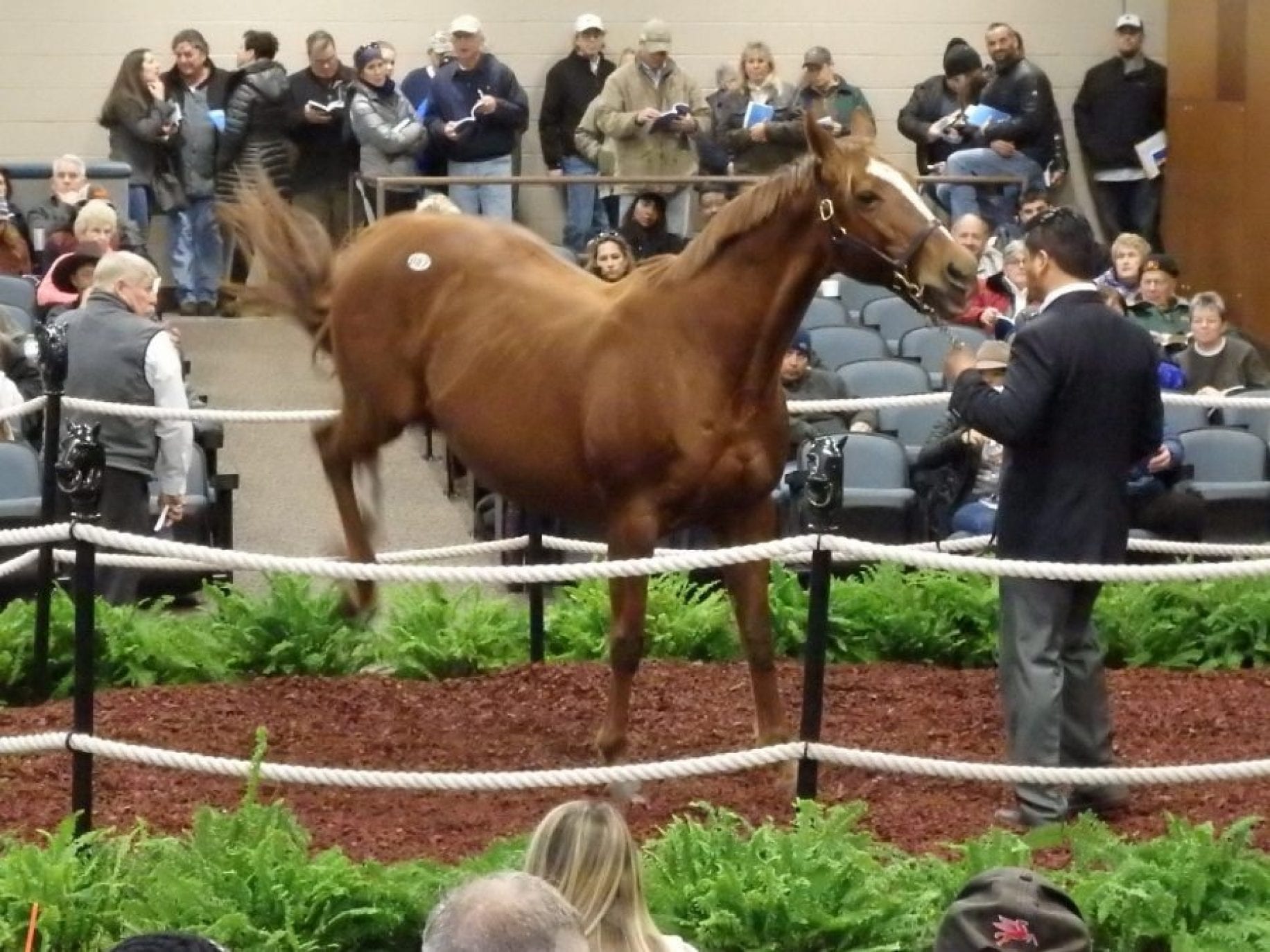 Hip 87 kicked up her heels at the Fasig-Tipton Midlantic Winter Mixed Sale. Photo by The Racing Biz.
by Frank Vespe
"I'm humbled," said one consignor, sipping a beer, mid-afternoon on Sunday at the Fasig-Tipton Midlantic Winter Mixed Sale, after watching a couple of his short yearlings draw a collective shrug from the market.
He wasn't alone.
The sale's good news – an increased gross, more horses sold, more buyers – was tempered by the bad.  The average and median both fell versus 2015, and the buyback rate doubled from last year. The numbers weren't exactly a shock; in fact, they were in line with, or even better than, the comparative numbers for recent Keeneland and Ocala sales.
"The middle market is weak, and the lower end is nonexistent," said Larry Johnson, who sold five and bought one.
In the end, market participants said, it may have been the same old story.
"If you have a horse that checks all the boxes, everybody wants it," Johnson explained.  "If they don't [check the boxes], nobody does."
Johnson's Legacy Farm brought eight broodmares or broodmare prospects to the sale and got five of them sold.  That was a tough part of the market in which to play; the 42 broodmares sold brought an average price of $5,342, while the broodmare prospects averaged $6,430.  The racing/broodmare prospects fared no better, with a mean price of $5,485.
One issue was the quality, or perceived quality, of the mares on offer.
"In the entire catalog, there were only a few mares that had a commercial bent to them," said Bill Reightler, who consigned 41 of the 141 horses that sold at the event.
Carrie Brogden, buying for her Machmer Hall operation, agreed.  "A lot of the mares that were sold pregnant should never have walked into the breeding shed," she said.
Certainly, there were some mares who possessed neither the race record nor breeding success necessary to interest the marketplace.
But the market was cool even to some of the mares that seemed likely to draw interest. The Reightler-consigned Baby Love, Hip 48, for example, is the dam of four six-figure earners, including current three-year-old Bonus Points, who is Grade 3-placed.  She was sold in foal to Super Ninety Nine and brought only $8,000.
That points to another challenge: the stallions standing in the mid-Atlantic mostly have yet to prove themselves.  They are critical to a healthy Timonium sale, but until they do prove themselves, the market will be cool towards them.
"There's a distinct lack of commercial sire power in the region," Johnson noted.  The region's leading sire, Jump Start, stands for just $10,000, and no other regional stallion with current runners fetches a listed stud fee above $5,000.
One way that lack manifested itself Sunday was in the broodmare market.  Most of the pregnant broodmares on offer had been covered by regional stallions.  The region's top covering sire in this sale was newcomer Seville; broodmares bred to him averaged $7,650, versus a listed stud fee of $6,000.
Only four pregnant mares in the sale brought a winning bid of even $10,000, and just two of those were carrying the offspring of regional stallions.  Hip 17, an A. P. Warrior mare in foal to Seville and consigned by Becky Davis, Agent, brought $17,000.  And Hip 11, a Bernstein mare in foal to Street Magician and consigned by Legacy Farm, fetched $10,000.
The market's wait-and-see attitude also carried over into the yearling ranks, where no regional sire was among the five stallions with a yearling that fetched more than $20,000.
"It's more about what the perceived best is," said Brogden, who for $70,000 purchased the sale-topper, a yearling colt by Dialed In she called 'a big, strong, strapping dude.'
"It's just about the quality stallions," she added.
Fasig-Tipton Midlantic sales director Paget Bennett agreed.  "New sires didn't have a great reception," she said.  "But they could still go on and be stars."
Some, of course, will have a better shot at that than others.  Of the young regional stallions, Golden Lad, Seville, El Padrino, and Friesan Fire all were bred to more than 80 mares in 2016.
Though the sale's numbers were ordinary, most observers seemed heartened by the size of the crowd.
"I thought the sale was better attended this year," said Brogden, and, indeed, the crowd arrived early and for the most part remained to the end.  Fasig-Tipton's Bennett concurred, saying she was "encouraged by the crowd."
That may have contributed to an increase in buyers.  Overall, 95 people purchased at least one out of the sale, up from 78 a year ago.
"It's a good thing to have more buyers," Reightler pointed out.  "It means that they're in the business."
Still, many of those buyers seemed to play at the lowest end.  Fully 46 of the 141 hips sold – nearly one-third – brought less than $2,000.  That was a significant jump from a year ago, when about 17 percent of hips sold went for less than $2,000.
"Everybody who sold those $2,000 horses lost money," said Legacy Farm's Johnson. "And virtually everybody who bought them will, too."
In the end, there were plenty of diagnoses for the sale, variously described as "selective" or "polarized," but all shared one common element: that this sale, like all sales, is dependent on the larger national horse racing environment, which may be stabilizing but still has a ways to go to get where it once was.
Country Life Farm's Mike Pons likened the state of the sport to that of an army trying to ford a rushing stream.
"For those that make it across the river, the future's bright," he said.  "Those guys are going to be running for record purses and bred funds."
In other words, hope springs eternal.
SALES RESULTS
[table id=146 /]