2016 in review: Winning!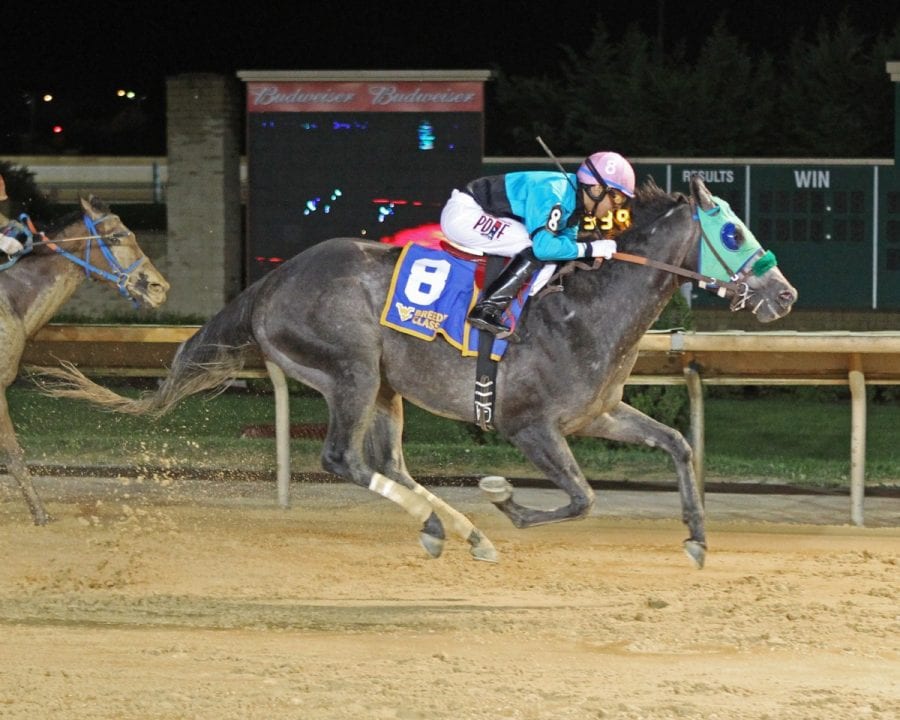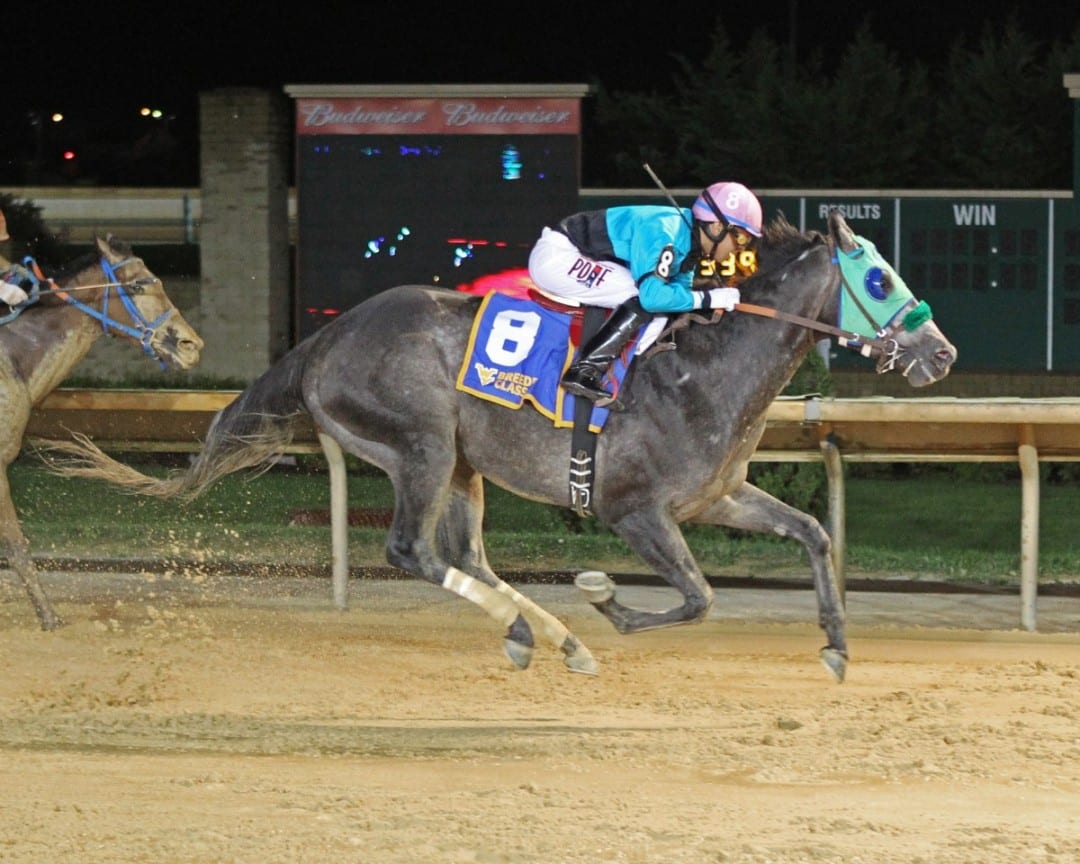 Bullets Fever — "just… beyond," says co-owner Leslie Raim. Photo by Coady Photography.

Herewith, the long-in-coming final installment of our four-part Year in Review in Mid-Atlantic horse racing, a look by turns personal, quirky and bemused at the year that was.
by Frank Vespe
If the final quarter of 2016 in mid-Atlantic racing had one overarching theme, it may well have been victory: often unexpected, emotionally satisfying victories.
IN OCTOBER…
Jockey Steve "Cowboy" Hamilton kicked off the Charlie Sheen-esque bout of winning on the second day of October, when he steered Bo Vuk to a maiden claiming victory at Laurel Park.
"I've been waiting for that one," Hamilton, 42, said. "It's awesome. Words don't describe being back on that end of it."
He sure had been waiting: Hamilton had been away from racing for a decade prior to returning to race-riding in August at the Timonium meet. But his return to the winner's circle had been further delayed by a winless skein that reached 56 races before he finally found the top spot.
Later in the month, West Virginia Breeders Classics night seemed the personal property of trainer Jeff Runco – no great surprise there – and owner David Raim.  Raim, owner or part-owner of WVBC winners Bullets Fever and Spa Creek, was especially excited.
Bullets Fever, now four, is a perfect eight-for-eight in his career.
"He's truly been a wonderful horse and it's been great to see him win all of his races," said Raim, an attorney. "It was great seeing him finish the way he did. It was so exciting…. Best horse I've ever owned."
His wife, Leslie, agreed.  "He's just… beyond," she said.
Two weeks later, a horse with a decidedly worse-than-spotless record – 2-for-36 entering the Maryland Million Starter Handicap – brought the house down.
Who Stole My Sock stole the show with a 40-1 upset, giving trainer Carlos Mancilla and owners Fred and Mary Agnes Lewis a win, and a memory, that will last a long time.
"This is the biggest win in my career," Mancilla, the former assistant to Chris Grove, said in a joyous winner's circle afterwards.
"Oh, my goodness, this is so exciting," Fred Lewis added. "This is something we've dreamt about ever since they started [the Maryland Million]."
And one last October victory: at month's end, the Pennsylvania legislature finally passed legislation to end an impasse that had left the state's breeders without bonus payments for months, costing them millions of dollars.  It was a quiet end to  a noisy and chaotic issue, as both the Senate and House of Representatives passed the bill unanimously.
THEN IN NOVEMBER…
November brought more unexpected wins.
Pennsylvania-bred Finest City kicked off the month with a surprise win in the Breeders' Cup Filly and Mare Sprint at Santa Anita, returning almost $20 to backers.
"To get a Group 1 for a filly is everything you can do in this game, especially on this stage," said trainer Ian Kruljac.  "There's nothing more you can dream for. So I'm very happy for her."
What Kruljac did not mention is what the win meant to him.  Training on his own for just a year, Kruljac has just five wins to his credit thus far, two of them last year by Finest City, who was bred by Hank Nothhaft, who said she was "a knockout" virtually from day one.
Two weeks after the Breeders' Cup, speedy types gathered at Laurel Park to contest the Grade 3 Frank J. De Francis Memorial Dash.
Texas-bred Ivan Fallunovalot – a one-time claiming horse made good – did the De Francis honors, winning impressively by over four lengths.
Ivan Fallunovalot looked, said trainer Tom Howard, "sleek" the day he put down a $25,000 claim.  That was in stark contrast to the rest of the horses at then-winter-bound Oaklawn Park.  "They had hair, looked like bears," Howard, 68, explained.
Howard himself had plenty to celebrate on De Francis day.  It was In some ways the culmination of a whirlwind journey: from cancer diagnosis to treatment to cancer-free and at the racetrack winning a graded stake, all in 35 days.
FINALLY, IN DECEMBER…
In December, Crabcakes the horse proved herself as Maryland as crabcakes the delicacy, in surging to victory in the Maryland Juvenile Filly Championship.
The daughter of Great Notion was wheeling back on just a week's rest after weather complications had  delayed her debut, which she won easily for trainer Bernie Houghton at Penn National.
In that debut, Houghton was sure enough of victory that he told rider Angel Rodriguez, "When you make the lead, make sure you slow her down a little bit because I want to run her back in a week if she wins."
And so at Laurel Park on December 10, he was able to celebrate a big win with his Aunt Binnie, whose Buckingham Farm operation bred and owns Crabcakes.
What did the win mean to Binnie Houghton, a longtime breeder on Maryland's Eastern Shore?
"Everything," she said after the win.
Another juvenile's year-ending win may not have meant everything to his connections – but it sure meant plenty.
Irish War Cry, a talented Curlin colt trained by Graham Motion, survived a lengthy battle with O Dionysus to win the Marylander Stakes on New Year's Eve at Laurel Park.
You might not think it'd mean much; after all, his owner, 86-year-old Isabelle de Tomaso, has been in the game more or less forever and owns, said niece Isabelle Ellis, "too many horses to be commented upon."
But then again, homebred Irish War Cry is the product of generations of de Tomaso's family's breeding efforts and is a New Jersey-bred – not unlike de Tomaso herself, the daughter of Amory Haskell, in whose honor the Grade 1 Haskell Invitational is named.
"I can hear her shouting here," Ellis said, speaking of her aunt.  "I think at this point she's just enjoying the fact that she has an undefeated two-year-old."
As year's end neared, horsemen's groups across the region geared up to help some of the neediest of the racing community with presents and parties during the holiday season.  These are worthy efforts, sharing good cheer with those who are integral to the show we love – but who get none of the glory or riches it can provide.
At Parx Racing, a party the week before Christmas provided some 300 children of backstretch workers with holiday treats, a visit from Santa, presents – and a special day.  The party once had been limited to kids 12 and under, said Parx chaplain Rick Bunker, but that policy had been changed.
"We realized that some of the older children are even more needy, grateful, and aware than the younger ones, and the last thing we want to do is say, 'No, we don't want you at the party,'" Bunker explained. "They need this and are more aware of the love behind it than some of the littlest ones."
And so as Father Time gave way to Baby New Year, the nation's Thoroughbreds celebrated a birthday and mid-Atlantic racing looked ahead – wiser, perhaps, but probably more befuddled than ever.  At least, that's how it felt to us.
[su_box title="
SERIES TIMELINE
" style="glass"]