Eclipse Awards finalists announced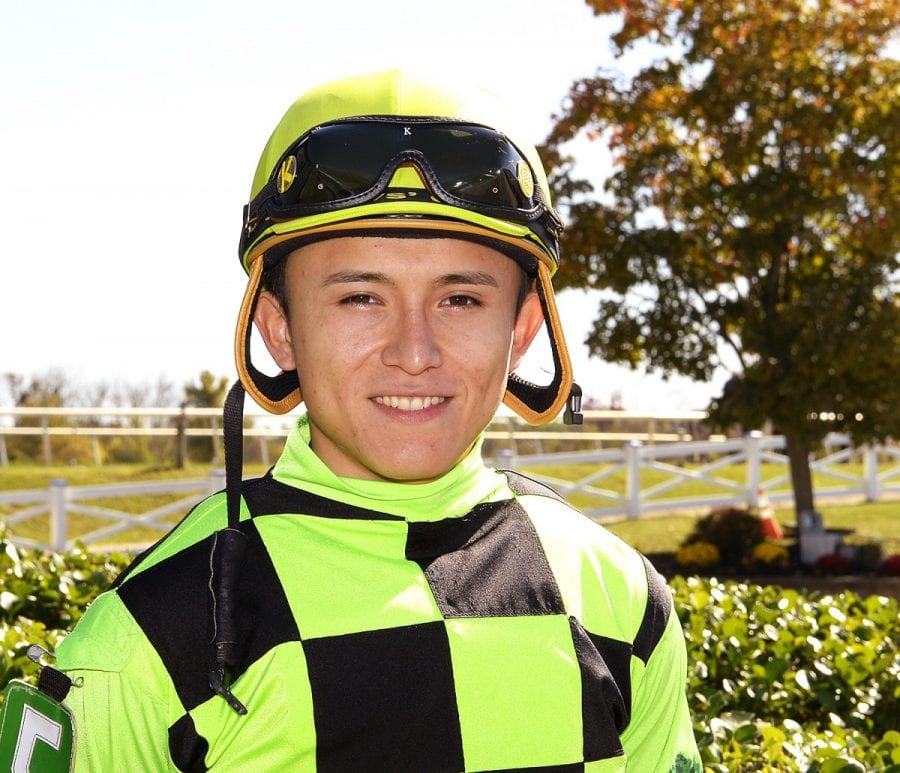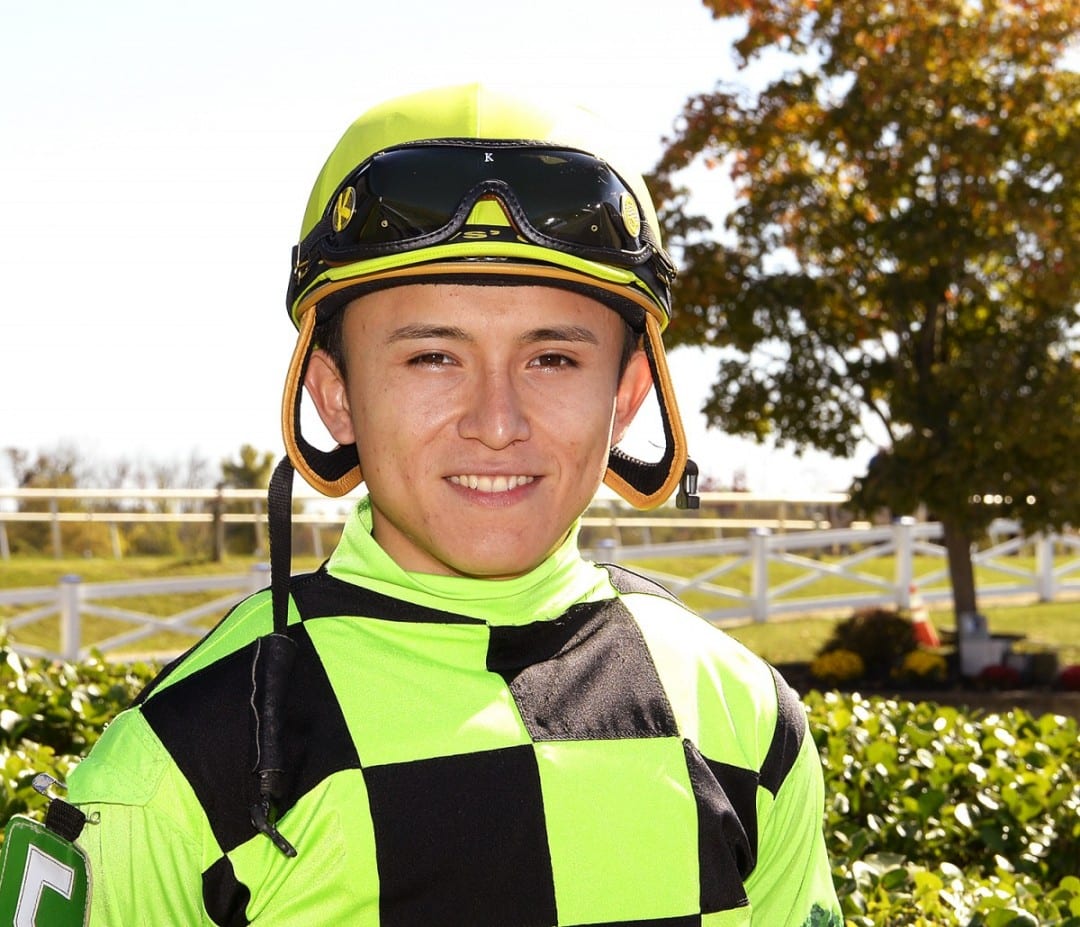 Kevin Gomez is a finalist for the Eclipse Award for top apprentice jock. Photo by Jim McCue, Maryland Jockey Club.
From a National Thoroughbred Racing Association release
Note: This story was updated at 5:00 p.m. on January 5 to add Finest City as an Eclipse finalist bred in the mid-Atlantic region.
Led by Horse of the Year candidates Arrogate, California Chrome and Songbird, the National Thoroughbred Racing Association (NTRA), Daily Racing Form and the National Turf Writers and Broadcasters (NTWAB) today announced the finalists for the 2016 Eclipse Awards, recognizing excellence in Thoroughbred racing.
The list of nominees includes three horses bred in the mid-Atlantic region and two apprentice jockeys based here.  Maryland-bred Cathryn Sophia is one of three finalists for champion three-year-old filly; Stellar Wind is a finalist for champion older female; and Pennsylvania-bred Finest City is a finalist for female sprinter.
The apprentice jockey nominees include Kevin Gomez, currently based in Maryland; and Parx Racing-based Luis Ocasio.
Winners in 17 horse and human categories will be announced at the 46th annual Eclipse Awards dinner and ceremony, presented by Daily Racing Form, Breeders' Cup and The Stronach Group, on Saturday evening, January 21, at Gulfstream Park Racing & Casino in Hallandale Beach, Fla.
Of the 264 eligible voters representing the NTRA, the NTWAB and Daily Racing Form, 248 (93.94%) took part in this year's voting. Finalists were determined in each category by voters' top three selections, using a 10-5-1 point basis. Eclipse Award winners are determined solely by first place votes.
The 2016 Eclipse Awards finalists (in alphabetical order) are:
Horse of the Year: Arrogate, California Chrome, Songbird
Two-Year-Old Male: Classic Empire, Not This Time, Practical Joke
Two-Year-Old Filly: Champagne Room, Lady Aurelia, New Money Honey
Three-Year-Old Male: Arrogate, Exaggerator, Nyquist
Three-Year-Old Filly: Cathryn Sophia, Queen's Trust (GB), Songbird
Older Dirt Male: California Chrome, Frosted, Lord Nelson
Older Dirt Female: Beholder, Cavorting, Stellar Wind
Male Sprinter: A.P. Indian, Drefong, Lord Nelson
Female Sprinter: Finest City, Haveyougoneaway, Paulassilverlining
Male Turf Horse: Flintshire (GB), Highland Reel (IRE), Tourist
Female Turf Horse: Lady Eli, Miss Temple City, Tepin
Steeplechase Horse: Rawnaq (IRE), Scorpiancer (IRE), Top Striker
Owner: Juddmonte Farms, Inc., Kenneth and Sarah Ramsey, Spendthrift Farm LLC
Breeder: Clearsky Farms, Darley, WinStar Farm, LLC
Trainer: Bob Baffert, Chad Brown, Mark Casse
Jockey: Javier Castellano, Jose Ortiz, Mike Smith
Apprentice Jockey: Kevin Gomez, Lane Luzzi, Luis Ocasio
In addition to honoring the 17 winners in the horse and human categories, Andrew Beyer, journalist, author and creator of the Beyer Speed Figures, and Steven Crist, racing writer and publisher, will both receive the Eclipse Award of Merit for a lifetime of achievement in the Thoroughbred industry. Paul Matties will receive an Eclipse Award as the 2016 Horseplayer of the Year. Members of the media will be honored for outstanding coverage in six categories.
Tickets to the Eclipse Awards are available for $425 each. Dinner tickets and reservations for the official event hotels – the Turnberry Isle Miami and the Grand Beach Hotel – can be accessed by contacting Casey Hamilton of the NTRA at [email protected]
The Eclipse Awards are named after the great 18th-century racehorse and foundation sire Eclipse, who began racing at age five and was undefeated in 18 starts, including eight walkovers. Eclipse sired the winners of 344 races, including three Epsom Derbies. The Eclipse Awards are bestowed upon horses and individuals whose outstanding achievements in North America have earned them the title of Champion in their respective categories. Those awards are voted by NTRA, Daily Racing Form and the National Turf Writers and Broadcasters (NTWAB). Eclipse Awards also are given to recognize members of the media for outstanding coverage of Thoroughbred racing.