Thoroughbred Makeover entries robust in first week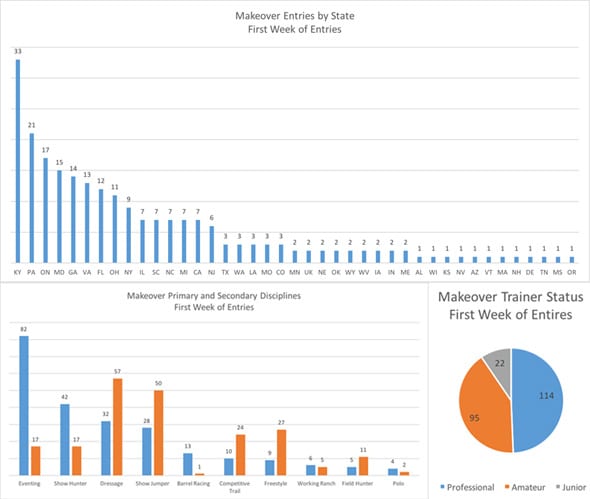 In the first week of entries for the Thoroughbred Makeover, the Retired Racehorse Project reports receiving applications from 231 trainers representing 256 horses.
Kentucky leads the charge with 33 entries. Three mid-Atlantic states are among the top six states by entries, the group says.  Those include last year's overall leader, Pennsylvania, which is second with 21 entries; Maryland, which is fourth with 15 entries; and Virginia, whose 13 entries place it sixth.
Trainers who identify eventing as their primary area of expertise lead the other sports, but if last year is any indication some of those eventers will move to other disciplines once they get to know their horses.
The stats don't show it, but based on the credentials identified in applications, the quality of trainers is very high, the group says.
The group said that it would begin sending acceptance emails shortly and that trainer names will appear on the RRP web site. Not long after that horses will be uploaded to the online entries list.
The Retired Racehorse Project seeks to facilitate the placement of Thoroughbred ex-racehorses in second careers by increasing demand for them in equestrian sports and serving the farms, trainers, and organizations that transition them.  The Thoroughbred Makeover is the group's signature event.