Claimbox: Midlantic claiming sluggish in November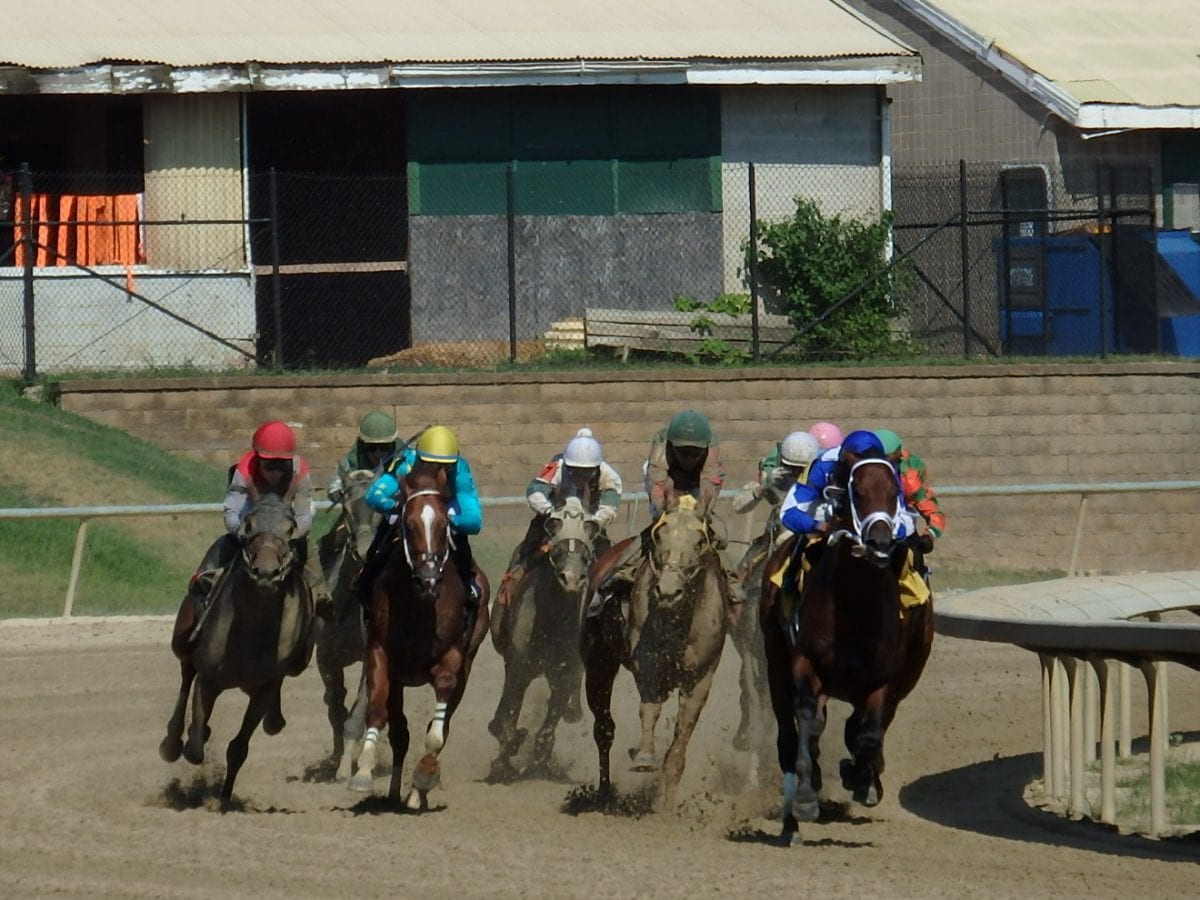 Photo by The Racing Biz.
by Frank Vespe
Mid-Atlantic claiming activity was off more than 15 percent in November versus the same month in 2015, according to a review of Equibase statistics.  As a result, total regional claiming activity for the year is now about 20 percent behind the first 11 months of last year.
Through November 30, 2016, 1,992 horses have been claimed in the region, about 19.5 percent behind the 2,380 claimed at this point a year ago.  With the average value of those claims down two percent, to $10,401, the gross value of the region's claiming activity this year amounts to $20,719,000 — nearly 22 percent behind last year's total to date of more than $25.2 million.
The Maryland tracks — Laurel, Pimlico, and Timonium — taken together are the only significant outliers in the region.  Those tracks have seen 488 claims this year — up about 1.4 percent from last year.  And, with the average value of those claims having jumped $10,850 to $12,505, the gross value of claims in Maryland has risen 14.5 percent to over $6.1 million.
All three of the other regional tracks still operating in November are lagging their 2015 numbers.  The number of horses claimed to date is off nearly 40 percent at Charles Town, almost 24 percent at Parx Racing, and just over 12 percent at Penn National.
The November story was similar to the overall year-to-date tale, with claiming activity off double digits in the region.  Overall, 156 horses were claimed regionwide in November, a drop of 16 percent from last year's November total of 186.  The total value of those claims, $1.65 million, was 15 percent lower than the $1.95 million of last year.
Parx Racing led the region with 83 horses claimed with a gross value of $924,000.  Its average claim value of $11,132 was second in the region, trailing Laurel Park's $11,384 average, which was realized on 39 claims.  Penn National saw 24 horses change hands via the claimbox, while Charles Town had 10.
The Claimbox report covers Laurel Park, Pimlico, Timonium, Charles Town, Delaware Park, Parx Racing, Penn National, Monmouth Park, and the Meadowlands.
CLAIMING TRAINERS FOR THE MONTH
Who's claiming horses
Kieron Magee — 9 claims for $80,500.00
Mario Serey, Jr. — 7 for $$98,500.00
Scott Lake — 6 for $72,500.00
Kimberly Graci — 5 for $27,500.00
Patricia Farro — 4 for $45,000.00
Robert Mosco — 4 for $48,000.00
Jamie Ness — 4 for $67,000.00
Tim Kreiser — 3 for $37,000.00
Ramon Preciado — 3 for $40,000.00
John Rodriguez — 3 for $30,000.00
Kathleen Demasi — 3 for $45,000.00
Overall, 95 trainers claimed at least one horse.
Who's losing horses
Patricia Farro — 6 lost for $78,500.00
Kieron Magee — 5 lost for $37,000.00
Ramon Preciado — 4 lost for $60,000.00
Mertkan Kantarmaci — 3 lost for $22,500.00
Arnaud Delacour — 3 lost for $43,000.00
Jamie Ness — 3 lost for $27,500.00
Richard Vega — 3 lost for $25,000.00
Ann Merryman — 3 lost for $35,000.00
21 tied with two horses lost
Overall, 113 trainers had at least one horse claimed away from them.
CLAIMING TRAINERS YEAR-TO-DATE
| Rank | Trainer | Claims | Total Value of claims | Average claim price |
| --- | --- | --- | --- | --- |
| 1 | Magee, Kieron | 76 | $907,250.00 | $11,937.50 |
| 2 | Ness, Jamie | 62 | $767,250.00 | $12,375.00 |
| 3 | Lake, Scott A. | 56 | $631,000.00 | $11,267.86 |
| 4 | Farro, Patricia | 53 | $561,750.00 | $10,599.06 |
| 5 | Serey, Jr., Mario | 50 | $676,500.00 | $13,530.00 |
| 6 | Pino, Michael V. | 41 | $458,500.00 | $11,182.93 |
| 7 | Potts, Wayne | 40 | $286,500.00 | $7,162.50 |
| 8 | McMahon, Hugh I. | 38 | $485,500.00 | $12,776.32 |
| 9 | Zulueta, Marcos | 37 | $517,000.00 | $13,972.97 |
| 10 | Kreiser, Timothy C. | 36 | $417,000.00 | $11,583.33 |
| 11 | Graci, Kimberly A | 30 | $172,750.00 | $5,758.33 |
| 12 | Kulp, Brandon L. | 25 | $251,000.00 | $10,040.00 |
| 13 | Stickler, Jr., Lester J. | 22 | $184,500.00 | $8,386.36 |
| 14 | Brown, Ronney W. | 19 | $136,750.00 | $7,197.37 |
| 15 | Demasi, Kathleen A. | 19 | $214,000.00 | $11,263.16 |
| 16 | Vazquez, Juan C. | 19 | $182,000.00 | $9,578.95 |
| 17 | Velazquez, Daniel | 18 | $202,500.00 | $11,250.00 |
| 18 | Gonzalez, Claudio A. | 18 | $251,000.00 | $13,944.44 |
| 19 | Penaloza, Miguel | 18 | $202,000.00 | $11,222.22 |
| 20 | McClellan, Erin C. | 17 | $115,500.00 | $6,794.12 |
| 21 | Brooks, Gerald E. | 17 | $202,500.00 | $11,911.76 |
| 22 | Wilhelm-Saldana, Jennie | 16 | $138,500.00 | $8,656.25 |
| 23 | Guerrero, J. Guadalupe | 16 | $155,500.00 | $9,718.75 |
| 24 | Stites, Flint W. | 16 | $140,250.00 | $8,765.63 |
| 25 | Perri, Gina | 16 | $88,500.00 | $5,531.25 |
| 26 | Mosco, Robert | 15 | $138,250.00 | $9,216.67 |
| 27 | Brown, Jr., Howard R. | 15 | $149,000.00 | $9,933.33 |
| 28 | Kantarmaci, Mertkan | 14 | $90,000.00 | $6,428.57 |
| 29 | Sillaman, Richard P. | 14 | $136,500.00 | $9,750.00 |
| 30 | Navarro, Jorge | 14 | $189,500.00 | $13,535.71 |
| 31 | Joy, Kevin J. | 13 | $92,000.00 | $7,076.92 |
| 32 | Trombetta, Michael J. | 13 | $166,500.00 | $12,807.69 |
| 33 | Rojas, Eduardo E. | 12 | $93,000.00 | $7,750.00 |
| 34 | Sacco, Gregory D. | 12 | $132,250.00 | $11,020.83 |
| 35 | Salvaggio, Mark V. | 12 | $136,000.00 | $11,333.33 |
| 36 | Moore, Michael M. | 12 | $163,500.00 | $13,625.00 |
| 37 | Capuano, Dale | 12 | $213,250.00 | $17,770.83 |
| 38 | Eppler, Mary E. | 11 | $179,500.00 | $16,318.18 |
| 39 | Figgins, III, Ollie L. | 11 | $107,500.00 | $9,772.73 |
| 40 | Vera, Miguel | 11 | $121,000.00 | $11,000.00 |
| 41 | Hassig, Alison | 11 | $70,500.00 | $6,409.09 |
| 42 | Patterson, Kevin S. | 11 | $121,750.00 | $11,068.18 |
| 43 | Nations, Keith | 11 | $223,750.00 | $20,340.91 |
| 44 | Aristone, Philip T. | 11 | $85,000.00 | $7,727.27 |
| 45 | Iannotti, IV, Thomas | 11 | $65,500.00 | $5,954.55 |
| 46 | Preciado, Ramon | 11 | $147,500.00 | $13,409.09 |
| 47 | Mick, Stephen R. | 10 | $74,250.00 | $7,425.00 |
| 48 | Wyner, Harold | 10 | $62,500.00 | $6,250.00 |
| 49 | Sinnefia, Paulina | 10 | $84,500.00 | $8,450.00 |
| 50 | Vega, Richard | 10 | $147,000.00 | $14,700.00 |
| 51 | Cartagena, Keisy | 10 | $80,250.00 | $8,025.00 |
| 52 | Gorham, Michael E. | 10 | $115,500.00 | $11,550.00 |
| 53 | Allen, III, A. Ferris | 10 | $154,500.00 | $15,450.00 |
| 54 | Albright, Amy | 10 | $59,500.00 | $5,950.00 |
| 55 | Hartsell, Jr., John J. | 9 | $115,500.00 | $12,833.33 |
| 56 | Gonzalez, Aldana | 9 | $64,500.00 | $7,166.67 |
| 57 | Estrada, Eberd | 9 | $89,500.00 | $9,944.44 |
| 58 | Whylie, Herold O. | 9 | $62,500.00 | $6,944.44 |
| 59 | Dandy, Ronald J. | 8 | $55,000.00 | $6,875.00 |
| 60 | Montoya, Marya K. | 8 | $81,000.00 | $10,125.00 |
| 61 | Rodriguez, John M. | 8 | $83,500.00 | $10,437.50 |
| 62 | Cibelli, Jane | 8 | $162,500.00 | $20,312.50 |
| 63 | Maldonado, Jonathan | 8 | $78,750.00 | $9,843.75 |
| 64 | Bernardini, Jay P. | 8 | $128,000.00 | $16,000.00 |
| 65 | Russo, Victor | 7 | $41,500.00 | $5,928.57 |
| 66 | Houghton, Dove P. | 7 | $103,000.00 | $14,714.29 |
| 67 | Reid, Jr., Robert E. | 7 | $157,500.00 | $22,500.00 |
| 68 | Walters, Henry | 7 | $53,000.00 | $7,571.43 |
| 69 | Pearce, Penny | 7 | $59,000.00 | $8,428.57 |
| 70 | Pattershall, Mary A. | 7 | $45,000.00 | $6,428.57 |
| 71 | Tracy, Jr., Ray E. | 7 | $73,500.00 | $10,500.00 |
| 72 | Guerrero, Juan Carlos | 7 | $90,000.00 | $12,857.14 |
| 73 | Velazquez, Alfredo | 7 | $52,500.00 | $7,500.00 |
| 74 | Castillo, Michelle | 6 | $36,750.00 | $6,125.00 |
| 75 | Carlisle, John C. | 6 | $33,000.00 | $5,500.00 |
| 76 | Rozell, Ron | 6 | $44,250.00 | $7,375.00 |
| 77 | Thompson, J. Willard | 6 | $117,500.00 | $19,583.33 |
| 78 | Nunn, Douglas | 6 | $46,250.00 | $7,708.33 |
| 79 | Abrams, Ronald B. | 6 | $74,500.00 | $12,416.67 |
| 80 | Rigattieri, John | 6 | $38,750.00 | $6,458.33 |
| 81 | Hollahan, Heather | 6 | $37,500.00 | $6,250.00 |
| 82 | Nunn, David | 6 | $39,500.00 | $6,583.33 |
| 83 | Maragh, Collin | 6 | $47,500.00 | $7,916.67 |
| 84 | Englehart, Jeffrey S. | 6 | $56,500.00 | $9,416.67 |
| 85 | Milian, Carlos J. | 6 | $37,500.00 | $6,250.00 |
| 86 | Schoenthal, Phil | 6 | $56,500.00 | $9,416.67 |
| 87 | Lynch, Cathal A. | 6 | $61,500.00 | $10,250.00 |
| 88 | Follett, Norman C. | 6 | $62,500.00 | $10,416.67 |
| 89 | Magill, Patrick J. | 6 | $72,500.00 | $12,083.33 |
| 90 | Gargan, Danny | 6 | $67,000.00 | $11,166.67 |
| 91 | Dilodovico, Damon R. | 6 | $92,000.00 | $15,333.33 |
| 92 | Brown, Steven R. | 5 | $45,500.00 | $9,100.00 |
| 93 | Pradenas, Sergio H. | 5 | $34,000.00 | $6,800.00 |
| 94 | Ward, Dennis | 5 | $55,000.00 | $11,000.00 |
| 95 | Houghton, Roy D. | 5 | $85,000.00 | $17,000.00 |
| 96 | Pointer, Norman R. | 5 | $29,500.00 | $5,900.00 |
| 97 | Kendall, Jr., Dennis S. | 5 | $36,250.00 | $7,250.00 |
| 98 | Orseno, Joseph F. | 5 | $49,000.00 | $9,800.00 |
| 99 | Rogers, Ronald W. | 5 | $57,500.00 | $11,500.00 |
| 100 | Bedard, Alan | 5 | $35,000.00 | $7,000.00 |
| 101 | Dunham, Bernard G. | 5 | $30,000.00 | $6,000.00 |
| 102 | Tuomisto, Clifford | 5 | $33,750.00 | $6,750.00 |
| 103 | Harvatt, Charles R. | 5 | $87,500.00 | $17,500.00 |
| 104 | Campbell, William A. | 5 | $80,000.00 | $16,000.00 |
| 105 | Albert, Linda L. | 5 | $76,000.00 | $15,200.00 |
| 106 | Hammond, Robert L. | 5 | $24,000.00 | $4,800.00 |
| 107 | Leaf, Jr., Robert | 5 | $98,500.00 | $19,700.00 |
| 108 | Gaudet, Lacey | 5 | $72,000.00 | $14,400.00 |
| 109 | Serey, Juan | 5 | $50,000.00 | $10,000.00 |
| 110 | Frock, Charles L. | 5 | $75,000.00 | $15,000.00 |
| 111 | Tammaro, III, John J. | 5 | $62,500.00 | $12,500.00 |
| 112 | Aro, Michael Charles | 4 | $57,500.00 | $14,375.00 |
| 113 | Lingenfelter, Thomas H. | 4 | $24,250.00 | $6,062.50 |
| 114 | Bouchard, Leslye G. | 4 | $30,000.00 | $7,500.00 |
| 115 | Adams, Douglas S. | 4 | $41,000.00 | $10,250.00 |
| 116 | Wolfendale, Howard E. | 4 | $71,000.00 | $17,750.00 |
| 117 | Boggs, M. Joanna | 4 | $27,000.00 | $6,750.00 |
| 118 | Miller, Craig S. | 4 | $32,000.00 | $8,000.00 |
| 119 | Zimmerman, Matthew John | 4 | $46,500.00 | $11,625.00 |
| 120 | Breen, Kelly J. | 4 | $57,500.00 | $14,375.00 |
| 121 | Leatherbury, King T. | 4 | $80,000.00 | $20,000.00 |
| 122 | Merryman, Ann W. | 4 | $50,000.00 | $12,500.00 |
| 123 | Mongeon, Kathy P. | 4 | $51,000.00 | $12,750.00 |
| 124 | Oliva, Robert | 4 | $21,500.00 | $5,375.00 |
| 125 | McBurney, Patrick B. | 4 | $44,000.00 | $11,000.00 |
| 126 | Shea, Timothy H. | 4 | $30,250.00 | $7,562.50 |
| 127 | Salazar, Marco P. | 4 | $24,750.00 | $6,187.50 |
| 128 | Conner, John D. | 4 | $24,500.00 | $6,125.00 |
| 129 | McClelland, Paul G. | 4 | $17,500.00 | $4,375.00 |
| 130 | Farrior, Anthony | 4 | $22,500.00 | $5,625.00 |
| 131 | Daniels, Patrick B. | 4 | $24,500.00 | $6,125.00 |
| 132 | Robb, John J. | 4 | $54,500.00 | $13,625.00 |
| 133 | Linder, Jr., Louis C. | 4 | $52,500.00 | $13,125.00 |
| 134 | Reynolds, Joan A. | 4 | $31,000.00 | $7,750.00 |
| 135 | DiMauro, Stephen L. | 4 | $82,500.00 | $20,625.00 |
| 136 | Burton, Tim | 4 | $25,000.00 | $6,250.00 |
| 137 | Keefe, Timothy L. | 4 | $44,500.00 | $11,125.00 |
| 138 | Vitali, Marcus J. | 4 | $96,000.00 | $24,000.00 |
| 139 | Harigeorgiou, Konstantinos | 4 | $30,000.00 | $7,500.00 |
| 140 | Aguirre, Anthony | 3 | $39,000.00 | $13,000.00 |
| 141 | DeSanctis, Jaclyn | 3 | $17,500.00 | $5,833.33 |
| 142 | Ferreira, Fernando | 3 | $14,000.00 | $4,666.67 |
| 143 | Delozier, III, Joseph W. | 3 | $53,500.00 | $17,833.33 |
| 144 | Curry, Dee | 3 | $27,500.00 | $9,166.67 |
| 145 | Dunn, John J. | 3 | $22,500.00 | $7,500.00 |
| 146 | Martin, Sandee D. | 3 | $20,000.00 | $6,666.67 |
| 147 | Mancilla, Carlos A. | 3 | $15,000.00 | $5,000.00 |
| 148 | Comi, Jr., Ralph W. | 3 | $21,000.00 | $7,000.00 |
| 149 | Martin, Silvio L. | 3 | $25,000.00 | $8,333.33 |
| 150 | Dimitriou, Harry E. | 3 | $31,500.00 | $10,500.00 |
| 151 | Martinez, Alexander | 3 | $20,000.00 | $6,666.67 |
| 152 | Hadry, Charles J. | 3 | $33,500.00 | $11,166.67 |
| 153 | Kopp, Glenn | 3 | $16,500.00 | $5,500.00 |
| 154 | Kravets, Bruce M. | 3 | $13,000.00 | $4,333.33 |
| 155 | Judy, Marcus | 3 | $15,000.00 | $5,000.00 |
| 156 | Juarez, Calixto | 3 | $29,500.00 | $9,833.33 |
| 157 | Diaz, Jorge | 3 | $20,000.00 | $6,666.67 |
| 158 | Hushelpeck, Henry | 3 | $12,000.00 | $4,000.00 |
| 159 | Hogan, William J | 3 | $25,000.00 | $8,333.33 |
| 160 | Geist, David W. | 3 | $15,250.00 | $5,083.33 |
| 161 | Hadry, Charles P. | 3 | $26,000.00 | $8,666.67 |
| 162 | Allen, Randy | 3 | $19,500.00 | $6,500.00 |
| 163 | Caraballo, Wilfredo V. | 3 | $25,000.00 | $8,333.33 |
| 164 | Lima, Rolando J. | 3 | $51,000.00 | $17,000.00 |
| 165 | Beattie, Cody | 3 | $28,000.00 | $9,333.33 |
| 166 | Kotenko, Robert | 3 | $27,500.00 | $9,166.67 |
| 167 | Barr, Donald H. | 3 | $42,000.00 | $14,000.00 |
| 168 | Ice, Tim A. | 3 | $31,000.00 | $10,333.33 |
| 169 | Coletti, Jr., Edward J. | 3 | $40,000.00 | $13,333.33 |
| 170 | Haynes, Ernest M. | 3 | $43,750.00 | $14,583.33 |
| 171 | Romeka, Steven | 3 | $15,000.00 | $5,000.00 |
| 172 | Neilson, Katherine | 3 | $15,250.00 | $5,083.33 |
| 173 | Pessanha, Ney | 3 | $13,000.00 | $4,333.33 |
| 174 | Salvaggio, Jr., Michael W. | 3 | $15,500.00 | $5,166.67 |
| 175 | Ryan, Derek S. | 3 | $56,000.00 | $18,666.67 |
| 176 | White, Donald R. | 3 | $20,000.00 | $6,666.67 |
| 177 | Noble, James F. | 3 | $20,000.00 | $6,666.67 |
| 178 | Preciado, Guadalupe | 3 | $67,500.00 | $22,500.00 |
| 179 | Smith, Thomas R. | 3 | $22,750.00 | $7,583.33 |
| 180 | McMahon, W. Thomas | 3 | $16,500.00 | $5,500.00 |
| 181 | Wilson, Tony | 3 | $53,500.00 | $17,833.33 |
| 182 | Pinkney, Dave | 3 | $19,250.00 | $6,416.67 |
| 183 | Rodriguez, Jorge W. | 3 | $17,500.00 | $5,833.33 |
| 184 | Woodhouse, Martin | 3 | $20,000.00 | $6,666.67 |
| 185 | O'Connell, Kathleen | 3 | $28,500.00 | $9,500.00 |
| 186 | Rideoutt II, Anthony M. | 3 | $25,500.00 | $8,500.00 |
| 187 | Day, Diane M. | 2 | $15,500.00 | $7,750.00 |
| 188 | Eff, Joseph A. | 2 | $15,000.00 | $7,500.00 |
| 189 | Sienkewicz, William M. | 2 | $26,000.00 | $13,000.00 |
| 190 | Shuman, Mark | 2 | $16,000.00 | $8,000.00 |
| 191 | Dunn, Felissa | 2 | $10,000.00 | $5,000.00 |
| 192 | Dymond, Amanda | 2 | $12,500.00 | $6,250.00 |
| 193 | Dibona, Bobby S. | 2 | $40,000.00 | $20,000.00 |
| 194 | Egan, Jason | 2 | $25,000.00 | $12,500.00 |
| 195 | Servis, John C. | 2 | $45,000.00 | $22,500.00 |
| 196 | Servis, Blane | 2 | $50,000.00 | $25,000.00 |
| 197 | Santangelo, Brett T. | 2 | $21,000.00 | $10,500.00 |
| 198 | Contreras, Javier | 2 | $18,000.00 | $9,000.00 |
| 199 | Gaffney, Hubert | 2 | $17,500.00 | $8,750.00 |
| 200 | Rosenthal, Gina | 2 | $20,000.00 | $10,000.00 |
| 201 | Griffin, Jacqueline | 2 | $22,500.00 | $11,250.00 |
| 202 | Rodriguez, Miguel A. | 2 | $15,000.00 | $7,500.00 |
| 203 | Rodriguez, Mario Rafael | 2 | $8,000.00 | $4,000.00 |
| 204 | Hammond, Heath | 2 | $9,000.00 | $4,500.00 |
| 205 | Robinson, Catherine H. | 2 | $65,000.00 | $32,500.00 |
| 206 | Scott, Joan | 2 | $13,500.00 | $6,750.00 |
| 207 | Tzortzakis, Emmanuel | 2 | $20,000.00 | $10,000.00 |
| 208 | Albright, George R. | 2 | $10,000.00 | $5,000.00 |
| 209 | Alcala, Cesar | 2 | $10,000.00 | $5,000.00 |
| 210 | Allen, Jeffrey S. | 2 | $9,500.00 | $4,750.00 |
| 211 | Amthor, K. Gordon | 2 | $17,500.00 | $8,750.00 |
| 212 | Wolfendale III, William H. | 2 | $13,500.00 | $6,750.00 |
| 213 | Bailes, W. Robert | 2 | $50,000.00 | $25,000.00 |
| 214 | Wilson, Brenda | 2 | $15,000.00 | $7,500.00 |
| 215 | Barth, Calvin | 2 | $17,000.00 | $8,500.00 |
| 216 | Battula, Aparna | 2 | $17,500.00 | $8,750.00 |
| 217 | Beattie, Stephanie S. | 2 | $8,000.00 | $4,000.00 |
| 218 | Beattie, Todd M. | 2 | $41,000.00 | $20,500.00 |
| 219 | Betancourt, Eli | 2 | $15,000.00 | $7,500.00 |
| 220 | Crowell, Susan L. | 2 | $15,000.00 | $7,500.00 |
| 221 | Vargas, Jorge A. | 2 | $11,000.00 | $5,500.00 |
| 222 | Soto, Carlos | 2 | $12,500.00 | $6,250.00 |
| 223 | Calderon, Luis | 2 | $15,000.00 | $7,500.00 |
| 224 | Thurston, Jerry A. | 2 | $10,750.00 | $5,375.00 |
| 225 | Tapscott, Carlyne | 2 | $23,500.00 | $11,750.00 |
| 226 | Talley, Jeff | 2 | $47,000.00 | $23,500.00 |
| 227 | Synnefias, Dimitrios K. | 2 | $15,000.00 | $7,500.00 |
| 228 | Caruso, Nick Joseph | 2 | $20,000.00 | $10,000.00 |
| 229 | Chatterpaul, Naipaul | 2 | $20,000.00 | $10,000.00 |
| 230 | Chinn, Fred J. | 2 | $14,500.00 | $7,250.00 |
| 231 | Stuart, Shea | 2 | $22,500.00 | $11,250.00 |
| 232 | Servideo, Robert | 2 | $10,000.00 | $5,000.00 |
| 233 | Coram, Robert E. | 2 | $16,000.00 | $8,000.00 |
| 234 | Reese, Cynthia G. | 2 | $27,500.00 | $13,750.00 |
| 235 | Vick, Timothy M. | 2 | $9,000.00 | $4,500.00 |
| 236 | Plaza, Alberto | 2 | $12,500.00 | $6,250.00 |
| 237 | Komlo, William R. | 2 | $41,000.00 | $20,500.00 |
| 238 | Jones, Carl C. | 2 | $12,500.00 | $6,250.00 |
| 239 | Katz, Gary R. | 2 | $13,750.00 | $6,875.00 |
| 240 | Popovich, James A. | 2 | $12,500.00 | $6,250.00 |
| 241 | Iwinski, Allen | 2 | $37,500.00 | $18,750.00 |
| 242 | McGuire, James D. | 2 | $16,000.00 | $8,000.00 |
| 243 | Mangual, Manolo | 2 | $10,000.00 | $5,000.00 |
| 244 | Marrotta, Patrick | 2 | $28,500.00 | $14,250.00 |
| 245 | Madrigal, Sr., Rodrigo | 2 | $20,000.00 | $10,000.00 |
| 246 | Plummer, Bobby Lee | 2 | $35,000.00 | $17,500.00 |
| 247 | Pierce, Jr., Joseph H. | 2 | $25,000.00 | $12,500.00 |
| 248 | Kee, Willie J. | 2 | $14,000.00 | $7,000.00 |
| 249 | Houghton, T. Bernard | 2 | $11,250.00 | $5,625.00 |
| 250 | Houle, Lucy A. | 2 | $9,000.00 | $4,500.00 |
| 251 | Landicini, Jr., Chris | 2 | $17,500.00 | $8,750.00 |
| 252 | Tracey, Ray | 1 | $7,500.00 | $7,500.00 |
| 253 | Lockhart, Alan J. | 1 | $20,000.00 | $20,000.00 |
| 254 | Miller, Marlin A. | 1 | $5,000.00 | $5,000.00 |
| 255 | Uhacz, Wendy | 1 | $16,000.00 | $16,000.00 |
| 256 | Lotruglio, Edward | 1 | $7,500.00 | $7,500.00 |
| 257 | Caison, Jody L | 1 | $5,000.00 | $5,000.00 |
| 258 | Minieri, Joseph | 1 | $25,000.00 | $25,000.00 |
| 259 | Cabrera, Luis | 1 | $5,000.00 | $5,000.00 |
| 260 | Tsirigotis, Jr., James | 1 | $5,000.00 | $5,000.00 |
| 261 | Swick, Don | 1 | $7,500.00 | $7,500.00 |
| 262 | Buskey, III, Bob E. | 1 | $5,000.00 | $5,000.00 |
| 263 | Murillo, Ricardo A. | 1 | $5,000.00 | $5,000.00 |
| 264 | Cipriano, Robert V. | 1 | $5,000.00 | $5,000.00 |
| 265 | Lawrence, II, James L. | 1 | $4,000.00 | $4,000.00 |
| 266 | Sterling, Michael E. | 1 | $4,500.00 | $4,500.00 |
| 267 | Stopherd, Edwin C. | 1 | $7,500.00 | $7,500.00 |
| 268 | Collins, Timothy M. | 1 | $4,500.00 | $4,500.00 |
| 269 | Stowers, Michelle | 1 | $10,000.00 | $10,000.00 |
| 270 | Clark, Thomas A. | 1 | $30,000.00 | $30,000.00 |
| 271 | Nicholson, Craig P. | 1 | $10,000.00 | $10,000.00 |
| 272 | Ciresa, Martin E. | 1 | $10,000.00 | $10,000.00 |
| 273 | Nechamkin, II, Leo S. | 1 | $5,000.00 | $5,000.00 |
| 274 | Nunley, Randy | 1 | $6,250.00 | $6,250.00 |
| 275 | Chircop, Steven | 1 | $5,000.00 | $5,000.00 |
| 276 | Lehman, Edward | 1 | $20,000.00 | $20,000.00 |
| 277 | Nietert, Roger W. | 1 | $5,000.00 | $5,000.00 |
| 278 | Chacon, Gustavo | 1 | $7,500.00 | $7,500.00 |
| 279 | Cascallares, Nestor | 1 | $7,500.00 | $7,500.00 |
| 280 | Clagett, Christine F. | 1 | $5,000.00 | $5,000.00 |
| 281 | McCarthy, Brenda | 1 | $5,000.00 | $5,000.00 |
| 282 | McKenna, Todd | 1 | $6,250.00 | $6,250.00 |
| 283 | Arnold, Pamela A. | 1 | $7,500.00 | $7,500.00 |
| 284 | Matier, Sandra | 1 | $5,000.00 | $5,000.00 |
| 285 | Wong, Jonathan | 1 | $7,500.00 | $7,500.00 |
| 286 | McGee, Paul J. | 1 | $5,000.00 | $5,000.00 |
| 287 | McCall, Brian E. | 1 | $4,000.00 | $4,000.00 |
| 288 | Allard, Edward T. | 1 | $7,500.00 | $7,500.00 |
| 289 | Voss, Katharine M. | 1 | $5,000.00 | $5,000.00 |
| 290 | Aleksic, Sonja | 1 | $14,000.00 | $14,000.00 |
| 291 | Aylor, Jr., William L. | 1 | $5,000.00 | $5,000.00 |
| 292 | McCarthy, William E. | 1 | $7,500.00 | $7,500.00 |
| 293 | Worton, Dorothy Elisabeth | 1 | $5,000.00 | $5,000.00 |
| 294 | Albertrani, Louis | 1 | $4,000.00 | $4,000.00 |
| 295 | Zalalas, Michael | 1 | $12,500.00 | $12,500.00 |
| 296 | Zavitsanos, James | 1 | $10,000.00 | $10,000.00 |
| 297 | Agnew, Naoise | 1 | $25,000.00 | $25,000.00 |
| 298 | Zubenko III, Gerald | 1 | $5,000.00 | $5,000.00 |
| 299 | Alexander, Bruce F. | 1 | $16,000.00 | $16,000.00 |
| 300 | West, Benjamin F. | 1 | $7,500.00 | $7,500.00 |
| 301 | Brennan, Regina | 1 | $10,000.00 | $10,000.00 |
| 302 | Lane, Scott J. | 1 | $5,000.00 | $5,000.00 |
| 303 | Boykins, Kevin | 1 | $5,000.00 | $5,000.00 |
| 304 | Boucher, Lilith E. | 1 | $10,000.00 | $10,000.00 |
| 305 | Walters, David | 1 | $10,000.00 | $10,000.00 |
| 306 | Webb, Samuel E. | 1 | $5,000.00 | $5,000.00 |
| 307 | Miller, F. Bruce | 1 | $5,000.00 | $5,000.00 |
| 308 | Arroyo, Enrique | 1 | $12,500.00 | $12,500.00 |
| 309 | Bentley, Fenneka T. | 1 | $5,000.00 | $5,000.00 |
| 310 | Ashton, Patrick | 1 | $5,000.00 | $5,000.00 |
| 311 | Merryman, Elizabeth M. | 1 | $16,000.00 | $16,000.00 |
| 312 | Mann, Farrel | 1 | $7,500.00 | $7,500.00 |
| 313 | Meehan, Elizabeth E. | 1 | $5,000.00 | $5,000.00 |
| 314 | Bartoni, Wayne P. | 1 | $4,000.00 | $4,000.00 |
| 315 | Margotta, Jr., Anthony R. | 1 | $7,500.00 | $7,500.00 |
| 316 | Martin, August R. | 1 | $7,500.00 | $7,500.00 |
| 317 | Ayres, Jr., Joseph W. | 1 | $10,000.00 | $10,000.00 |
| 318 | Maher, Edward | 1 | $5,000.00 | $5,000.00 |
| 319 | Weeks, Michael Lee | 1 | $5,000.00 | $5,000.00 |
| 320 | Garibay, Lucia | 1 | $6,250.00 | $6,250.00 |
| 321 | Jacavone, John J. | 1 | $4,000.00 | $4,000.00 |
| 322 | Jenkins, Rodney | 1 | $10,000.00 | $10,000.00 |
| 323 | Runco, Jeff C. | 1 | $12,500.00 | $12,500.00 |
| 324 | Russo, Anthony J. | 1 | $25,000.00 | $25,000.00 |
| 325 | Jones, J. Larry | 1 | $5,000.00 | $5,000.00 |
| 326 | Ryerson, James T. | 1 | $5,000.00 | $5,000.00 |
| 327 | Potts, Ron G. | 1 | $16,000.00 | $16,000.00 |
| 328 | Jones, Jr., Michael E. | 1 | $16,000.00 | $16,000.00 |
| 329 | Iverson, Gerald | 1 | $8,000.00 | $8,000.00 |
| 330 | Salzman, Jr., John E. | 1 | $16,000.00 | $16,000.00 |
| 331 | Gamber, Robert E. | 1 | $10,000.00 | $10,000.00 |
| 332 | Principe, Alison | 1 | $40,000.00 | $40,000.00 |
| 333 | Furlong, Kenyon G. | 1 | $12,500.00 | $12,500.00 |
| 334 | Salzman, Timothy E. | 1 | $5,000.00 | $5,000.00 |
| 335 | Frangella, Jr., James A. | 1 | $20,000.00 | $20,000.00 |
| 336 | Cox, Kenneth M. | 1 | $15,000.00 | $15,000.00 |
| 337 | Gaudet, Linda S. | 1 | $10,000.00 | $10,000.00 |
| 338 | Huston, Rory K. | 1 | $7,500.00 | $7,500.00 |
| 339 | Rathman, Elisha | 1 | $4,000.00 | $4,000.00 |
| 340 | Raymond, Robert A. | 1 | $5,000.00 | $5,000.00 |
| 341 | Riddle, Luanne | 1 | $4,000.00 | $4,000.00 |
| 342 | Hess, Jacob G. | 1 | $11,000.00 | $11,000.00 |
| 343 | Hendriks, Richard J. | 1 | $10,000.00 | $10,000.00 |
| 344 | Helmetag, Robert P. | 1 | $7,500.00 | $7,500.00 |
| 345 | Hedus, William C. | 1 | $7,500.00 | $7,500.00 |
| 346 | Rogers, J. Michael | 1 | $4,000.00 | $4,000.00 |
| 347 | Rivera, Gilberto | 1 | $7,500.00 | $7,500.00 |
| 348 | Gulyas, Peter | 1 | $16,000.00 | $16,000.00 |
| 349 | Rodriguez, Ceasar | 1 | $6,250.00 | $6,250.00 |
| 350 | Harper, Jack L. | 1 | $5,000.00 | $5,000.00 |
| 351 | Rodriguez, Franklin | 1 | $4,000.00 | $4,000.00 |
| 352 | Radford, Kathryn L. | 1 | $7,500.00 | $7,500.00 |
| 353 | Racanelli, Mark Joseph | 1 | $5,000.00 | $5,000.00 |
| 354 | Hall, Aimee D. | 1 | $6,250.00 | $6,250.00 |
| 355 | Foglia, Anthony | 1 | $7,500.00 | $7,500.00 |
| 356 | Rappaport, Mitchell | 1 | $5,000.00 | $5,000.00 |
| 357 | Snyder, Floyd W. | 1 | $10,000.00 | $10,000.00 |
| 358 | Dibben, H. Kathleen | 1 | $7,500.00 | $7,500.00 |
| 359 | Smith, Guy | 1 | $12,500.00 | $12,500.00 |
| 360 | Smith, Hamilton A. | 1 | $11,000.00 | $11,000.00 |
| 361 | Plesa, Jr., Edward | 1 | $40,000.00 | $40,000.00 |
| 362 | Smylie, Timothy J. | 1 | $7,500.00 | $7,500.00 |
| 363 | Davis, Samuel G. | 1 | $4,500.00 | $4,500.00 |
| 364 | Fortay, Peter A. | 1 | $5,000.00 | $5,000.00 |
| 365 | Davidovich, Jamen | 1 | $7,000.00 | $7,000.00 |
| 366 | Kolibos, Ioannis E. | 1 | $4,000.00 | $4,000.00 |
| 367 | Cuttino, Marion L. | 1 | $12,500.00 | $12,500.00 |
| 368 | St. Lewis, Uriah | 1 | $7,500.00 | $7,500.00 |
| 369 | Crane, Dean F. | 1 | $5,000.00 | $5,000.00 |
| 370 | Fairlie, Scott H. | 1 | $16,000.00 | $16,000.00 |
| 371 | Correnti, Armand W. | 1 | $10,000.00 | $10,000.00 |
| 372 | Correnti, Anthony | 1 | $15,000.00 | $15,000.00 |
| 373 | Correa, Alex A. | 1 | $5,000.00 | $5,000.00 |
| 374 | Davies, Joseph G. | 1 | $5,000.00 | $5,000.00 |
| 375 | Keller, Christopher M. | 1 | $5,000.00 | $5,000.00 |
| 376 | Saville, Niall | 1 | $32,000.00 | $32,000.00 |
| 377 | Fields, Kevin J. | 1 | $12,500.00 | $12,500.00 |
| 378 | Fernandez, Miguel A. | 1 | $18,000.00 | $18,000.00 |
| 379 | McCutchen, Jason | 1 | $5,000.00 | $5,000.00 |
| 380 | Lezell, David G. | 1 | $7,500.00 | $7,500.00 |
| 381 | Eubanks, Annette M. | 1 | $4,500.00 | $4,500.00 |
| 382 | Servis, Jason | 1 | $12,500.00 | $12,500.00 |
| 383 | Kopaj, Paul | 1 | $5,000.00 | $5,000.00 |
| 384 | Polachek, Janet | 1 | $7,500.00 | $7,500.00 |
| 385 | Simoff, Andrew L. | 1 | $5,000.00 | $5,000.00 |
| 386 | Shaw, Timothy J. | 1 | $7,500.00 | $7,500.00 |
| 387 | Kirby, Timothy | 1 | $12,500.00 | $12,500.00 |
| 388 | Shelansky, Richard | 1 | $7,500.00 | $7,500.00 |
| 389 | Duchnowski, Paula | 1 | $5,000.00 | $5,000.00 |
| 390 | Dotolo, David | 1 | $7,500.00 | $7,500.00 |
| 391 | Doran, Carl | 1 | $7,500.00 | $7,500.00 |
| 392 | Cornwell, Jr., James L. | 1 | $4,500.00 | $4,500.00 |
| 393 | Shanley, Timothy | 1 | $5,000.00 | $5,000.00 |