Of killer squirrels and no-calls at Laurel Park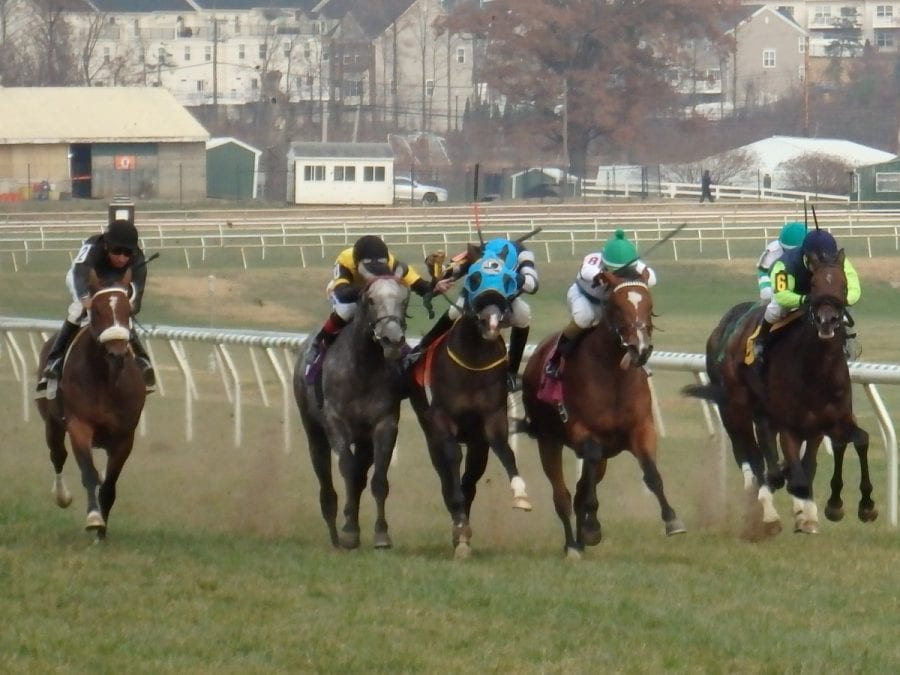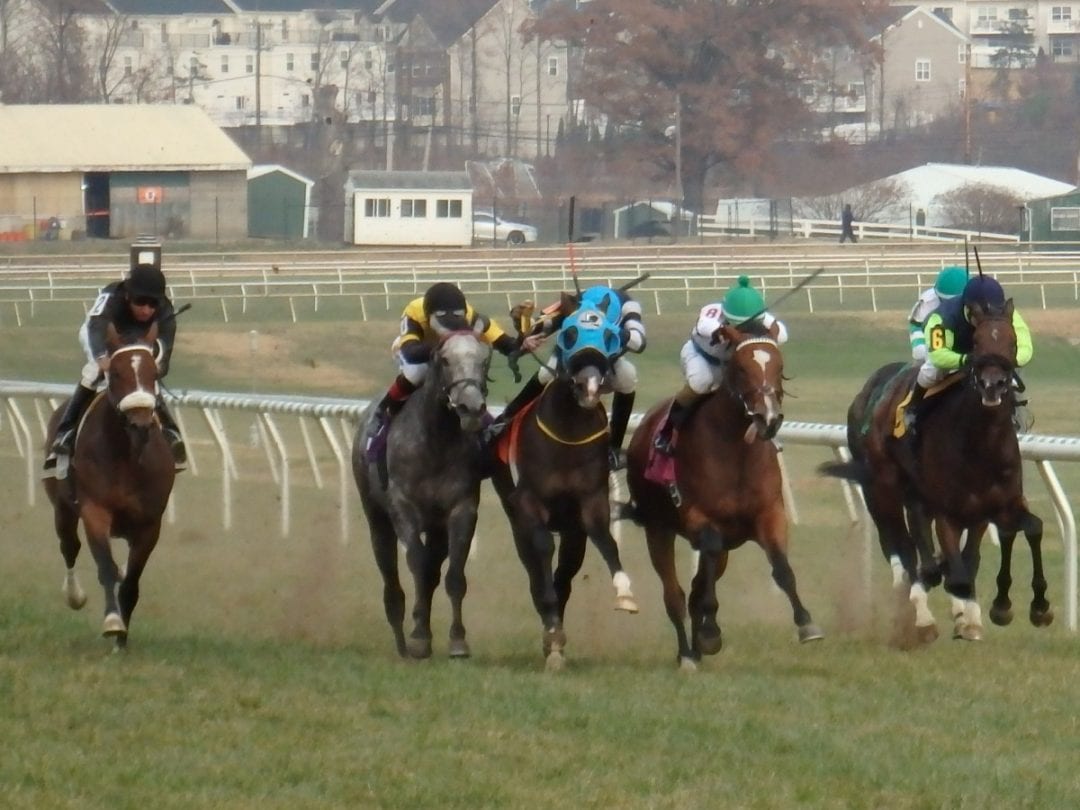 Be Counted (#8, green cap, no blinkers) and Top Hat City (#7, blue cap blue blinkers) came to the wire together in the seventh. Photo by The Racing Biz.
by Frank Vespe
Maybe it was a sign.
A killer squirrel set his sights on Maryland racing analyst Stan Salter, interrupting the morning's edition of Today at the Races.
And that wasn't — necessarily — the strangest thing that happened during the day.
Once Stan and cohost Keith Feustle fended off the squirrel, the racing started, and things, perhaps became even weirder.
The first race saw 10-1 Pride of Wilko edge 12-1 Cracking Good Pins, leading to a $214.20 exacta.  That was followed by a $245.40 exacta in race two, a $171.20 exacta in the third, and a $258 exacta in the fifth.
Then came race seven.
Prior to the seventh — a maiden special weight test for two-year-olds — Mike Trombetta trainee Somekindofmagician divested himself of rider Julian Pimentel and trotted 'round the track for a minute or two before assistant trainer Tana Aubrey tracked him down.
Settled down and with Pimentel back up, Somekindofmagician dawdled well off the pace before making a spirited late rally while running greenly to finish fourth, beaten just a half-length for all the money.
Meanwhile, up front, a pair of debut runners — Be Counted and Top Hat City — were slugging it out for the win spot.
Literally.
Be Counted tried to sneak through along the inside, while Top Hat City had dead aim from the outside — and had Be Counted pinned in.  Be Counted, with Alex Cintron up, bulled his way to clear running, bumping Top Hat City in the process.  The two rivals brushed again soon after.
Be Counted and Top Hat City, Malcolm Franklin in the irons, engaged in a frantic finish, with the former prevailing by the narrowest of nose margins.
After an objection and lengthy review, the stewards left Be Counted up.  That presumably made Graham Motion, who trains the winner for Augustin Stable, happy, and Wayne Potts, who trains the runner-up for Top Hat Thorouhbreds, less so.
"The worst no-call I've ever seen," said one longtime racing observer.
Not so, said the stewards.  They judged that the contact between the two horses was "50-50," with each horse equally at fault.  What's more, they said, Franklin, on the runner-up, never had to stop riding and the foul thus did not cost Top Hat City a placing.