Good calls land Dancing Rags in Breeders' Cup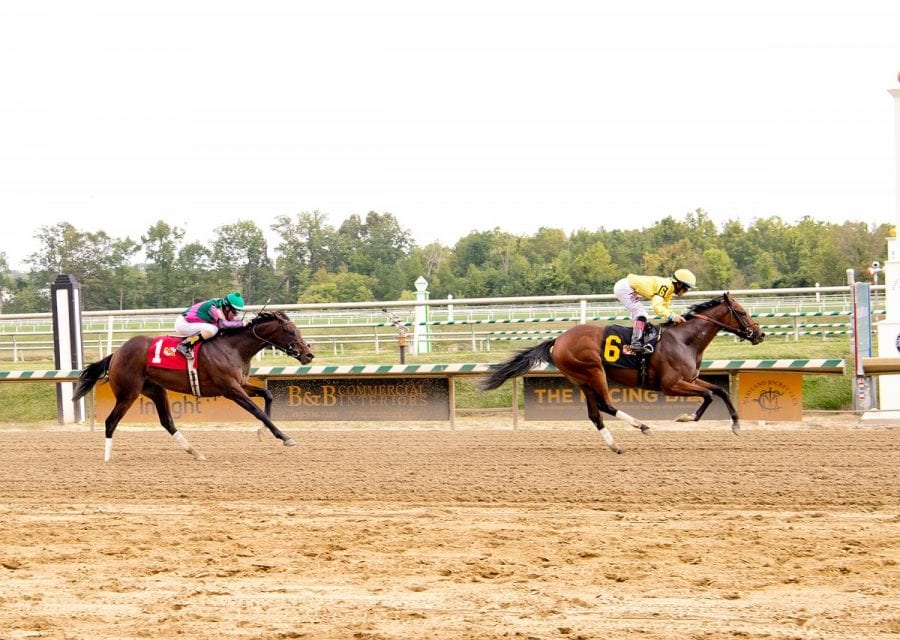 Dancing Rags broke her maiden over Tequila at Laurel Park in September. Photo by Jim McCue, Maryland Jockey Club.
by Teresa Genaro
Back in August, Dancing Rags debuted at Laurel for trainer Graham Motion. Despite her dirt pedigree, Motion elected to start the Union Rags filly on the turf, not an unusual decision for him with first-time starters.
"I like to start some of them on the grass," said the trainer by phone from California. "It's much easier on them and there's no kickback, and at Fair Hill I don't train my horses to take kickback."
She finished third in that grass sprint, beaten by four lengths, the chart noting that she ran "with interest," and Motion brought her back at Laurel six weeks later, but this time on the dirt, and this time at a mile.
"It was natural to stretch her out," said Motion, "I always thought that she'd handle dirt very well. I worry about pegging horses as grass horses too early. She'd run well and I didn't want to assume that from that point on she was going to be a grass horse."
Good call.
On the strength of a win in that dirt debut at Laurel, Motion shipped the bay filly to Keeneland, to take a shot in the Grade I, "Win and You're In" Darley Alcibiades Stakes. Dancing Rags won, and she's in—in the Grade I, $2 million 14 Hands Winery Breeders' Cup Juvenile Fillies at Santa Anita.
Dancing Rags is owned by Chadds Ford Stable, which purchased her as a pinhooked two-year-old at the OBS sale of two-year-old in training in March. Phyllis Wyeth paid $210,000 for the daughter of Union Rags, the horse that she bred, sold, and bought back at auction in 2011, campaigning him to wins in the Saratoga Special, Champagne, and Belmont Stakes. Motion began training for Chadds Ford last year.
The filly's Mid-Atlantic connections go beyond her Fair Hill home and her races at Laurel Park. She was bred in Maryland by long-time Maryland horseman David DiPietro, who serves on the board of the state's breeding association. She is the first Grade I winner that he has bred, and on Wednesday of this week, he was preparing to fly west to see her run in the Breeders' Cup.
"It's been a very exciting couple of weeks," he said. "It's definitely a thrill and it's all happened pretty unexpectedly."
DiPietro purchased Dancing Rag's mare, Home Court, at the 2012 Keeneland November breeding stock sale, paying $110,000 for the graded stakes placed mare then in foal to Lookin at Lucky. Home Court, a graded stakes-placed daughter of Storm Cat out of the 1996 champion turf mare Jewel Princess, had sold for $1.4 million when in foal to Gone West in 2005, her racing career having ended in 2004.
"I have to give Larkin [Armstrong, who advised DiPietro on the purchase] a lot of credit," he said. "He knows that I don't want to spend a fortune or buy something that is so popular that you end up paying a significant premium for it. She was in foal to Lookin at Lucky and it seemed like we were getting a really good package."
"She had been bred to some very nice stallions prior to our buying her," he continued, "and while those [offspring] were decent, none of them had been stakes winners. There seemed to be a huge upside and not very much downside."
Again: good call.
Eighteen months after that purchase, the penultimate horse bred by Home Court's previous owners, AGS Thoroughbreds, became a stakes winner when Coup de Grace won the Grade III Bay Shore Stakes at Aqueduct, then the Grade II Amsterdam at Saratoga. And now, more than a decade after her breeding career began, she has a Grade I winner to her name.
DiPietro sold Dancing Rags as a yearling at last year's Keeneland September sale. She brought $80,000, selling to Bach Stables, which six months later realized a $130,000 profit on her.
"At the time, I was a little disappointed [in the price she brought]," admitted DiPietro. "Union Rags didn't stamp her to the degree he did some of his other foals, and there were quite a few Union Rags yearlings in that sale. Our filly was very pretty and classy, but she didn't have quite the size that buyers were looking for. We didn't have the product that that the market was looking for at that particular moment.
"But then to see her go to these owners, who owned the stallion, you know that she'll get the best opportunity possible. And Graham always does well by the horses. Given that I still own the mare, I tend not to look back, but to look forward."
And Dancing Rags' success this year has already paid tangible dividends for DiPietro's breeding operation. The filly's yearling half-brother by Tiznow was a $70,000 RNA at the Keeneland September sale — before her Grade I win.
Entered at the Fasig-Tipton October sale, after the Alcibiades? He not only sold, but he sold for $125,000.
"It was Larkin's idea to wheel him back in the sale," said DiPietro. "It wasn't because of what Dancing Rags had done, but because he thought that the colt might be a better fit for the market that Fasig-Tipton October caters to."
Yet again, good call.
DiPietro had had no plans to attend this year's Breeders' Cup and he's juggling some family commitments this weekend, but the chance to see for the first time a horse that he bred run in the Breeders' Cup proved irresistible. Throw in a little courtship on behalf of the event, and he was sold.
"I've never been through this before, and the Breeders' Cup organization has been unbelievable in terms of the outreach," he said. "The hospitality, the way they take care of me and our guests—it's really been amazing, from the day she won at Keeneland."
He also expressed appreciation for the contact and support he's had from Darley, which sponsored the Alcibiades.
Dancing Rags is 12-1 on the morning line and will break from post 8 under regular pilot Angel Cruz in the Juvenile Fillies. The race goes as the fourth race on the card with a post time of 3:05 pm Eastern time.
"It looks like a wide open race," said Motion. "From a speed ratings perspective, the horses all seem very similar. That's the reason I took a shot in the Alcibiades: from a numbers perspective, it seemed like she would fit. And she seems to take a step forward after every start."
DiPietro keeps most of his mares in Maryland, but Home Court will have her next foal, which is by Constitution, in Kentucky, not because he prefers the bluegrass but as a result of some logistical decisions that he made about possibly selling her—something that he ultimately chose not to do.
And while having a horse he bred in the Breeders' Cup would be momentous under any circumstances, that Dancing Rags was foaled in his home state makes him appreciate it all the more. She is the lone Maryland-bred running in the big event this year.
"I'm on the horse breeders' board," he said, "and I live in Maryland. This is a lot more special because she's a Maryland-bred."