Hard-hitting I'm a Chatterbox in unaccustomed outsider role in Distaff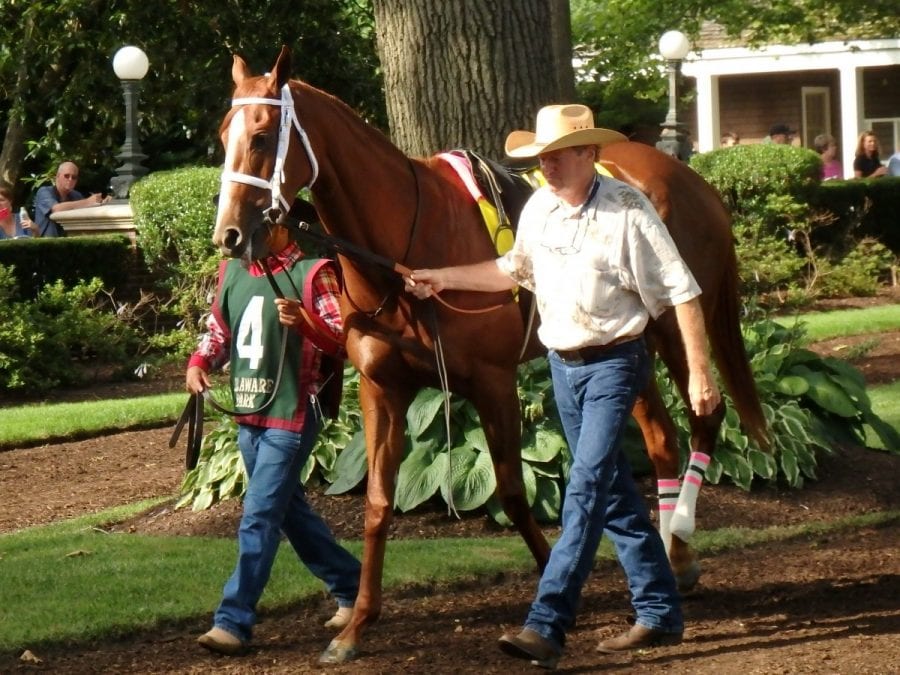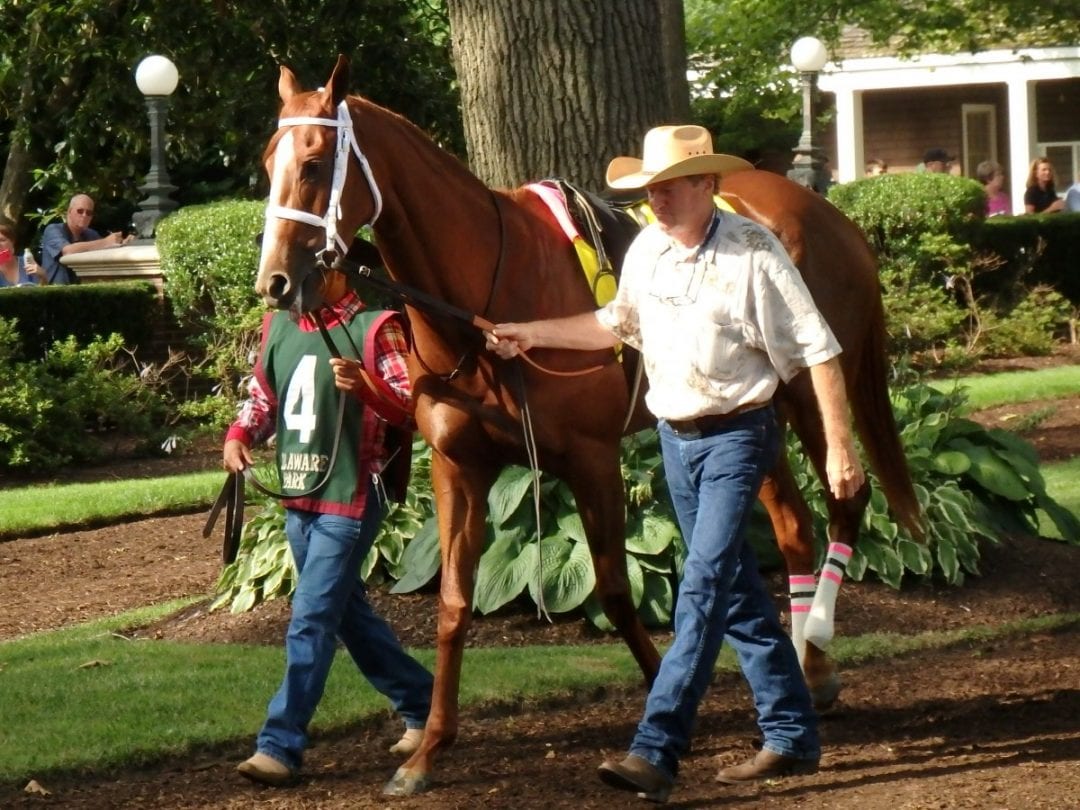 I'm a Chatterbox with trainer Larry Jones. Photo by The Racing Biz.
by Jennie Rees
In Friday's $2 million Breeders' Cup Distaff that includes an unprecedented three champions, trainer Larry Jones observes that "whoever runs fifth or six is still a really good horse."
The Jones-trained I'm a Chatterbox, mostly recently the seven-length winner of Keeneland's $500,000 Juddmonte Spinster, is one of seven Grade 1 winners in the field of eight fillies and mares set to square off at Santa Anita Park. The Grade 1 exception is pretty salty: Land Over Sea, who is merely the winner of this year's Grade 2 Fair Grounds Oaks and runner-up in the Kentucky Oaks.
Still, most of the focus is on the triumvirate of 2015 2-year-old champion Songbird, 3-year-old champ Stellar Wind and three-time Eclipse Award-winner Beholder. But I'm a Chatterbox, who last year swept New Orleans' three preps for the Kentucky Oaks, has had a big 2016 in her own right, her three wins in five starts also including Delaware Park's Grade 1 Delaware Handicap and the $100,000 Obeah.
I'm a Chatterbox will start from post 7 under Florent Geroux, who is 3 for 6 in Breeders' Cup races. She's 12-1 on the morning line, with 11-for-11 Songbird the 6-5 favorite and Stellar Wind and Beholder both 5-2.
"We all know it's deep water going in," said Jones, the Hopkinsville, Ky., native who spends winters at New Orleans' Fair Grounds and much of the rest of the year at Delaware Park, with Keeneland in between. "But I'm happy. I liked the post position. My filly is not a one-trick pony. She has speed. She can go to the front. She can stalk. She's come from dead-last before and still won. We're on the outside just enough that we can watch it for just a little while and decide the plan we need from there."
Still, he said, "The problem with these horses is if you let them in front of you, you might never catch them. And if you get in front, it's hard to stay in front."
Chatterbox came into last year's Distaff off a two-length triumph in Parx Racing's Grade 1 Cotillion, the Breeders' Cup being her eighth start of the year as she contested almost all the important races for 3-year-old fillies. After breaking from the rail in the Distaff at Keeneland, she was mired in traffic and wound up eighth, although beaten less than seven lengths to victorious Stopchargingmaria, with Stellar Wind a neck back in second and 2015 Distaff entrant Curalina third.
If I'm a Chatterbox's recent Spinster romp came against an overmatched field of five, her camp thinks a relatively easy performance is an advantage before she's asked to run the race of her life.
"The scheduling of the races this year was just about right for her," said Carolyn Gray, who bred and owns I'm a Chatterbox with husband Fletcher. "She's been able to handle it well. We were talking to 'Flo' [Geroux] and I think everybody agrees that if she hadn't been in all that traffic last year, maybe she wouldn't have won but gotten a piece of it. The Spinster set her up so well for the Breeders' Cup this year because it wasn't a super hard race on her but it was enough that she got a good base for this race.
"… She's very sweet. But she's gotten much more aggressive this year – self-confidence probably. It's like she knows she's beaten a lot of horses. They know when they win. In New York (a close fourth in Saratoga's Personal Ensign), she knew when she lost and she was mad and threw a fit. After the Spinster, she was so proud. It's just different, her demeanor."
Jones said Chatterbox is "bigger and stronger" this year but that the biggest difference is she is more relaxed. "She was pretty wound-up as a young horse," he said. "We know 4-year-olds are supposed to be better than at 3, but she's followed that form and every race just keeps getting better. She's still on the improve, so hopefully we're up for a big one."
I'm a Chatterbox and Stellar Wind have finished in front of each other once on the track: the Breeders' Cup and the Kentucky Oaks, in which Chatterbox was third to Stellar Wind's fourth. Stellar Wind, however, is 1-and-0 off track, beating out I'm a Chatterbox for the 3-year-old filly championship.
The Grays are happy to see Stellar Wind in the Distaff, not for a shot at revenge but, as Fletcher said, "We want the best there. I leave it all up to Larry, and Larry is not intimidated by any of them. We're going to have some long odds; the three California horses are going to dominate the public. But that's OK. Chatterbox can't read the form."
Jones also trains for third-generation Delaware automobile magnate Rick Porter's Fox Hill Farms, owner of Songbird, who is trained by Jerry Hollendorfer and who faces older fillies and mares for the first time in the 1 1/8-mile Distaff.
"I've never run against a horse probably like Beholder or Songbird," Jones said. "Being a Fox Hill horse, I've watched Songbird all of her career and think they just have maybe one of the best fillies that ever wore a pair of shoes."
Jennie Rees is a racing communications specialist from Louisville. Her Breeders' Cup coverage, which concentrates on the Kentucky horses, is provided free to media as a service by Kentucky Downs, Ellis Park, the Kentucky HBPA and JockeyTalk360.com.