Finest City carries new name, breeder's hopes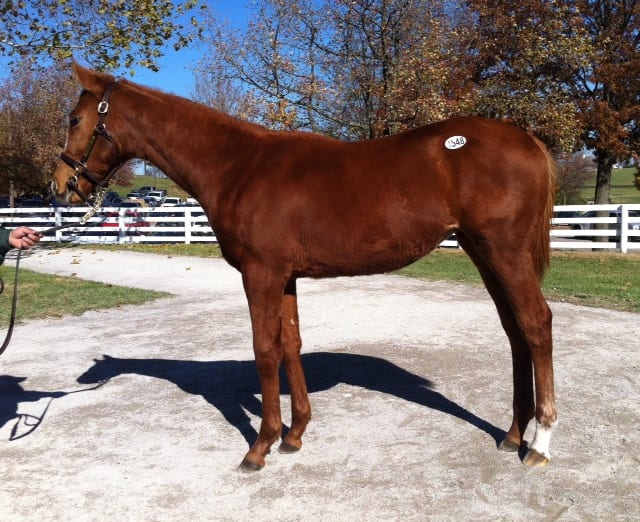 Finest City as a weanling at the Keeneland 2012 sale when she was named City Envy. Photo by Hank Nothhaft.
by Linda Dougherty
Henry "Hank" Nothhaft recently experienced a major disappointment when it was necessary to withdraw his multiple graded stakes-winning mare and millionaire Living the Life (IRE) from the Breeders' Cup Filly & Mare Sprint (Gr. 1) due to an injury.
Nothhaft, a Naval Academy graduate and Silicon Valley entrepreneur, still has a rooting interest in the race, however, as his homebred Finest City is set to compete in the seven furlong, $1 million event, in which she is 12-1 on the morning line.
Owned by Seltzer Thoroughbreds and trained by Ian Kruljac, Finest City has been based in California, winning the Gr. 2 Great Lady M Stakes at 6-½ furlongs at Los Alamitos in April, and finishing third in the Gr. 1 Vanity at Santa Anita in June, behind the great Beholder. The 4-year-old daughter of City Zip's most recent effort was a head defeat in the Gr. 2 John C. Mabee at Del Mar going long on the turf. From 13 races, Finest City has won three times and earned $375,594.
Nothhaft was able to see Living the Life compete against his homebred one time, however, in the Gr. 2 Santa Monica in January at Santa Anita. Finest City finished second while Living the Life (IRE) finished fourth that day.
"I was really looking forward to Living the Life (IRE) and Finest City facing off in the Filly & Mare BC Sprint," he said. "It would have been amazing for me, but was not to be."
Finest City was foaled at Northview-Pa in Peach Bottom. Her dam Be Envied (by Lemon Drop Kid) was purchased by Nothhaft for $37,000 at Keeneland while in foal to City Zip (and thus carrying Finest City), and was part of Nothhaft's plan to build a breeding program to support his stallion Silver Train, who stood at Northview-Pa.
With the help of Carl McEntee, who worked at Northview-Pa at the time, Nothhaft purchased compatible mares in Kentucky, moved them to Pennsylvania, foaled out the mare, and then bred the mare back to Silver Train.
When Finest City was foaled, Nothhaft hadn't given a lot of thought to selling commercially, as he was focused on his strategy to support Silver Train and race the offspring in Pennsylvania. In fact, he originally named her City Envy, and said he would not have done so had he not intended to race her. But the filly "was a knockout," he said, and was convinced by McEntee and others that she could bring six figures as a weanling at the Keeneland November Sale in 2012.
"I had never sold a foal up to this point, so City Envy (Finest City) became my first sale," said Nothhaft. "We had her vetted out and sent her to Hunter Valley Farm in Kentucky for sales prep."
Nothhaft said that everything went as planned, and the filly was very popular before the sale, with many requests to view her veterinary files and to scope her. He set a reserve of $50,000, and expected her to sell for $150,000.
But while bidding started well, it diminished quickly, he said, due to little live money in the room. She ended up selling for $50,000, right on his reserve limit. She was bought by Cobra Racing, not known to be a pinhooker but rather a racing enterprise.
"As you can imagine, an animated 'debrief' ensued after the sale," said Nothhaft. "The long and short of it was that an OCD of some kind had shown up in the later X-rays, and that she was 'flunking' the vet review of the many tire-kickers. This is key to the story, because if I had known she had a OCD that would devalue her at the sale, I never would have entered her, but kept her to race, as I did with (his homebred stakes winner) Mister Nofty for the same reason."
The next year, Cobra Racing sold the filly for $85,000 at the Keeneland September yearling sale to Seltzer Thoroughbreds, who changed her name from City Envy to Finest City.
Although Silver Train is now deceased, Nothhaft was able to breed Be Envied to him one time, resulting in the filly Move, who is now a 3-year-old and in training with Nothhaft's East Coast trainer Keith Nations. He then bred the mare to Tale of the Cat, resulting in a promising 2-year-old named Grand Prix, who is in training in California with Nothhaft's West Coast trainer Gary Mandella. Be Envied was later sold privately.
Nothhaft still has three mares at Northview-Pa, having gradually moved some out of Pennsylvania to Kentucky due to the death of Silver Train and the annual battles in Harrisburg regarding breeder awards. He owns a piece of Northview-Pa stallion El Padrino as well as the state's leading sire Jump Start, and has become more active in the commercial market. He'll sell two mares in foal to American Pharoah this November, one at the Fasig-Tipton Night of the Stars sale (Hip 141). And as for Living the Life (IRE), she'll join his broodmare band and he's currently making breeding plans, which he expects to finalize in the next few weeks.
"If everything remains stable in Pennsylvania, I will increase my investment in the state, mainly to produce racing stock," said Nothhaft. "With Maryland and Pennsylvania stabilized and coordinating with Delaware, there isn't a better place to race, bar none."