On track and in breeding shed, NJ Thoroughbred industry faces challenges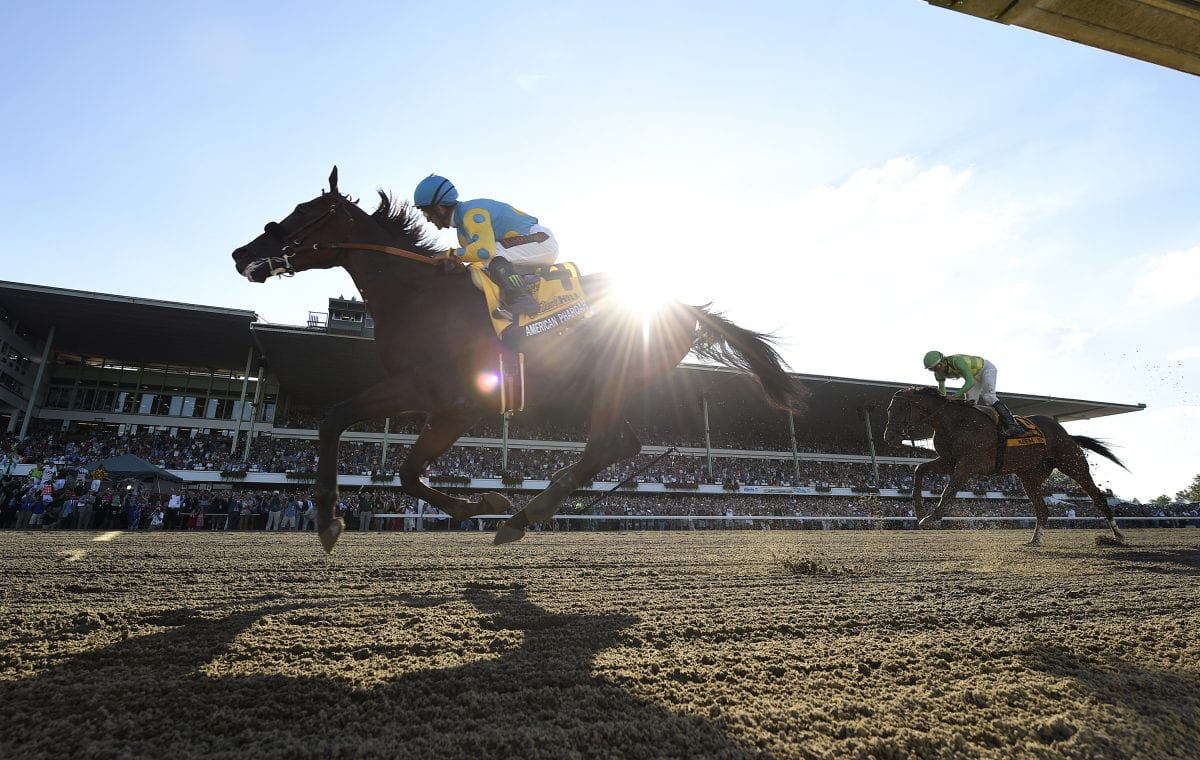 American Pharoah at Monmouth Park in 2015.  Photo By Melissa Wirth/EQUI-PHOTO.
by Linda Dougherty
The recently-concluded Monmouth Park meeting was not a financial success by any stretch of the imagination, but the season-ending numbers weren't entirely unexpected by those in the New Jersey thoroughbred industry.
The Oceanport oval, which ran one less day and 86 fewer races than in 2015, reported a 26.59 percent decline in on-track handle versus last year, while total handle dropped by nearly that same percentage.
The track experienced a sizable drop-off in number of horses per race, averaging 7.28 horses as compared to 8.11 the year before, an 11.4 percent decrease, and attendance was down 9.2 percent, which was attributed mostly to a rainy Haskell Day July 31 and the lack of a star horse like Triple Crown winner American Pharoah, who won in 2015.
Unlike its mid-Atlantic neighbor tracks, Monmouth Park operates without any financial assistance from expanded gaming, such as slot machines.  It doesn't seem likely that help will come any time soon.  A proposal to expand gaming in the state to two counties at least 72 miles north of Atlantic City — a proposal which would direct some revenue to horse racing — appears destined to fail.  A recent Stockton University poll shows opponents to the plan with a 40-point lead.
Monmouth officials were hoping for a share of the casino revenues that would replace the $17 million that used to come annually from the casino industry in exchange for not pursuing gaming outside Atlantic City.
While Monmouth's numbers in previous seasons had held steady, this year's steep slide has many worried, despite words of encouragement from track executives.
"We will survive," said Robert J. Kulina, president of Darby Development LLC, which operates the track for the N. J. Thoroughbred Horsemen's Association, told The Racing Biz recently. "Monmouth Park is not going away, period. We will continue to be a top-flight racetrack … we'll find the resources to keep going."
Michael Campbell, executive director of the Thoroughbred Breeders' Association of New Jersey (TBANJ), said, "Obviously, Monmouth didn't have a good year. We'd like to know their plan going forward if the referendum doesn't pass."
The state's breeding industry has seen the number of New Jersey-bred foals born fall from 454 in 1996 to just 111 in 2015.  The number of stallions in the state has fallen from 59 in '96 to just seven last year.
Meanwhile, the New Jersey Thoroughbred Horsemen's Association, which leases the track from the state, is also engaged in a battle to bring legal sports betting to the state's racetracks and Atlantic City's casinos, which could mean more than $25 million annually for purses.  That effort has faced opposition from major sports leagues and been foiled at every turn in the court system.
Last week, the group filed an appeal, asking the U.S. Supreme Court to take up the matter. It argued that the 24-year-old federal law that bans Las Vegas-style betting on sports in all but four states is unconstitutional because Congress does not have the authority to prevent the gambling in states that seek to allow it.
While some legal experts believe New Jersey has a legitimate case under the Constitution, it is still believed that it is a longshot that the Supreme Court will hear the appeal. The matter has twice suffered defeats in the U. S. Third Circuit Court of Appeals.
"People are taking this seriously," said Jeanne Vuyosovich, a longtime New Jersey owner, trainer and breeder, in reference to Monmouth's disappointing meet. "They're scared to death. I went from breeding 25 mares to three this year, and many farms in the state have done the same, or gone out of business. The racing itself was bad at Monmouth this year. There were short fields, heavy favorites. There were hundreds of empty stalls on the backstretch. The Mom-and-Pop stables are all but gone, and they've been replaced by the 'super' trainers."
Recently, Vuyosovich was selected to receive this year's "Spirit of the Horse" award from the Equine Science Center at Rutgers University. It recognizes individuals whose lives have been profoundly changed because of their involvement with horses and who have given back to the horse industry.
Vuyosovich has been a fixture at Monmouth Park since the late 1970s. In addition to being an owner and trainer, she also owns and operates Sunset Meadow Farm in Farmingdale, and is devoted to horse rescue. Over the years, she has placed hundreds of horses of all breeds in good homes.
Geraldine Kromann, a longtime supporter of the New Jersey racing industry as an owner and breeder, said that the Monmouth racing office was able to count on Jersey-breds to run during the meet, and often.
"Jersey breeders showed up big time, so much so we now hope there's enough money to pay out the (breeder) awards in full," she said. The TBANJ, which received funding from the state prior to the horsemen leasing the facility, now derives its income from a percentage of handle, and had been struggling to pay breeders awards from previous years. "Our future lies in younger people taking up the slack of the older, but we don't see the baton being passed."