Slip the Cable romps on record-setting WVBC night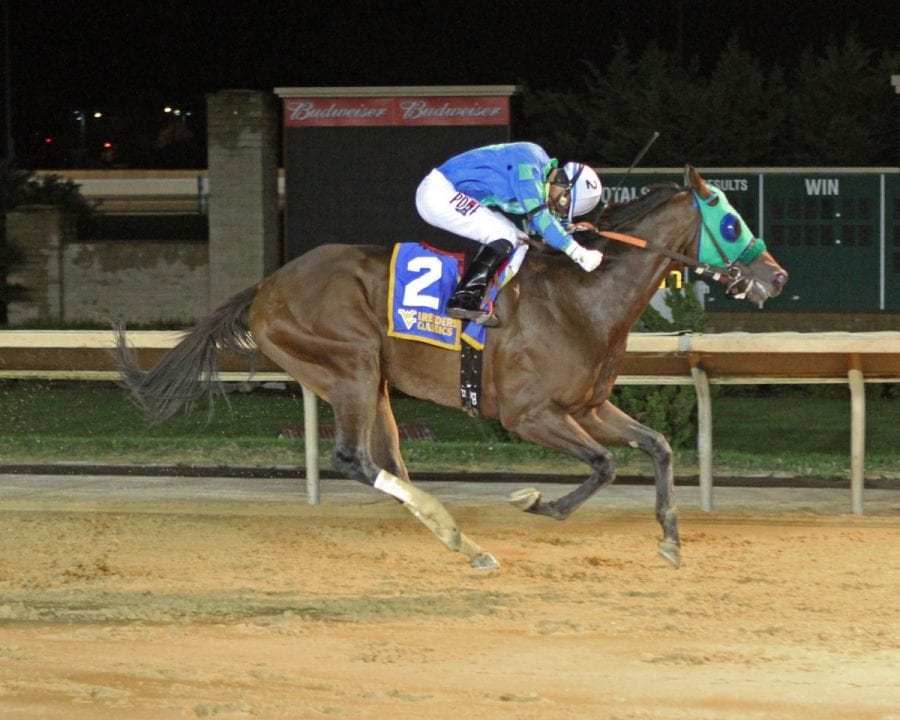 Slip the Cable. Photo by Coady Photography.
by Frank Vespe
Susan Runco clutched the trophy to her.
Remembering "those cold February nights when you're waiting for a mare to foal," she said, "This is what we breed them for."
"If I didn't have her breeding them, I'd be in trouble," added her husband Jeff, a trainer, who also hastened to credit the folks who work in his barn.
The Runcos had plenty of reason to smile.  They had just watched their homebred Slip the Cable romp to a shockingly easy 7 1/2 length score in the $500,000 West Virginia Breeders Classic, in the process dusting defending champ Charitable Annuity, who closed for second.
The win capped a three-win day for Runco, who has 21 more wins than any other trainer at Charles Town — 105 to Ronney Brown's 84 — and nearly twice as much in earnings (almost $2.2 million) as his nearest competitor.
The Classic also capped a banner day for West Virginia Breeders Classics themselves.  The event, celebrating its 30th anniversary, recorded its highest-ever betting activity, with all-sources handle hitting $1,753,600 — well clear of the previous mark of a little less than $1.6 million, established in 2013.
"We're certainly glad the weather finally cooperated," said WVBC cofounder Carol Holden on a night in which early drizzle gave way to clearing.  "As long as everybody gets around the racetrack safely and to the winner's cricle, that's the best thing we can do."
And it was a night that saw NFL and West Virginia legend Sam Huff, with Holden the founder of the West Virginia Breeders Classics, return to Charles Town.  Huff, 81, is suffering from dementia and the subject of a publicized dispute between Holden, his longtime partner, and Huff's daughter.
But on Saturday, Huff was smiling, shaking hands, and receiving well wishers throughout the evening.
Runco said that he'd been worried about the pace scenario in the Classic. Slip the Cable, a front-running sort, seemed likely to have pace pressure up front.  But, under jockey Arnaldo Bocachica, Slip the Cable established a clear early lead in a solid but manageable pace: 47.88 seconds for the half-mile and 1:12.86 for three quarters.  After the latter marker, he was three lengths clear of his nearest pursuer, and he widened from there, cruising home well clear in a sharp 1:50.44 for 1 1/8 miles.
"When he wins, he wins it big," said Runco, whose charge has now won seven of 11 career starts.  The win pushed his earnings to $337,704.
Charitable Annuity ran into second, while longshot Start Line was third.
Runco also scored in the day's other nine-furlong event, the $80,000 Distaff for fillies and mares three and up.  Spa Creek, under Christian Hiraldo, defended her Distaff title with a facile four-length score over Return to Denis. Favored Blisstikus finished third.  Running time for the Distaff was a more pedestrian 1:53.15.
Spa Creek is owned by Runco's Coleswood Farm in partnership with David Raim, but the win in the Distaff likely wasn't Raim's favorite moment of the night.  One race prior, his Bullets Fever, also trained by Runco, scored by 1 1/4 lengths in the West Virginia Lottery Breeders Classic for three-year-olds going seven furlongs.
The win ran Bullets Fever's record to eight wins from eight starts.  Raim was resplendent in a Washington Wizards tie to support Bullets Fever; the Wizards NBA franchise previously was known as the Bullets, and Raim's wife Leslie explained that the horse was named after "a song that was written by Nils Lofgren that's called Bullets Fever," which honors the team's 1978 NBA championship squad.
Bullets Fever has an unraced, two-year-old full sister named Wizards Fever, also owned by Raim.
"He is just… beyond," Leslie Raim said of Bullets Fever, who is by Fiber Sonde, out of the Indian Charlie mare Ghost Canyon and is a full-brother to the winner of the 2013 WV Lottery, Hidden Canyon.  "This is so exciting, and this horse has just been incredible for us."
"Best horse I've ever owned," added David Raim, who said he has had horses with Runco for about 10 years.
Gary Williams, Jr. might say the same of Follow the Notion, his Great Notion gelding who closed stoutly to win the $80,000 Onion Juice for three-year-olds and up going seven furlongs one race prior to the WV Lottery.  It was the second straight win for Follow the Notion, who had employed a similar closing kick last out to win an allowance race.
"Last time he ran, he came from last, looked like somebody shot him out of a cannon," Williams said.  "Coming to the wire, I said to myself, 'Man, if we could be third, I could be happy.'  Then all of a sudden I looked, I said, 'Man, he's got a shot to win this thing.'"
Which he did, by a nose.
After that, Williams said he considered whether to run back in the Onion Juice or to swing for the fences in the $500,000 Classic.  He decided on the Onion Juice, he said, because "a piece of the pie is better than no pie."
Yesterday, under Jose Montano, Follow the Notion didn't have quite as much work to do late and was able to collar defending champ Help a Brother to win by a half-length in 1:25.38.  Favored In the Fairway, running lights out all season, rallied for third.
Follow the Notion, a homebred for Williams, is out of the Not for Love mare Follow the Queen.  He is Williams' first winner on West Virginia Breeders Classics night.
"He's a good horse, he's doing great," said Williams.
As a son of Great Notion, Follow the Notion is also eligible for the Maryland Million in two weeks.  Williams said he would consider that spot but that the A Huevo, at Charles Town, was more likely because of the short turnaround.
"Right now he gets three or four days off, and we'll see where we are at that time," he said.  "He's a nice horse, it looks like he just gets better and better."
In the day's other seven-furlong event, the $150,000 Cavada for fillies and mares three and up, James Casey trainee Candy Man's Girl turned the tables on frequent tormentors Red Hot Diva and Navy Ribbon to win by 1 1/4 lengths in 1:26.21.
With Antonio Lopez in the irons, Candy Man's Girl, a Casey homebred by Charitable Man, stalked the pace of longshot Nay's Back, took charge at the quarter pole and went on to win.  Cuppa Mocha Mojo was second, and Red Hot Diva, the 7-5 post time favorite, was third.
"That's a nice one to win," said Casey, who trained three winners on the evening and now has 999 in his career.  "I thought she'd run good. I was thinking maybe second or third; I was thinking somewhere on the board but not necessarily first. Actually, she ran a little bit better than I expected."
Out of the Yankee Victor mare Candy One, Candy Man's Girl won the third stake of her career and now has nine wins from 17 stars with earnings of $264,243.  Despite her success, however, she had finished behind Navy Ribbon three times on the page and behind Red Hot Diva twice.
"We were in the slop today," Casey pointed out.  "I think that helped."
Casey said that Candy Man's Girl tends to fool people when they see her.  They think something's wrong with her.
"People look at her, think she's sore, she should be turned out and everything," the trainer said.  "But the girl who rubs her says, 'Look, she does this all the time.'  She's been a good one for me."