"Fun time, great cause" at Sam Huff Charity Breakfast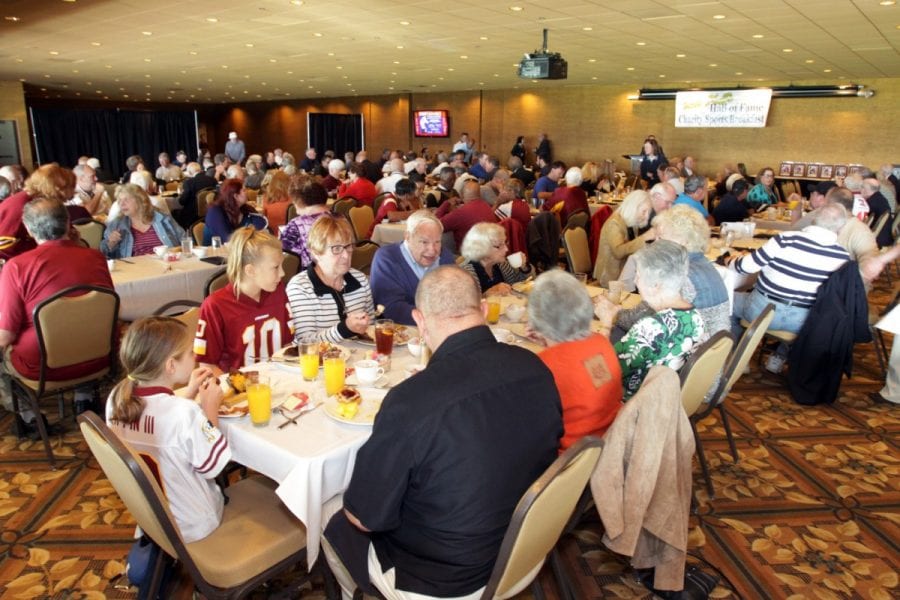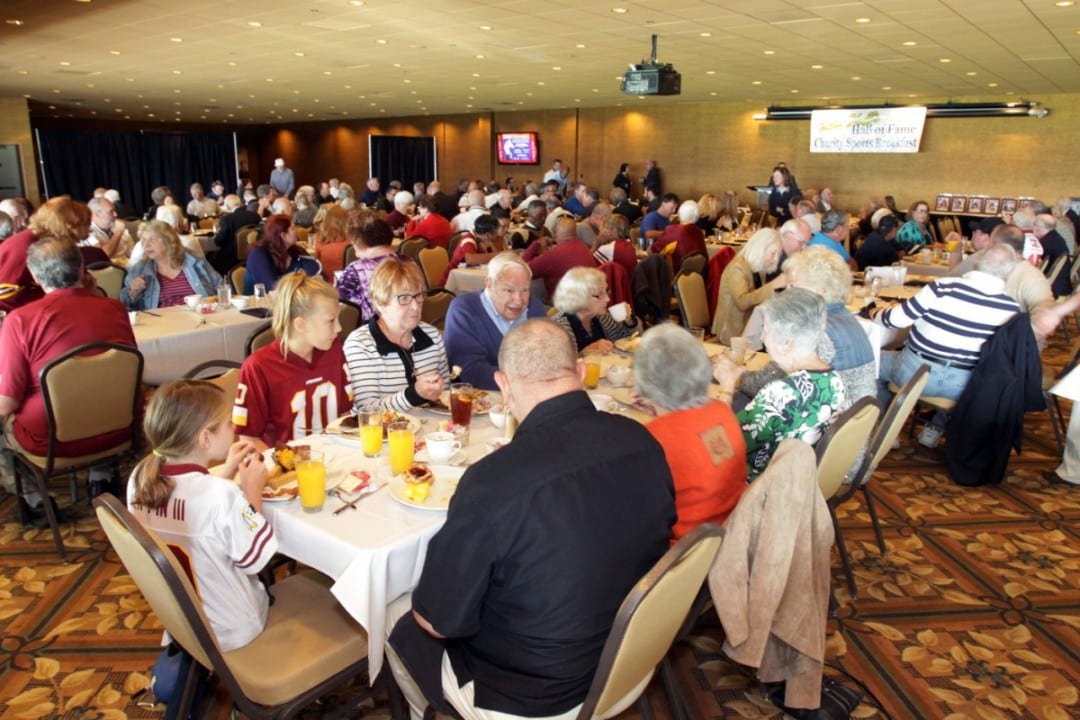 Football and racing fans enjoy the 2015 Sam Huff Hall of Fame Charity Breakfast. Photo courtesy of West Virginia Breeders Classics.
by Ted Black
Saturday evening will mark the 30th edition of the West Virginia Breeders Classics, but the day will kick off considerably earlier when Charles Town hosts the Sam Huff Hall of Fame Breakfast in the Skyline Terrace beginning at nine o'clock that morning. While the breakfast did not begin simultaneously with the West Virginia Breeders Classics in 1987, it has become a morning fixture for the better part of three decades.
"When Sam [Huff] wanted to start the Breeders Classics, he wanted to have sports figures from other sports involved," said WVBC executive director Carol Holden. "So the breakfast has become a tradition that goes along with the Classics and helps kick things off. We really have been able to get a Hall of Fame lineup to take part in the breakfast over the years and big names from racing and from the other sports have taken part. I'm not sure of the first one, but 25 years seems right."
This year's roster of local celebrities features a lineup that includes former Washington Redskins quarterbacks Sonny Jurgensen and Doug Williams, along with prominent former players Richard "Doc" Walker, Roy Jefferson, Dexter Manley, Ron McDole and Sonny Randle. Joining them are Redskins play-by-play announcer Larry Michael and Travis Stone, the track announcer at Churchill Downs who will be on hand Saturday night to call the races, as well as horse racing analyst and broadcaster Chris Lincoln. Walker, now a fixture on the Redskins radio broadcasts, and Stone will serve as the two primary speakers.
Manley, Williams and Walker were part of Super Bowl-winning teams during their tenures with the Redskins, while Jurgensen carved out a Hall of Fame career for the 'Skins from 1964-74 after being traded to Washington from Philadelphia for quarterback Norm Snead, the 1960 NFL Rookie of the Year with the Redskins. Jurgensen has since been linked with Huff as partners during the Skins broadcast, although they spent much of their playing days on opposing sides of the field. Huff spent much of his Hall of Fame career as a linebacker with the New York Giants before coming over to Washington in 1964.
"The Sam Huff Hall of Fame breakfast has long been a tradition here on Breeders Classics weekend and marries football and horse racing, which are two of Sam's passions and arenas he's left a significant impact on," said Erich Zimny, Vice President of Racing Operations at Charles Town. "Before the top locally-based horses race for some serious money later that evening, it's always fun to see the excitement people have in interacting with some of their football heroes and listening to great stories they have to tell."
Holden agreed that the tales the guests tell adds an immeasurable amount of entertainment to the morning festivities. Hall of Fame trainers such as Jack Van Berg, Carl Nafzger and King T. Leatherbury have shared their speaking skills with the gathering over the years, as have standout jockeys Ron Turcotte, Ramon Dominguez and Chris McCarron. Stone and Walker, a member of the Redskins Super Bowl XVII championship team that defeated the Miami Dolphins, 27-17, will also have ample time to display their talents behind the microphone on Saturday morning.
"It really has been a great tradition going back the past 25 years now," Holden said. "We have had a lot of celebrities from across the sports world come in and speak. Jack Van Berg was on hand the year he had his book published, and King Leatherbury told a number of stories and jokes in his usual style, which really kept everyone laughing. The trainers, the jockeys and the players have really been a good blend of Hall of Famers from all sports, and it's really lived up to what Sam wanted from the beginning."
"This year, Carol [Holden] and Jerry Olsen have worked so hard on it, and being able to get past players like Doug Williams and Dexter Manley and join a Redskins legend like Sonny Jurgensen brings appeal across different generations of football fans," Zimny added.
"I'm looking forward to participating in all of the festivities this weekend," said track announcer Travis Stone, who will handle the heart of the Breeders Classics card.  "Events such as the West Virginia Breeders' Classics that recognize local breeding programs are an important part of horse racing. As a fan first and race caller second, there's nothing like a card of competitive and exciting horse racing."
Walker, Manley and Williams all won Super Bowl rings while playing for the Redskins – Williams was the MVP of Super Bowl XXII when the Redskins defeated the Denver Broncos 42-10 – while Jefferson and McDole were starters for the 1972 'Skins team that lost to the undefeated Miami Dolphins, 14-7, in Super Bowl VII. Jurgensen was the team's starting quarterback that year until suffering a season-ending Achilles tendon injury against the New York Giants and watched Super Bowl VII in street clothes from the coaches' box while Billy Kilmer called the signals against the Dolphins.
"Sonny and Sam were almost inseparable in the radio booth for almost 40 years after they both retired from playing," Holden said. "Once Sam came up with the Breeders Classics and we got the breakfast started, you knew Sonny was going to be right there. We've had some great speakers and great guests in the past and this year is no different. It will be great having Doc Walker and Travis Stone here and of course, Sonny, Doug Williams and Dexter Manley. It's always a fun time and it really goes toward a great cause."
Proceeds from the Sam Huff Hall of Fame Breakfast – sponsored by Hollywood Casino at Charles Town Races and the Charles Town Horsemen's Benevolence and Protective Association [HBPA] – benefit the Jefferson County Community Ministries and the Charles Town Races Chaplaincy. Tickets for the breakfast are $20 each for adults and $15 apiece for children 11 years old and under and are available in the Charles Town Races gift shop, the Bank of Charles Town, United Bank and Jefferson Security Bank's Charles Town branch and at the door for the event on Saturday morning.