Fasig-Tipton yearling sale shows solid gains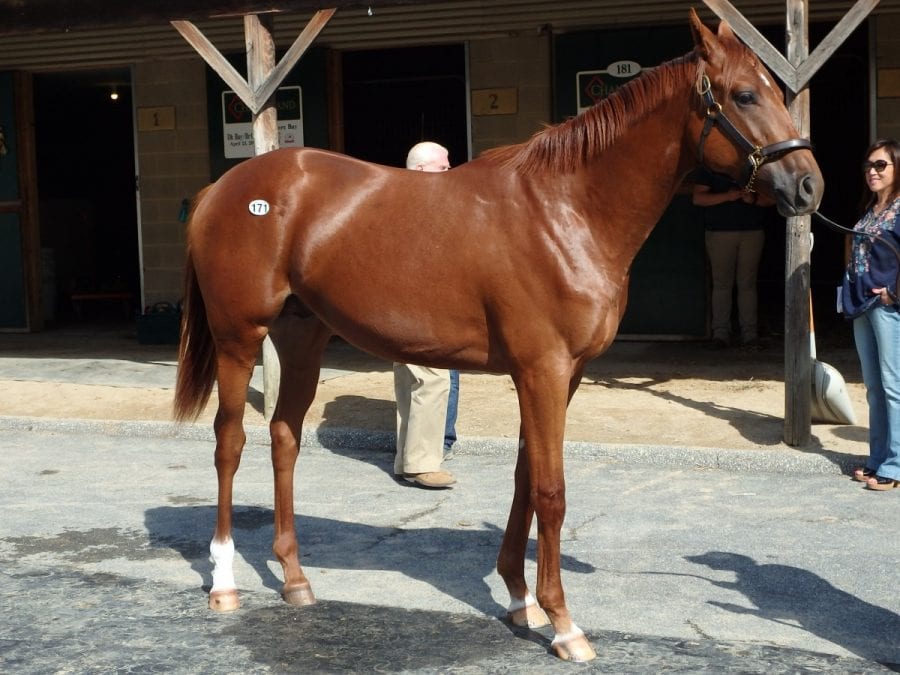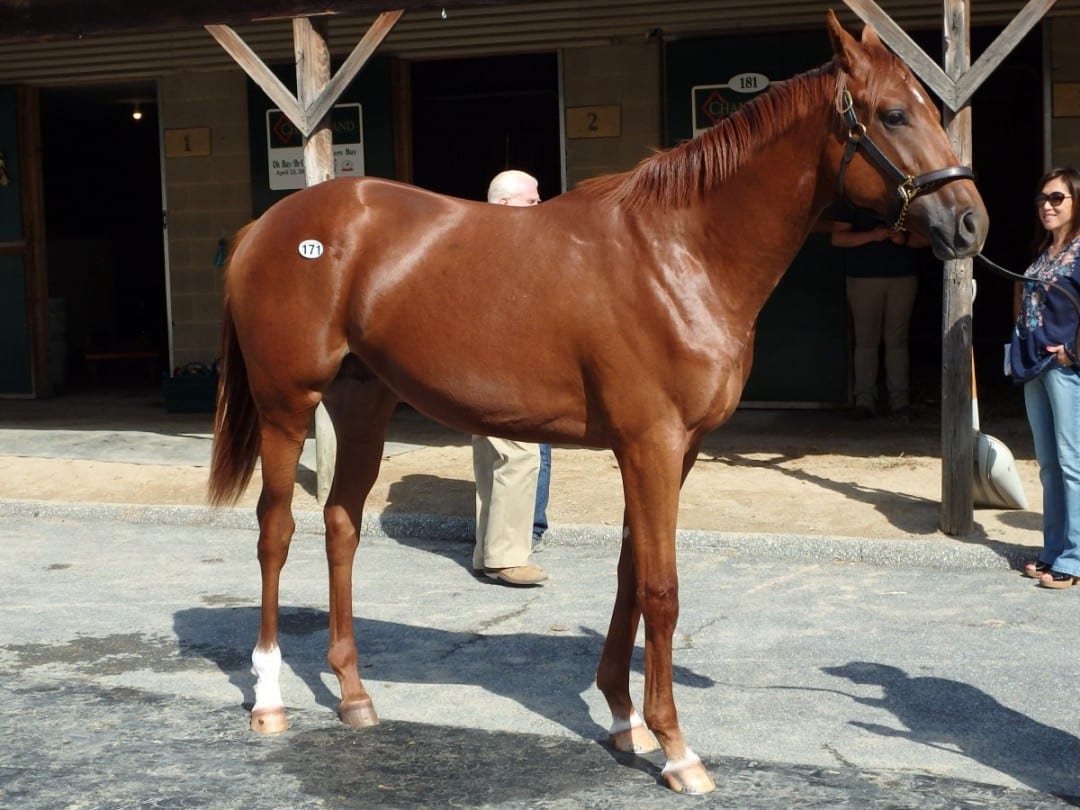 Hip 171, by Curlin, brought a top bid of $150,000 from Hillwood Stable. Photo by The Racing Biz.
by Frank Vespe
Fueled by a Maryland-bred Curlin colt powering an improved top end, the Fasig-Tipton Midlantic Fall Yearling Sale showed gains this afternoon versus the 2015 edition.
The Curlin colt, offered as hip 323, fetched a winning bid from Chuck Zacney of $450,000.  Consigned by Becky Davis, he is a sharp-looking chestnut out of the winning Awesome Again mare Formalities Aside.  He is a half-brother to Awesome Flower, a multiple stakes-winning filly by Flower Alley who earned more than $550,000 in her career.
Believed to be the top Maryland-bred ever at this sale, he helped to fuel growth at the top of the market, which saw 11 horses sell for at least $100,000 — up from five a year ago.
"I want to bring my best one here," said Davis, who said she had decided to sell at this Timonium sale, rather than in Saratoga, because she believed the colt would stand out more here, where he was one of of just two Curlins.  "If you've got the horse, the money is here."
"It was so thrilling to have a Maryland sale be topped by a lovely Maryland-bred," added Fasig-Tipton Midlantic sales director Paget Bennett.  "This market — you can bring a good horse here."
That was proven repeatedly through the day.  Zacney also paid $290,000 for a Pennsylvania-bred Uncle Mo filly out of the stakes-producing Two Punch mare Two Klassy, and $135,000 for a Delaware-certified Malibu Moon filly.
Ellen Charles' Hillwood Stable LLC also purchased two six-figure horses.  Hillwood grabbed hip 171, a Maryland-bred Curlin colt who is a half-brother to stakes winner Corvus, and hip 89, also Maryland-bred, a colt from the last class of Not for Love offspring.
Nevertheless, Charles said that she believed that it was a "buyer's market."
"I read an article that said it's not that we lack horses, we lack buyers," she added, "and that's what we're seeing here."
Yet in the end, most of the horses left with new owners.  When all was said and done, a total of 268 horses were sold for a grand total of $6,436,600.  That was up 23 percent from last year's $5.2 million.  The average, of $24,017, was up nearly 26 percent from last year's $19,083.
If there were complaints, they appeared to be the now-standard trope that, while there's money in the top of the market, it's still grueling in the middle and bottom end.
Consignor Bill Reightler, who brought the sale's largest consignment to market and saw his best results with a Kentucky-bred City Zip colt who fetched $85,000 and with the final hip of the day — hip 368, a West Virginia-bred Blame filly who sold for $80,000 — called the market "selective."
And trainer Gina Rosenthal, who bought two inexpensive horses for a total of $10,500, described the sale as "a hit or miss situation."
Still, the buyback rate also fell on a productive afternoon that stretched into evening.  With 268 horses sold versus 55 that did not, the buyback rate of 17 percent was well below the 25.3 percent the sale realized last year.
"That's huge that people were here and they bid on them, and they found new homes," said Fasig-Tipton's Bennett.
[table id=137 /]