Monmouth Park struggling, but "we will survive"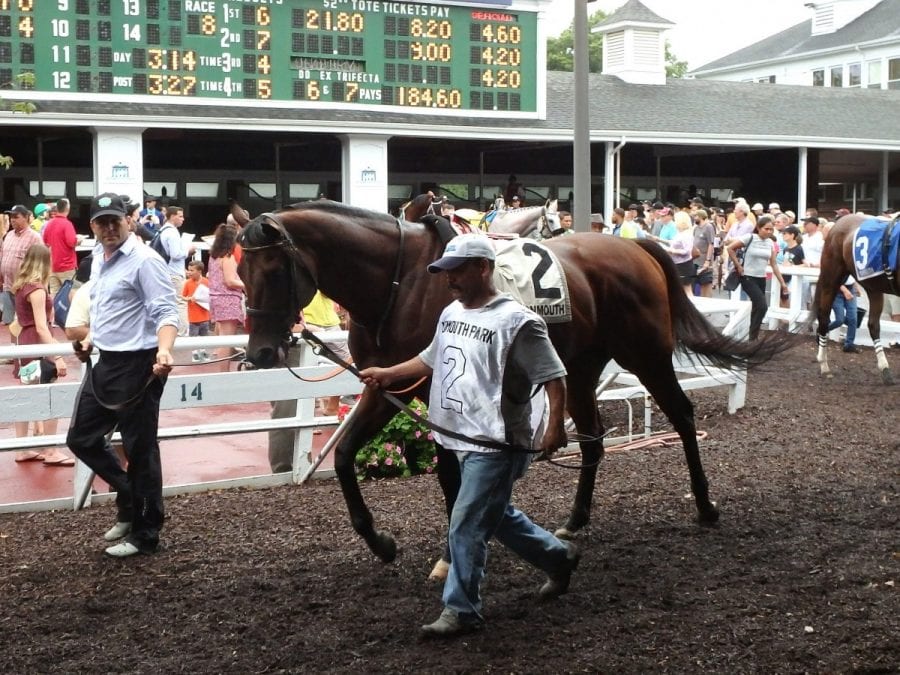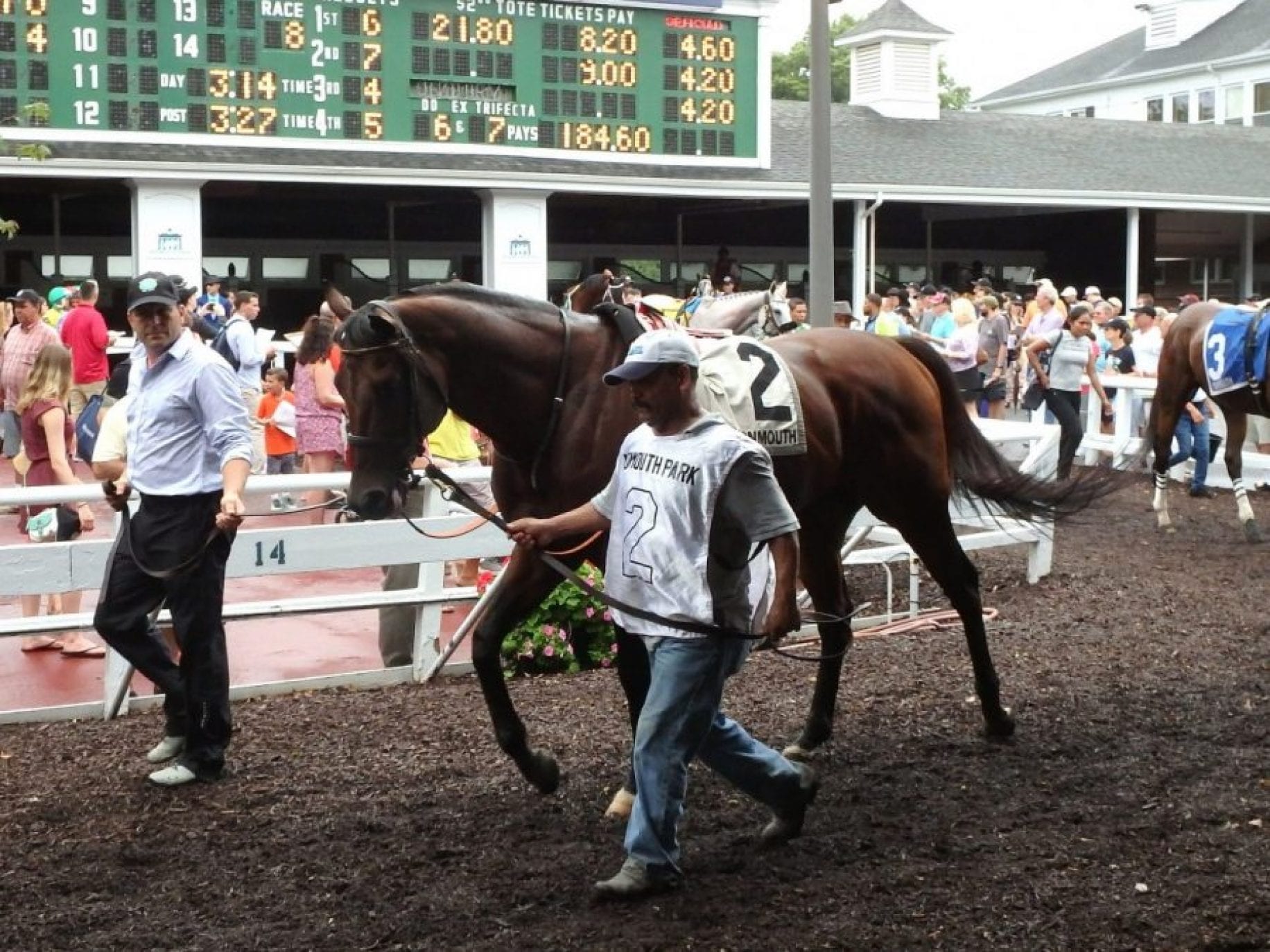 Bradester before the Monmouth Cup. Photo by The Racing Biz.
by Linda Dougherty
Anyone who cares about racing at beautiful Monmouth Park at the Jersey Shore had to be pretty depressed and frankly a bit frightened at the meet-end numbers that were released on Sunday.
The Oceanport oval, which ran one less day and 86 fewer races than in 2015, handled $22,431,306 on-track, for an average of $393,531 daily, a 26.59 percent decline over last year. Total handle of $196,272,397, an average of $3,443,375 daily, was a 26.38 percent slide from last season.
Even a casual observer to the racing action at Monmouth this summer could see that field sizes were smaller than in recent years, which translated into many chalk-fests at the pari-mutuel windows. The track reported a sizable drop-off in number of horses per race, averaging 7.28 horses as compared to 8.11 the year before, an 11.4 percent decrease. And short fields are unappetizing to bettors.
Attendance was down 9.2 percent, mostly attributable to a rainy Haskell Day, which drew 35,983, compared with 60,983 the year prior when Triple Crown winner American Pharoah took the Grade 1 event for 3-year-olds and an all-time record handle was established for one day of $20,024,509. The 2016 average daily attendance was 8,833, compared with 9,646 last year.
With numbers like these, one has to wonder, and worry, about the future of Monmouth Park. Built as a warm-weather venue in 1946 by Amory L. Haskell, it soon began attracting large crowds from New York and northern New Jersey, and always had an ample supply of thoroughbreds to fill races. Monmouth now has to vie for a smaller pool of horses with nearby tracks like Parx Racing in Pennsylvania, which offers horsemen purses bolstered by casino revenues, a luxury that Monmouth does not enjoy.
Monmouth paid out about $360,000 per day in average purses, slightly more than Parx, but lower than in 2015, when the average daily purses were $392,745.  And the difference there has a lot to do with Monmouth's more robust stakes program.  On a race-to-race comparison, Monmouth lags behind that competitor.  For example, maiden special weight races at Monmouth this year carried a $36,000 purse versus the $50,000 pot offered at Parx.
More bad news may be coming in November, as early polling shows that New Jersey voters are largely against a referendum to expand casino gaming outside Atlantic City via two casinos in north Jersey, including one at the Meadowlands. Monmouth officials were hoping for a share of the casino revenues that would replace the $17 million that used to come annually from the casino industry in exchange for not pursuing gaming outside AC. That money, discontinued in 2011, was used to subsidize purses; since then, Monmouth and Meadowlands have had to rely on revenue from pari-mutuel wagering alone.
But despite these seemingly dire statistics, Bob Kulina, president of Darby Development LLC, which operates the track for the N. J. Thoroughbred Horsemen's Association, tamps down any talk about the imminent closure of Monmouth, and says he is optimistic about 2017.
"We will survive," said Kulina, who has been a part of the track for more than 40 years, beginning when he assisted his father, trainer Joe Kulina, on the backstretch. "Monmouth Park is not going away, period. We will continue to be a top-flight racetrack. We've had incredible support from the public, and we'll find the resources to keep going."
Kulina said that the declines in handle and attendance weren't entirely unexpected in this the fifth year of the initial five-year lease of the property from the N. J. Sports and Exposition Authority. More than $4 million had to be diverted from purses for capital improvements, most notably a new roof for the 70-year-old structure, as well as major work to the original escalators. Money was also used towards the completion of the Blu Grotto Restaurant, an upscale venue located near the head of the stretch designed to provide another income stream.
"This is an old building," said Kulina of Monmouth. "It's beautiful, it's charming, but it needs fixing. We couldn't patch the roof anymore."
The Sports Authority, which was directed to get out of the racing business for good by Gov. Chris Christie, has the option to renew the lease in 10-year increments up to 45 years, which Kulina said is occurring. However, the Sports Authority also originally agreed to advance up to $2 million in operating losses for 2013 and 2014, to be repaid in 2016 and 2017, which also impacted this season's bottom line.
Next year, Kulina said, there will be more money for purses, and he predicts a much better meet, citing recent talk about a change in the racing calendar in the mid-Atlantic region which could include a reduction of racing dates. He is also crossing his fingers that the casino referendum passes, despite the polls.
"We know Monmouth Park is a Memorial Day to Labor Day racetrack," he said. "That's our market. Election day will decide a lot of things, but despite how it turns out, I think 2017 will be a much stronger year. We knew five years ago that this was going to be a tough year, and now we have to rebound. We're still the only track in the mid-Atlantic region that doesn't have revenue from casino gaming – we only sell bets."