Md Racing Commission upholds Freudie Anne DQ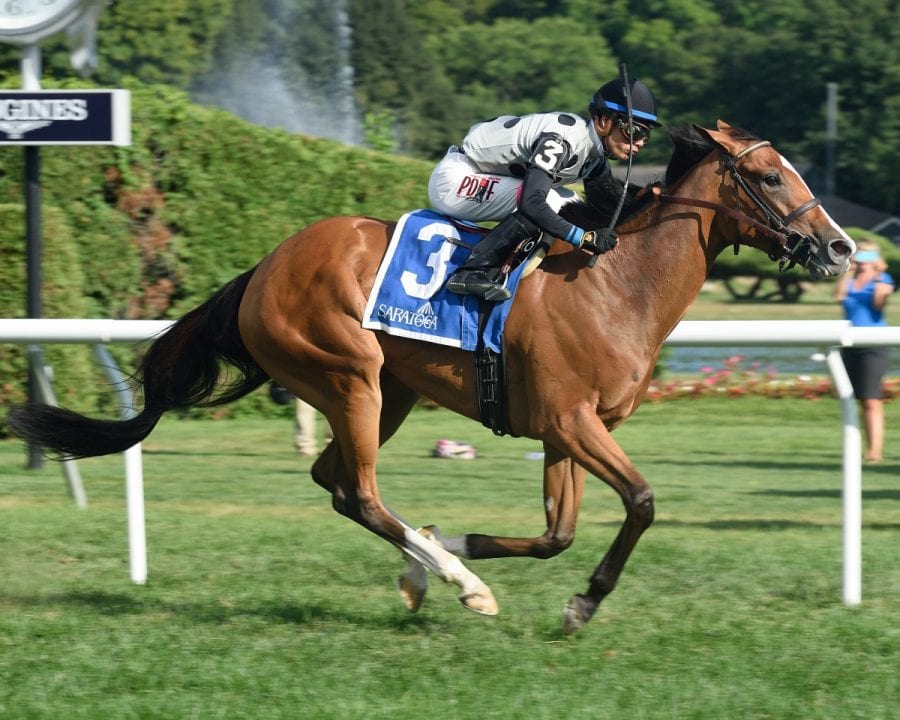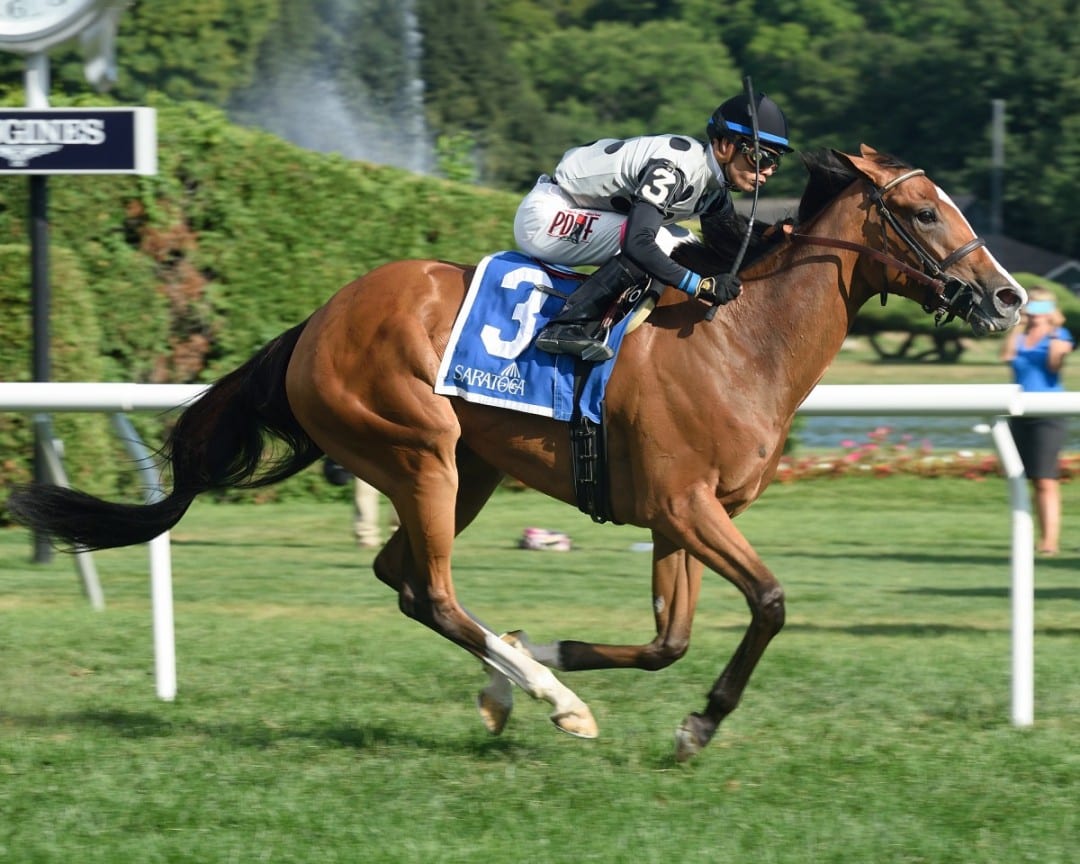 Freudie Anne won the New York Stallion Series Stakes in August 2015 at Saratoga. Photo by NYRA.
by Frank Vespe
It took Freudie Anne 1:39.97 seconds to complete the course at Laurel Park on July 17 when finishing first in a 1 1/16 mile turf allowance test.
It took the stewards several more minutes to decide to disqualify her to third for impeding Broken Bridle, the third-place finisher.
But it wasn't until yesterday – more than two months later – that the stewards' decision became final, following an appeal heard by the Maryland Racing Commission.
The Commission decision – on a 5-1 vote – means that Northern Smile will remain the official winner of the race, with Broken Bridle in second and Freudie Anne in third.  The stewards' initial decision had been widely condemned on social media, with at least two racing followers on Twitter suggesting it was "the worst DQ I've ever seen."
It also means that Northern Smile will retain the $23,940 winner's share of the race.  Instead of that amount, Freudie Anne's connections — she is owned by Marc Detampel, Fergus Galvin, Jayne Doi Johnson, and Adrian Mansergh Wallace — will receive third-place money of $4,620.  That's a difference of more than $19,000.
"I didn't drive all the way down here to think we'd lose," said Freudie Anne's New York-based trainer Thomas Morley, who described himself as "disappointed" after the hearing.
He added, "The Commission is the Commission; it's their decision. I felt we got a fair hearing."
And a lengthy one.
"You have much more time than the stewards did to review the evidence," Morley's attorney, Glenn Bushel, told the Commission in his opening statement.  Even he probably didn't realize how true that would turn out to be; the hearing took nearly two hours from beginning to end.
The incident occurred outside the eighth pole during the eighth race on July 17.  Freudie Anne, with Feargal Lynch up, had led throughout with Broken Bride stalking to her outside.  Rounding the turn, Broken Bride bid up to virtually even terms with her rival, but in the lane, Freudie Anne reasserted her control. However, as they made their way up the stretch, Freudie Anne drifted out about two paths in front of Broken Bridle, ridden by Jevian Toledo.
Broken Bridle appeared to steady slightly, and Toledo shifted her back to the inside. Freudie Anne went on to win by 1 ½ lengths, with Northern Smile rallying to pass Broken Bridle for second, three-quarters of a length ahead of that rival.
Immediately after the race, state steward Adam Campola testified, an outrider notified the stewards that Toledo, aboard Broken Bridle, had placed a "hold" on the race.  Once he returned to unsaddle, he lodged an objection.
Campola said that both Lynch, aboard Freudie Anne, and Toledo, riding Broken Bridle, agreed that Freudie Anne drifted out two paths, crossing in front of Broken Bridle.  Lynch told the stewards he believed that his horse had shied from a worker in the infield.
But while Toledo said that his rival's actions had caused him to steady, steer inside, and lose momentum, neither Lynch nor Morley saw it that way.
"As far as I'm concerned, I'm clear" when the horse drifted, Lynch said, adding that he believed that Broken Bridle "was backing out of it."
"I admit my filly drifted two paths," Morley testified, "but at no juncture did she impede the other filly."
But Campola and the stewards, who voted unanimously for the disqualification, disagreed.  Freudie Anne, Campola said, had violated three provisions of Maryland's racing rules which prohibit horses from crossing in front of another horse without sufficient clearance, intimidating another horse, or impeding another horse.
And, though Maryland's rules do not require that the violation affect the order of finish to warrant a disqualification, Campola said that in this case, the stewards believed that Freudie Anne's violation did affect the final order.
"We thought it cost [Toledo aboard Broken Bridle] second money," Campola testified.  Broken Bridle finished three-quarters of a length behind the second-place finisher.
He added that the stewards did not penalize Lynch, the jockey, because "we didn't think his actions caused" the problems.
That argument proved persuasive to the majority of the Commissioners who heard the case.  Commissioners Tom Winebrener, Tom Bowman, John McDaniel, Ernest Grecco, and new Commissioner Ron Thomas voted to uphold the stewards' decision.  Commissioner Tammy Lafferty voted to overturn.
"Basically, strictly by the rule, the horse did cross paths in front of the other one," said Winebrener, who chaired the hearing.  "By rule, there was a violation.  Whether it was intentional, not intentional, whether it shied, whatever reason, none of that came into play. The only thing we went by was the rule itself."
Each horse has run at least once since the July 17 contest.  Freudie Anne, who will now again be eligible for the first-level allowance condition, ran fifth in the Yaddo Stakes for New York-breds at Saratoga.  Northern Smile, trained by Kelly Rubley, who attended yesterday's hearing, won a second allowance race at Delaware Park in her next start and then finished fourth in the George Rosenberger Memorial Stakes at the same track.  Gary Capuano trainee Broken Bridle won an allowance at Laurel Park in her follow-up start before finishing eighth against allowance rivals at Parx Racing.
"It was a tough call," Campola said following the hearing.  "Most of them are tough. You look for a reason to leave horses up, not take them down. You want the results to stand."
Making it tougher, perhaps, was that Freudie Anne was best in the race.
"The winner was going to win," Campola agreed.  "But our rule doesn't say that the best horse can do what he wants to do."