Five things we learned last weekend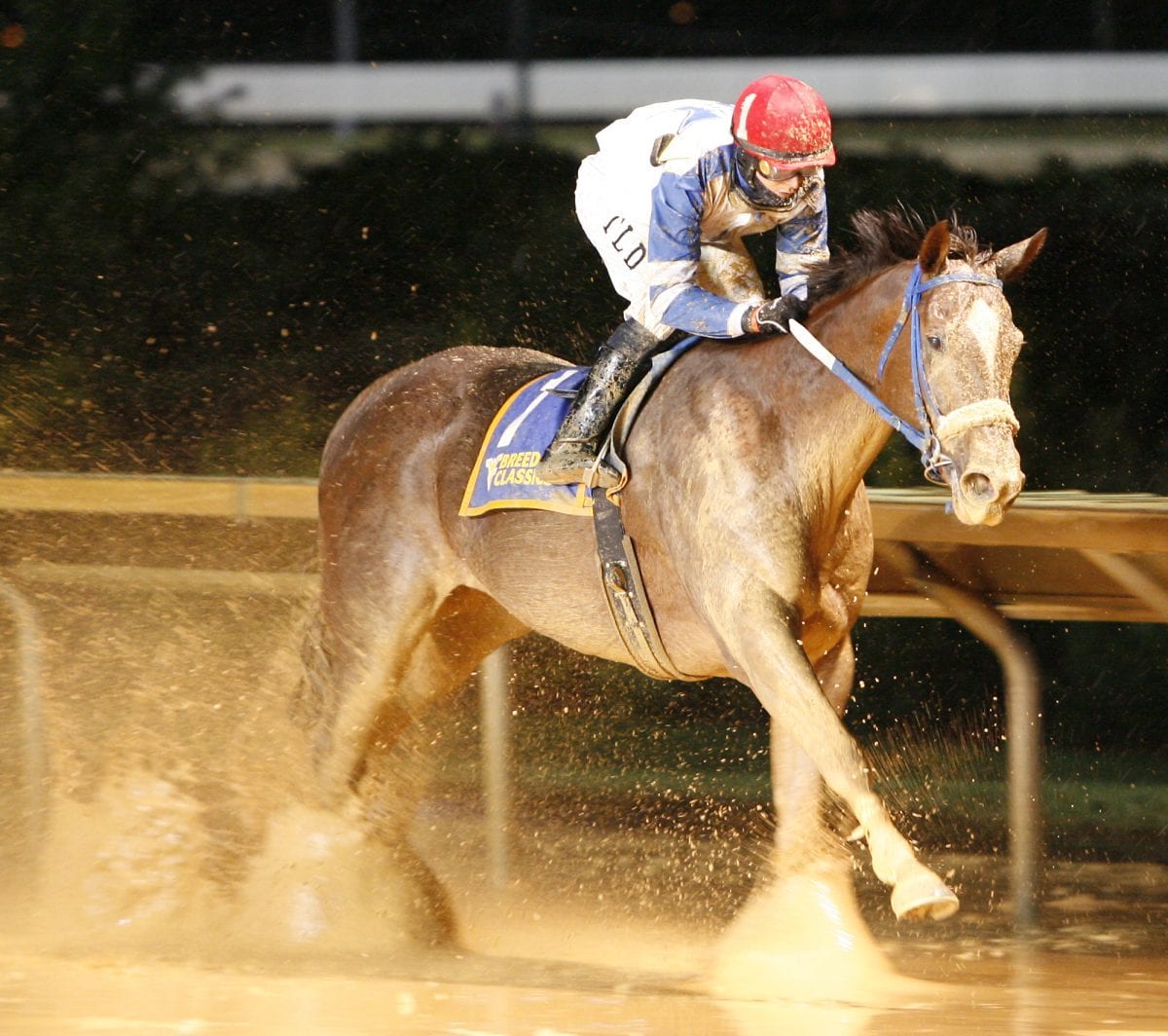 Russell Road. Photo by Jeff Brammer.
by Frank Vespe
Charles Town had one of its biggest days of the year on Saturday, with the Grade 3 Charles Town Oaks topping a card full of stakes, five of which provided entry into similar West Virginia Breeders Classics races.  Here are five things we learned this weekend.
1. Russell Road. That's it: Russell Road.
Ten-year-old fan favorite Russell Road was retired this past weekend, owner Mark Russell and trainer James W. Casey deciding against one more try in the West Virginia Breeders Classic.  The Wheaton gelding won half of his 62 starts and finished in the money an additional 19 times en route to over $2 million in career earnings. Amazingly: he finished in the money in at least half of his starts in each of his nine racing seasons, and he earned over $200,000 in six of them.  He retires as one of just two West Virginia-breds to have earned $2 million — Grade 1 winner Soul of the Matter being the other — and one of two three-time winners of the West Virginia Breeders Classic.
2. The troubles of Trouble Kid are… you know… troubling.
A year ago, Trouble Kid was a remarkable — and remarkably baffling — story.  The Harlan's Holiday gelding, trained by Ramon Preciado, had to drop down to $25,000 maiden claiming to break his maiden. Then, in succession, he won a starter allowance, the Grade 3 Gallant Bob Stakes, the Valley Forge Stakes, and finally, the $350,000 Frank J. De Francis Memorial Dash (from which he was disqualifed for bumping in the stretch).  That marked three straight stakes races in which he'd crossed the wire first. Since? Nothing like that. In three stakes tries this year, most recently in Saturday's Hall of Fame Stakes at Parx Racing, Trouble Kid has been fifth, sixth, and fifth.  Saturday, he finished fifth (and last) while beaten by 23 lengths.
[FAG id=25992]
3. There's money to be made (and lost) at Laurel Park.
On two of three weekend days at Laurel, no one was able to sniff out the late Pick 5, leading to carryovers. It was hit on Saturday, when a single bettor enjoyed a $30,000 payoff after picking 18.90-1 Y'er Wan in the final race.  Heading into the coming weekend, there is a late pick 5 carryover of more than $5,600.
4. Sometimes, the light bulb goes on later than you think.
After losing her first start of 2016, She's Hot Wired had posted just two wins from 30 career starts. Now, nine races later, she's added five more wins, two in stakes company, including Saturday's $100,000 Pink Ribbon Stakes at Charles Town.  What happened?
"She just matured," said Suzanne Dillone, who owns the New Jersey-bred Cable Boy mare with husband Lawrence.
"She's a great horse," added Lawrence.  "She always does the right thing."
Now, with two stakes wins under her belt and nearing the end of her five-year-old season, She's Hot Wired may (or may not) be nearing time to hit the breeding shed.  And that may (or may not) be under the ownership of the Dillones.
"We never have (bred)," said Suzanne.  "But we've never had a horse like this before."
5. Rise Up flies at CT
Tom Amoss trainee Rise Up has made two trips to Charles Town.  In 2014, he won the $100,000 Robert Hilton Memorial Stakes by nearly 11 lengths.  Saturday, he took the $100,000 Wild and Wonderful by over six.
It's safe to say that the millionaire, 10-time winner has a special affinity for the Charles Town bullring.
"That's his athleticism," said Amoss Saturday night.  "The way he wins his races is on the turns."
Amoss added, in understatement, "Charles Town has been good to Rise Up and to me."