FIve stamp tickets to WVBC night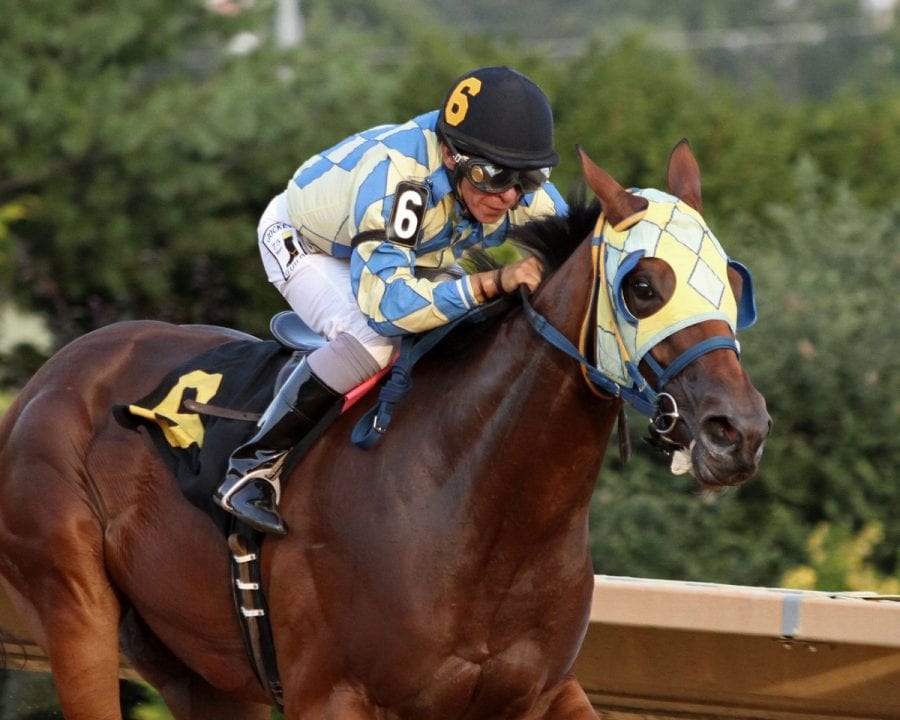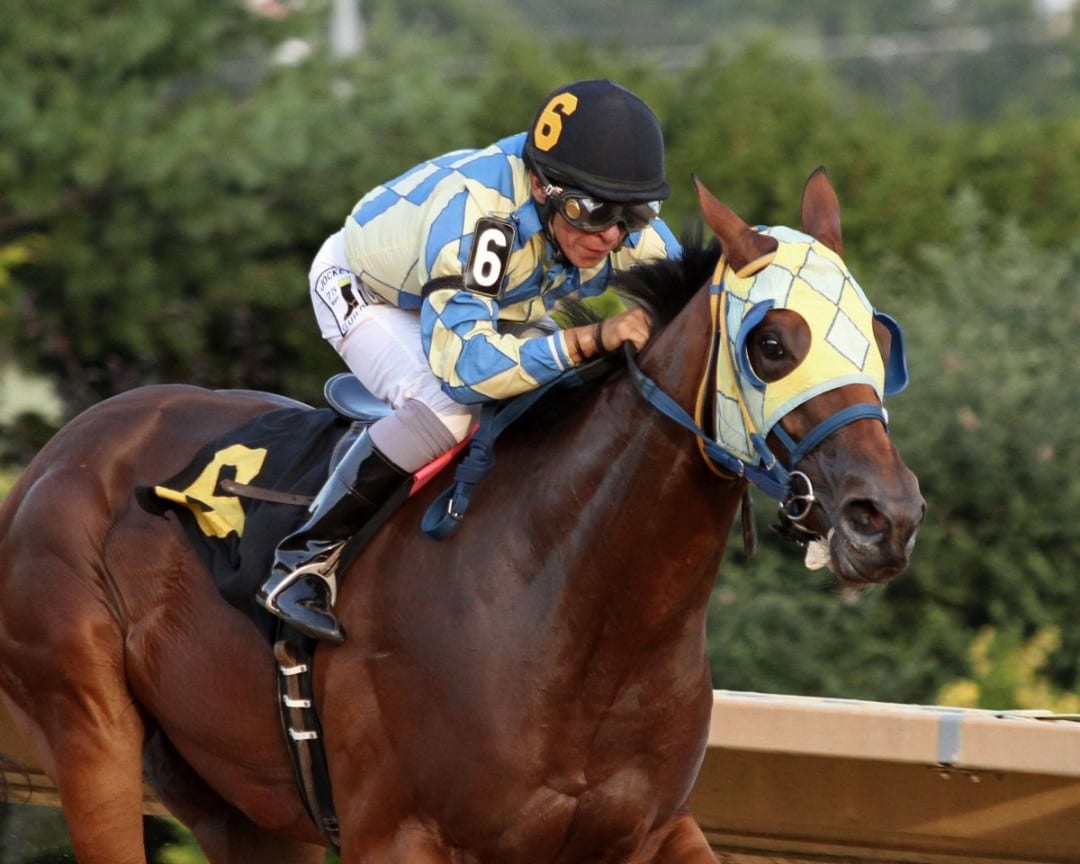 Unrideabull won Saturday's Henry Mercer Memorial Stakes. Photo by Coady Photography.
by Ted Black
On the undercard of the Grade 3, $350,000 Charles Town Oaks on Saturday were two, $100,000 open stakes and a quintet of stakes for West Virginia-breds, all of which were dubbed "Win & You're In" races since they were each tied in with a comparable stakes on the upcoming West Virginia Breeders Classics night card here on October 8.
In the first of the five "Win & You're In" races on the September 17 card, Unrideabull, with Gustavo Larrosa up, displayed plenty of early speed and some late initiative as well when he gained command early and then drew clear in the lane to a six-length score in the $50,000 Henry Mercer Memorial for state-bred two-year-olds. A juvenile son of Bullsbay trained by Jody Lee Caison for owner-breeder Michael Sterling, Unrideabull kept his perfect record in tact by covering the 4 1/2-furlongs in 52.88 and punched his ticket to the Vincent Moscarelli Memorial here on WVBC night.
"He's my next good horse," Larrosa said of Unrideabull, who won at first asking against state-bred maiden special weight foes on August 27. "He's my next Lucy's Bob Boy. He's really got that much ability. He could be that good. Today he came out running and he finished up really, really well. I think he's going to be real good. He's my next Lucy."
Unrideabull had shown similar speed and grit in winning his career debut three weeks earlier, racing four-wide on the far turn and then surging to command to overtake I Need You and Limehouser to score by a half-length in 53.34 for the one-turn dash distance. But while other horses on the card failed to equal previous clockings – the surface appeared to be two-fifths of a second slow for one-turn races and four-fifths slow for two-turn sprints – Unrideabull actually lowered his mark by two-fifths of a second on Saturday and looms the favorite for the Moscarelli where he will seek to stretch his speed two turns and travel 6 1/2-furlongs.
Two races later in the $50,000 Rachel's Turn Stakes for state-bred two-year-old fillies, Unaquoi displayed plenty of speed along the rail and refused to be overtaken at any point en route to a 1 ½-length score over Lime Away while getting the one-turn dash distance in 53.84. A daughter of Gattopardo out of a More Than Ready mare trained by Ollie Figgins, III, of Dance to Bristol fame, Unaquoi notched her second straight victory and became the first stakes winner for her sire. The Rachel's Turn Stakes is the "Win & You're In" race for the Triple Crown Nutrition Stakes, extended to 6 1/2-furlongs last fall.
While Unaquoi delivered a superb effort for her young sire, odds-on favorite Scottish Denis simply failed to fire as the 2-5 choice for owner-trainer-breeder James W. Casey. Scottish Denis had won her career debut impressively on August 11 by nearly seven lengths, and many onlookers expected her to duplicate that effort en route to a handy score in the Rachel's Turn. But Scottish Denis failed to offer any semblance of her debut outing and settled for fourth, causing the show prices of the top three finishers to balloon.
One race later in the $50,000 Frank Gall Memorial for state-bred older runners, the "Win & You're In" event for the coveted, $500,000 West Virginia Breeders Classic here on Oct. 8, In The Fairway and Arnaldo Bocachica, who also scored later in the Charles Town Oaks, continued his stellar campaign when he lived up to his role as the 6-5 choice by overtaking Ello Govna and Hidden Canyon in the final strides for a determined neck victory in 1:27.16. It was arguably the best race of the 13-race program.
A six-year-old Posse gelding trained by Jeff Runco and owned and bred by Coleswood Farm [Jeff & Susan Runco], In the Fairway notched his second straight stakes victory and now owns four wins and $150,000 banked from six starts this year. He may have punched his ticket to the Classic, but Runco, who saddled five winners on the card, remained noncommittal about the next possible spot for the talented homebred.
"We're going to weigh our options," Runco said. "He's by Posse, so I'm not sure he wants to go that far [the Classic is 1 1/8 miles]. He's only tried it once before and that was a couple of years back and before we [gelded] him. He's been a different horse since we cut him. We'll see if he fits that race or the Onion Juice better. I also have Slip the Cable who might be better in the Classic. We'll just have to see how they train over the next two weeks, but we have some options open to us."
His jockey, however, had a differing view about the gelding's immediate future.
"I think he deserves a chance to be in the big race," Bocachica said. "He can get the distance. When I work him in the morning, he really wants to go further. He does everything so easily. I'm going to try to get Mr. Runco to put him in the Classic. He should be in the big race."
Hidden Canyon, the 6-5 second choice by roughly $600, was making his seasonal debut for owner-trainer Javier Contreras after running second in the Classic last fall behind Charitable Annuity. Hidden Canyon displayed his usual early speed and battled inside of Ello Govna and In The Fairway through the lane before settling for third in a gritty effort off the bench. The six-year-old Fiber Sonde gelding owns  9-4-1 slate and $320,000 bankroll from 15 career tries and will likely appear on WVBC night in either the Onion Juice or the Classic.
Runner-up Ello Govna also performed admirably in defeat for Figgins. The four-year-old Charitable Man gelding had been fourth as the 5-2 favorite in the Northern Panhandle behind In The Fairway and local legend Russell Road and nearly atoned for that setback on Saturday. After going winless in five starts last year, Ello Govna sports five wins and one second-place finish from eight starts this year and seasonal earnings of over $85,000. He boasts a solid 5-2-1 slate from eight starts over the local strip and looms a factor in the Onion Juice next month.
One race later in the $50,000 It's Only Money Stakes, a one-turn sprint that was designated as the "Win & You're In" race for the West Virginia Dash for Cash, Eutaw Street (Oscar Flores) disposed of Chasin Rush on the turn and held safe Hear the Chatter and favored Greenway Court to score by three-quarters of a length in 52.38. A four-year-old Great Notion gelding trained by David Walters for owner-breeder Fairview Farms [Ellen Walters], Eutaw Street remained perfect in three starts on the season and now owns five wins in seven starts overall with lifetime earnings approaching $100,000.
"We'll see how he comes out of this race," Walters said. "He might go in the Dash next month, but we'll see how he bounces back. He's really good right now, but he usually needs some time between races.
Then one race later in the $50,000 Sadie Hawkins Stakes for state-bred fillies and mares, the "Win & You're In" event for the West Virginia Breeders Classic Distaff at nine furlongs here on WVBC night, Navy Ribbon gained command from along the rail soon after the break and led throughout through modest fractions to hold off Candy Man's Girl and prevail by a neck in 1:27.84. Favored Red Hot Diva was compromised by the slow early pace and rallied widest of all late to finish third as the 6-5 choice for Figgins.
Navy Ribbon, who suffered her first career defeat when eighth in the $100,000 Hancock County Stakes at Mountaineer Park last month, regained her winning way at Charles Town where she has never lost in seven starts. Although the winner is earmarked for the Distaff, Runco admitted that Navy Ribbon will likely point for the $150,000 Cavada, where she will almost assuredly see both Candy Man's Girl and Red Hot Diva again. Candy Man's Girl won the Original Gold Stakes in April, the "Win & You're In" race for the Cavada, while Red Hot Diva was second as the choice in that six-figure event last fall.
"We'll point Navy Ribbon to the Cavada, but I'm not where we'll go next with Spa Creek [who finished fifth in the Sadie Hawkins]," Runco said. "Navy Ribbon just loves this track. She loves the seven furlongs. She'll be in the Cavada and we'll look for something else for Spa Creek. It was the complete opposite of what happened at Mountaineer."