Five things we learned last weekend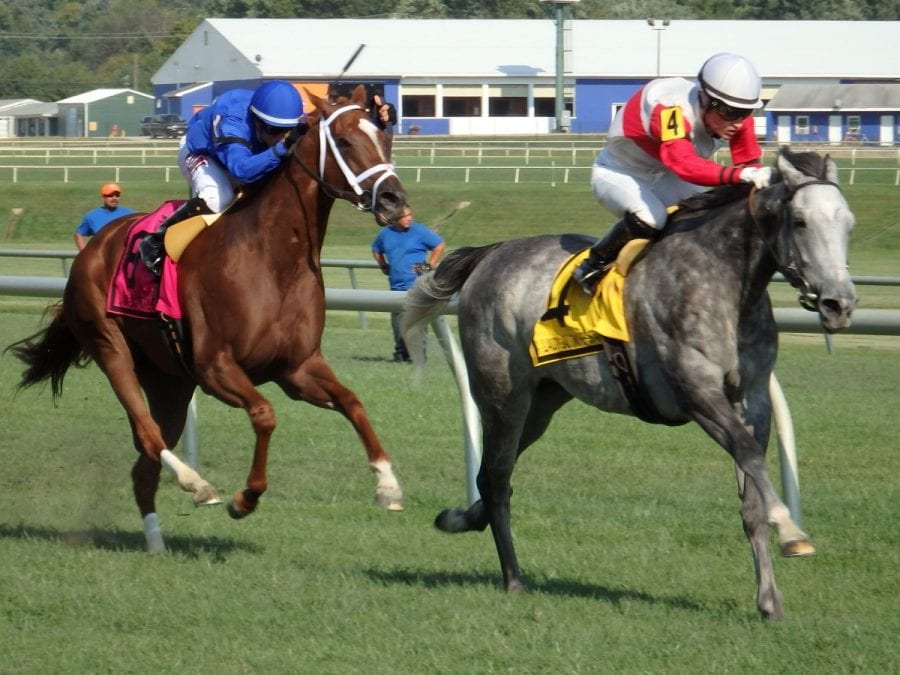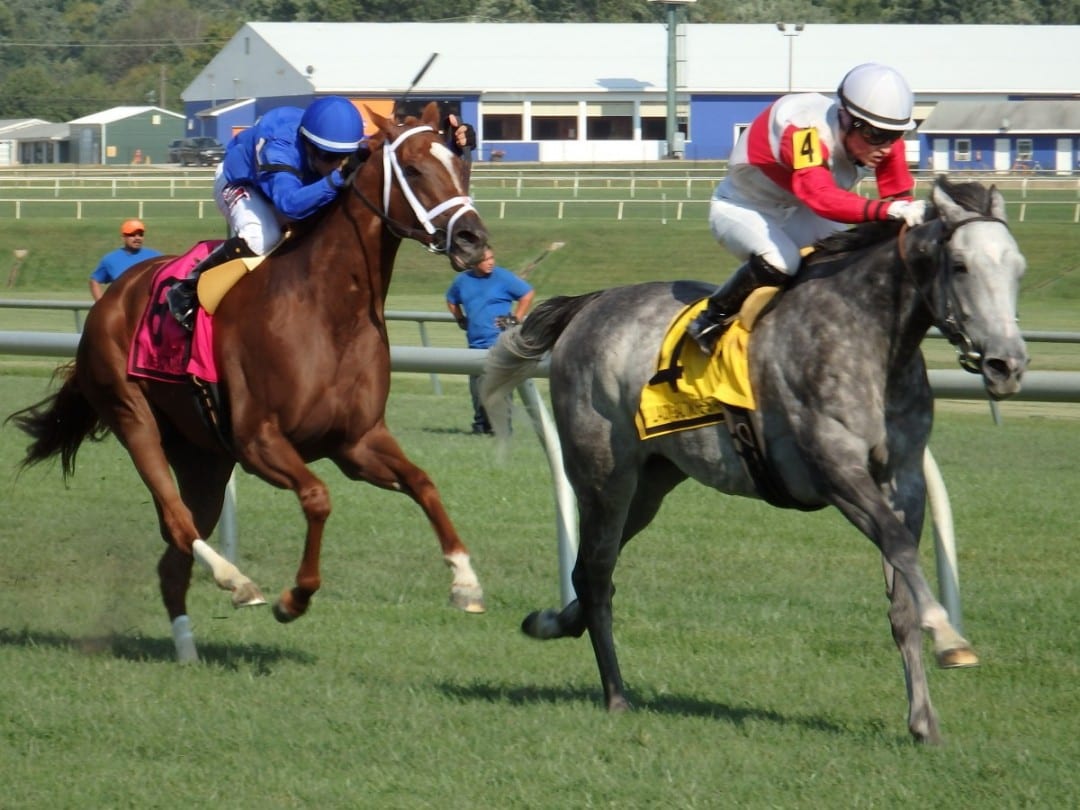 Onus sweeps to victory in the Lady Baltimore Stakes. Photo by The Racing Biz.
by Frank Vespe
With a half-dozen stakes at Laurel and Delaware, to say nothing of stakes held at Monmouth and Parx, here are five things we learned over the weekend.
1. That Mid-Atlantic turf played fast.
In fact, a pair of turf course records were set on Saturday.  At Delaware Park, Old Harbor, a five-year-old Raffie's Majesty mare, zipped 1 1/16 miles over firm turf in a course record 1:39.95 while taking the $75,000 George Rosenberger Memorial Stakes by 4 1/2 lengths.  Not to be outdone, at Laurel Park, Onus took the $150,000 Lady Baltimore Stakes by 1 1/4 lengths in a course record 1:39.87.  Speaking of Onus…
2. For Onus and Forest Boyce, it's… well… complicated.
Onus has visited Laurel Park four times.  She has won all four times, including the Grade 3 Commonwealth Oaks and this past weekend's Lady Baltimore.  All four times, Forest Boyce has had the mount.  The secret to their success?
"She doesn't tell me how to ride, and I don't tell her how to run," Boyce explained.  "That's how it works. I stay out of her way, and she stays out of my way."
[FAG id=25778]
3. Ben's Cat is likely to make another start (or two) this season.
"I will probably run next in the Maryland Million Sprint on the dirt," the fan favorite's owner-breeder-trainer King Leatherbury told our Ted Black.  "I've never won it but it's six furlongs. I don't really have another choice. The turf is at one mile, and he's been second in there but never won it."
As for Saturday's disappointing fifth-place finish:  "I was hoping he would run better today. But he had no excuse really," Leatherbury added.
4. Marylanders: Get used to seeing Mosler around.
Mosler, a five-year-old War Front horse trained by Bill Mott, impressed in winning the six-furlong Laurel Dash in 1:08.26 over firm turf, kicking away nicely to win by a length-and-a-half under Edgar Prado.  That won't be his last visit to Maryland.  He'll be entering stud at Maryland's Country Life Farm next season.
"We bought a major portion of him [as a stallion]," said Country Life's Mike Pons.  "Here's a War Front — there's no War Fronts on the East Coast. Here he is winning in front of the home crowd – this is a big thing for Maryland racing.  He's the peanut butter-and-jelly cross to all the Malibu Moons, Dances With Ravens, all those. We needed someone to fill that void. It's like having an all-star shortstop jump in the starting lineup. This is a running son of a gun."
Pons said that Mosler will be retired November 30, though he wasn't sure what races might be on his dancecard between now and then.
5. A "busy" Renown is a good Renown.
Five-year-old Renown, a Champs Elysees gelding trained by Elizabeth Voss, has turned in three straight boffo performances, winning Saturday's Laurel Turf Cup and July's Cape Henlopen at Delaware Park, as well as finishing third in the John's Call at Saratoga.  That streak has coincided with the addition of Angel Cruz in the irons.  Their secret?
"The first time I rode him, the instructions were to keep him busy, and I did and it worked out," said Cruz.  "Today we got the job done and a prefect trip.  He needs to be right in it — not the whole way, but keep him focused."