Delaware: Tax Free Shopping presents opening for Sharp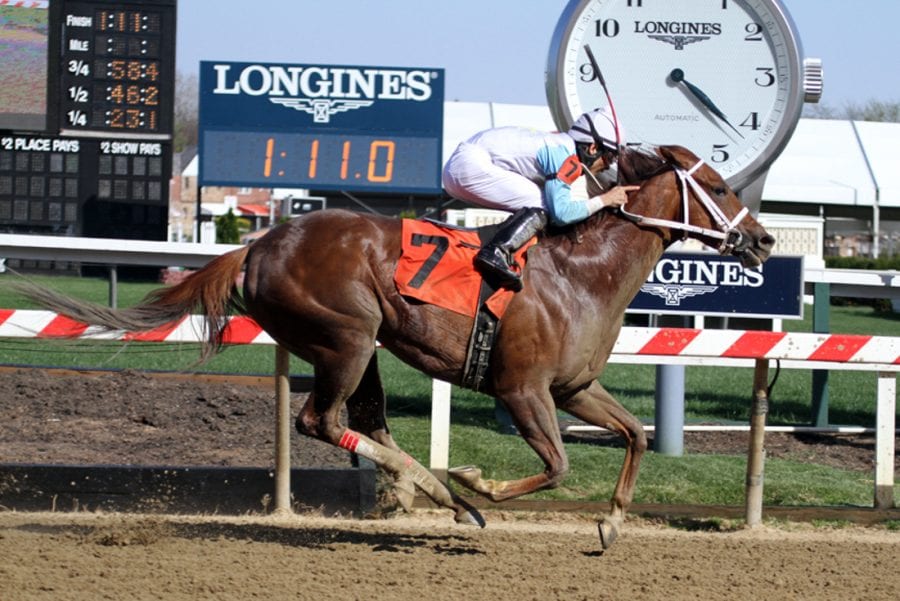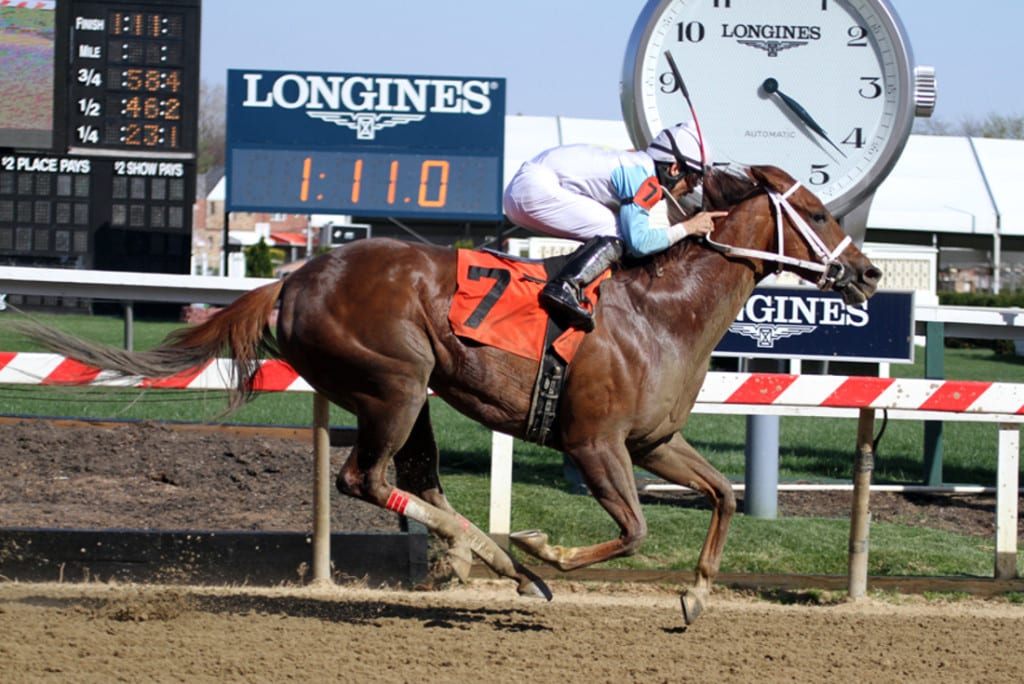 Three-time defending champ Galiana appears vulnerable in the Tax Free Shopping. Photo by Laurie Asseo.

by Doug McCoy
Saturday marks the 11th running of the Tax Free Shopping Distaff Stakes, and in recent years the six furlong sprint for Delaware Certified fillies and mares might as well have been called the "Galiana Home Free Stakes." For the past three seasons the standout filly, who has won 15 of 31 lifetime starts, has captured the Tax Free Shopping, and she romped home by almost six lengths last season to justify her 1-5 odds.
Though Galiana is back to defend her title again this year, the circumstances leading up to this race are a good bit different than the past. For starters, the now six-year-old mare will be making her first start since December 2015. Second, Galiana tested positive for a "stacking" violation — the presence of Phenylbutazone and Flunixin — following that win in last year's Tax Free Shopping. Her trainer Rodolfo Romero was subsequently suspended for 90 days and fined $2,500 for that violation and for having syringes and needles at his barn. Romero has returned to training but has no wins in 45 starts this year.
So with questions aplenty regarding the queen of Delaware female sprinters and her form coming into Saturday's stake, the Tax Free Shopping suddenly becomes a race anyone has a chance to win. That's what jockey agent Mark Mace told trainer Joe Sharp last week.
Sharp, husband of former rider Rosie Napravnik, has quickly made his mark on the national scene since starting his own stable in 2014 (the Sharp stable won 100 races last season from 554 starts, and his runners earned over $3.6 million in purses).  He is also the trainer of Papa's Forest, a six-year-old mare with solid bloodlines who has been up and down the class ladder during her career. Papa's Forest, who was in Maclean Robertson's barn early in her career, is Delaware Certified and has shown a fondness for the Stanton oval, with three wins from 10 lifetime local starts on the main track.
Mace, who handles riders Alex Cintron and Brian Pedroza, called Sharp and advised him the Tax Free Shopping looked like it was going to come up light and that the heavy favorite was as vulnerable as she was ever going to be.
"Mark and I go way back and he's always keeping an eye on things like who's nominated to certain stakes and looking for spots where my horses would fit," Sharp said from Kentucky, "We agreed she fit with most of those nominated for the race. We had a race at Kentucky Downs in mind for her, but we weighed the options and decided on Delaware Park. She's got a good record over that track and getting Alex (Cintron) was also a plus."
Papa's Forest is three for three since moving to Sharp's barn after the close of the 2015 season. She won a turf claiming race going seven and a half furlongs at the Fair Grounds in her 2016 debut racing for $12,500, and then moved to the main track at Churchill where she rallied from off the lead to win going away over $16,000 level sprinters. Her last win came going seven and a half furlongs on the turf at Indiana Downs where she bested an open allowance field by two lengths.
Papa's Forest has been off since that win in May, but there's a reason.
"After her last race we discovered she had an entrapped epiglottis." Sharp reported, "We had the procedure performed to correct the problem, and since she's come back from the recovery period she's been training well. We're going to ship her over tomorrow (Thursday) and I think she's ready to run well Saturday."
Papa's Forest is owned by Barry and Joni Butzow. The couple are prominent breeders from Minnesota and have a number of state-breds that race at Canterbury Park, but they became familiar with the Delaware Certified program when Robertson raced here. Since then they have certified a number of their runners, including Papa's Forest.
[su_box title="
TAX FREE SHOPPING DISTAFF STAKES ENTRIES AND ANALYSIS
" style="glass"]
Papa's Forest (7-5) — Carol Cedeno/Joe Sharp — Runner has won four straight at scending class levels and has three wins over the strip.
Outwithbigdaddy (4-1) — Daniel Centeno/Gina Rosenthal — Heavy lift for a filly with a career-best Beyer of 74.
Galiana (9-2) — Abel Lezcano/Rodolfo Romero — Far more accomplished than her rivals and a mortal lock on best — but with a 10-month break between races, hard to know if she'll bring that; odds attractive if they hold.
Code Name Taurus (12-1) — Ricardo Chiappe/Sam Cronk — Recent form a concern for a filly who showed early promise.
Theresa's Honor (12-1) — Erick Rodriguez/Art Stauffer, Sr. — Speedster might clear early, but she'll need a big one to be around late.
Lake Sebago (3-1) — Brian Pedroza/Jerry Robb — Competes on best, though four seconds from six tries at trip suggest bottom of exacta a better bet.
Wowwhatabrat (12-1) — Diego Gomez/John Worsley — Pass.
[/su_box]