For trainer Jamie Ness, new operation — same results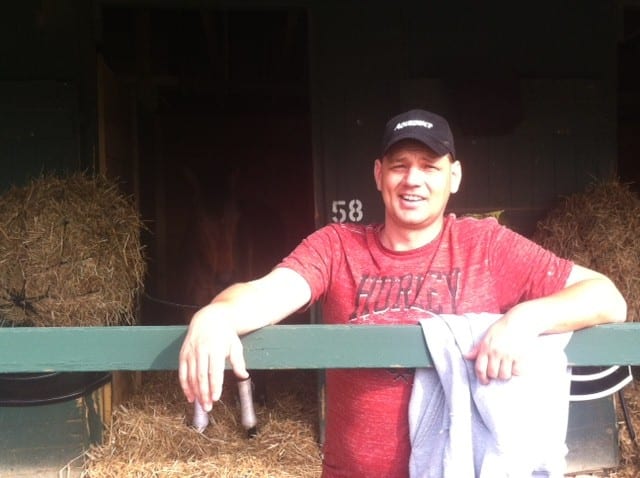 Jamie Ness.
by Doug McCoy
"The report of my death was an exaggeration," Mark Twain famously quipped after a reporter inquired as to his health in 1897.
Trainer Jamie Ness might well use the same phrase to those who predicted the trainer would fade into obscurity after Richard Papiese of Midwest Thoroughbred severed ties with Ness in February of 2015.
The trainer had risen to prominence after Papiese hired him to train the bulk of the sizable Midwest Thoroughbreds string back in 2009. In their seven-year partnership, Ness finished in the top five nationally in races won four times and topped the leaderboard in 2012 when he saddled 395 winners. Midwest Thoroughbreds led the nation in wins five straight years from 2011 to 2015. In 2012 Ness had 100 horses in training for Midwest Thoroughbreds.
But like most relationships the Ness-Papese partnership had its share of bumps in the road. Finally in February of 2016, Papese sent the 24 horses that Ness had in his care at Tampa Bay Downs to other trainers. Ness detractors, and there were more than a few, proclaimed the move would be the death knell for Ness's career.
But Jamie Ness is not only alive, but he's also doing quite nicely in the year and a half since the split.  Last season Ness runners won 234 races, his best season since 2012, and the stable's earnings totaled $4.4 million. This season Ness holds a sizeable lead in the Delaware Park trainer's race with 33 wins, 13 more than his nearest competitor.  With four months to go in the 2016 season, Ness has 130 wins and the stable has earned more than $2.5 million.
It's a new chapter in Ness's life and career and one the trainer seems comfortable with. "The outfit's doing well," Ness observed.  "We've got between 75 and 80 head in training. We've been able to upgrade the overall quality of the stable, which is any trainer's objective.  We've got some nice young horses, so I'd say overall the picture is solid."
One of the biggest adjustments that has faced Ness has been going from dealing primarily with one main owner to a number of owners and ownership groups. The trainer admits it's a bit more time consuming keeping his clients updated but said having owners like Robert T. Bone, Maggi Moss and others makes it easier.
"I've got a number of owners who've been in the business for a while and they understand what goes into training and racing a horse," Ness said.  "I'm also involved with a number of my horses as a partner so they (the part owners) know I'm invested in the horses just like they are. We've got a good group."
Ness has always had the knack of finding horses that love to win and this year is no exception. This season three of only six horses to win three times thus far at Delaware Park come from the Ness barn:  Charlesbrecknridge (3 wins from 3 starts), Racetrack Romance (3 wins from 4 Delaware starts and 6 for 10 in 2016 overall) and Unblunted (3 wins from 5 starts).
"It's tougher and tougher to find horses that just have that something special, no matter if they're claiming horses or stakes stars, but when you get one they're so cool to have in the barn," the trainer said.  "They're so professional, they know what their job is, and basically you just need to keep them happy and healthy, they do the rest."
Ness purchased a home in Maryland several years ago and has plans to continue to race in the Mid-Atlantic during the summer and fall and at Tampa Bay Downs during the winter and spring. Rumors of the sale of the Parx Racing operation to the Stronach group continue to circulate, and it is no secret representatives of Stronach have had meetings with Delaware Park ownership involving control of Delaware Park's live racing dates.
The size of Ness's operation to some extent inoculates him against changes in the business, but like all trainers, he's keeping an eye on things.
"You know I just don't know what they (the Stronach people) have in mind," he said.  "I hope whatever happens it will involve Delaware Park.  I love to train here, the place is good for my horses, it's laid out the way more tracks should be laid out, horse-friendly, and while the business dictates we race other places I consider this my summer home and Tampa my winter home."
And for Jamie Ness these days, there's no place like home.