Claimbox: Midlantic claiming continues to lag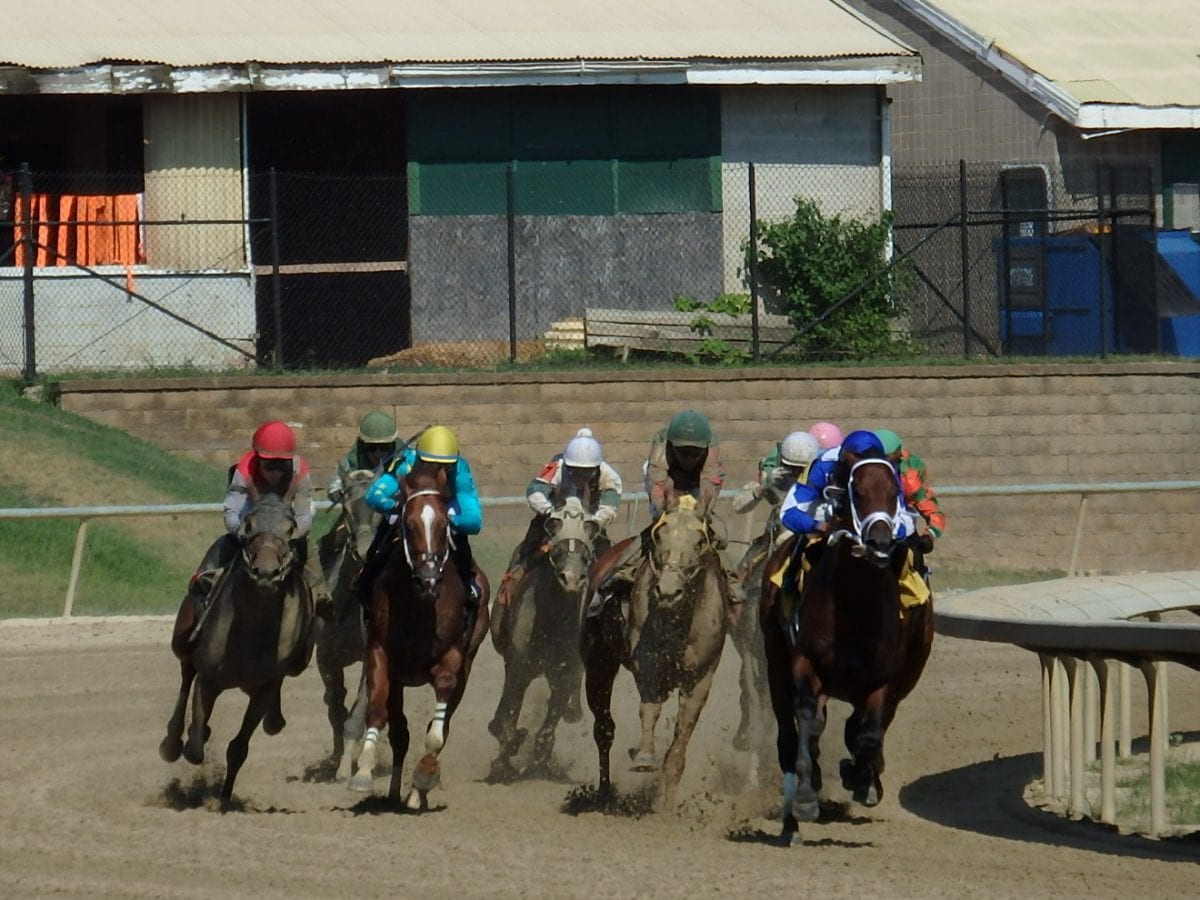 Photo by The Racing Biz.
by Frank Vespe
Mid-Atlantic claiming activity continued to lag well behind 2015 levels through the end of August, according to a review of Equibase statistics.
For the year through August 31, 1,391 horses had changed hands via the claimbox in the region.  That was 18.3 percent below the 1,703 horses claimed during the same period in 2015, and the $14,256,500 value of those claims was just shy of 22 percent less than that of 2015.
The declines are significant and widespread: 32 percent fewer horses claimed at Charles Town, 47 percent fewer at Monmouth Park, 24 percent fewer at Parx Racing.  The Maryland tracks, by contrast, have seen modest growth in claiming activity, with 385 claims in 2016 representing a six percent increase over the prior year and the approximately $4.8 million in claims amounting to a 22 percent jump over last year.
The overall numbers were no better in August.  The number of horses claimed this August, 177, was 30 percent below the 255 claimed in August 2015.  And the value of those claims dipped 38 percent, to $1,746,500.
During the month, Monmouth Park led all regional tracks with 38 horses claimed, one more than Penn National and three more than Parx Racing, which for the second straight year ran an abbreviated schedule of just five days of live racing in the month.  The $430,000 worth of claims at Monmouth also led the region, while Laurel Park's average, of $12,286 on 21 claims, was tops.  There were 22 claims at Delaware Park, 18 at Charles Town, and 6 at Timonium.
The Claimbox report covers Laurel Park, Timonium, Charles Town, Delaware Park, Parx Racing, Penn National, and Monmouth Park.
CLAIMING TRAINERS FOR THE MONTH
Who's claiming horses
Jamie Ness — 8 claims for $84,750.00
Marcos Zulueta — 6 for $95,000.00
Scott Lake — 6 for $64,750.00
Kieron Magee — 5 for $81,000.00
Kevin Joy — 5 for $27,000.00
Kathleen Demasi — 4 for $44,000.00
Ronney Brown — 4 for $26,250.00
Gina Perri — 4 for $25,500.00
Kimberly Graci — 4 for $21,500.00
Six tied with 3 each
Overall, 111 trainers claimed at least one horse.
Who's losing horses
Patricia Farro — 10 lost for $117,000.00
Brandon Kulp — 5 lost for $33,250.00
Greg Sacco — 4 lost for $43,500.00
Bernie Houghton — 4 lost for $40,500.00
Michael Pino — 3 lost for $67,500
Thomas Proctor — 3 lost for $43,000.00
Kieron Magee — 3 lost for $21,500.00
Jeff Runco — 3 lost for $21,250.00
Jorge Navarro — 3 lost for $18,750.00
Wayne Potts — 3 lost for $16,500.00
Overall, 124 trainers had at least one horse claimed away from them.
CLAIMING TRAINERS YEAR-TO-DATE
| RANK | TRAINER | CLAIMS | VALUE OF CLAIMS | AVG. CLAIM |
| --- | --- | --- | --- | --- |
| 1 | Magee, Kieron | 58 | $682,250.00 | $11,762.93 |
| 2 | Ness, Jamie | 46 | $566,750.00 | $12,320.65 |
| 3 | Lake, Scott A. | 40 | $462,500.00 | $11,562.50 |
| 4 | Potts, Wayne | 33 | $242,750.00 | $7,356.06 |
| 5 | Farro, Patricia | 33 | $354,500.00 | $10,742.42 |
| 6 | Serey, Jr., Mario | 31 | $362,000.00 | $11,677.42 |
| 7 | Zulueta, Marcos | 30 | $399,500.00 | $13,316.67 |
| 8 | McMahon, Hugh I. | 27 | $352,000.00 | $13,037.04 |
| 9 | Kreiser, Timothy C. | 23 | $270,750.00 | $11,771.74 |
| 10 | Kulp, Brandon L. | 22 | $223,500.00 | $10,159.09 |
| 11 | Pino, Michael V. | 21 | $195,500.00 | $9,309.52 |
| 12 | Graci, Kimberly A | 16 | $93,500.00 | $5,843.75 |
| 13 | Velazquez, Daniel | 16 | $190,000.00 | $11,875.00 |
| 14 | Brown, Ronney W. | 16 | $115,500.00 | $7,218.75 |
| 15 | Stickler, Jr., Lester J. | 16 | $125,750.00 | $7,859.38 |
| 16 | Perri, Gina | 15 | $84,500.00 | $5,633.33 |
| 17 | Wilhelm-Saldana, Jennie | 14 | $126,000.00 | $9,000.00 |
| 18 | Brooks, Gerald E. | 13 | $172,500.00 | $13,269.23 |
| 19 | Vazquez, Juan C. | 13 | $116,500.00 | $8,961.54 |
| 20 | Stites, Flint W. | 13 | $109,000.00 | $8,384.62 |
| 21 | Gonzalez, Claudio A. | 13 | $166,500.00 | $12,807.69 |
| 22 | Brown, Jr., Howard R. | 12 | $121,000.00 | $10,083.33 |
| 23 | Demasi, Kathleen A. | 12 | $124,000.00 | $10,333.33 |
| 24 | Navarro, Jorge | 12 | $154,500.00 | $12,875.00 |
| 25 | Guerrero, J. Guadalupe | 11 | $115,500.00 | $10,500.00 |
| 26 | Kantarmaci, Mertkan | 11 | $70,000.00 | $6,363.64 |
| 27 | Sillaman, Richard P. | 11 | $89,500.00 | $8,136.36 |
| 28 | McClellan, Erin C. | 11 | $62,500.00 | $5,681.82 |
| 29 | Salvaggio, Mark V. | 10 | $108,500.00 | $10,850.00 |
| 30 | Sinnefia, Paulina | 10 | $84,500.00 | $8,450.00 |
| 31 | Aristone, Philip T. | 9 | $70,000.00 | $7,777.78 |
| 32 | Mosco, Robert | 9 | $77,250.00 | $8,583.33 |
| 33 | Patterson, Kevin S. | 9 | $93,250.00 | $10,361.11 |
| 34 | Sacco, Gregory D. | 9 | $108,500.00 | $12,055.56 |
| 35 | Penaloza, Miguel | 9 | $105,000.00 | $11,666.67 |
| 36 | Trombetta, Michael J. | 8 | $95,500.00 | $11,937.50 |
| 37 | Allen, III, A. Ferris | 8 | $134,500.00 | $16,812.50 |
| 38 | Moore, Michael M. | 8 | $131,000.00 | $16,375.00 |
| 39 | Figgins, III, Ollie L. | 8 | $90,000.00 | $11,250.00 |
| 40 | Rojas, Eduardo E. | 8 | $59,750.00 | $7,468.75 |
| 41 | Hartsell, Jr., John J. | 8 | $100,500.00 | $12,562.50 |
| 42 | Iannotti, IV, Thomas | 8 | $44,000.00 | $5,500.00 |
| 43 | Capuano, Dale | 8 | $130,250.00 | $16,281.25 |
| 44 | Mick, Stephen R. | 8 | $60,250.00 | $7,531.25 |
| 45 | Gonzalez, Aldana | 8 | $59,500.00 | $7,437.50 |
| 46 | Eppler, Mary E. | 7 | $138,500.00 | $19,785.71 |
| 47 | Gorham, Michael E. | 7 | $98,000.00 | $14,000.00 |
| 48 | Albright, Amy | 7 | $45,500.00 | $6,500.00 |
| 49 | Vega, Richard | 7 | $91,000.00 | $13,000.00 |
| 50 | Wyner, Harold | 7 | $47,500.00 | $6,785.71 |
| 51 | Russo, Victor | 6 | $37,500.00 | $6,250.00 |
| 52 | Gargan, Danny | 6 | $67,000.00 | $11,166.67 |
| 53 | Nunn, Douglas | 6 | $46,250.00 | $7,708.33 |
| 54 | Joy, Kevin J. | 6 | $39,500.00 | $6,583.33 |
| 55 | Nations, Keith | 6 | $103,750.00 | $17,291.67 |
| 56 | Rozell, Ron | 6 | $44,250.00 | $7,375.00 |
| 57 | Whylie, Herold O. | 6 | $40,000.00 | $6,666.67 |
| 58 | Bernardini, Jay P. | 6 | $102,000.00 | $17,000.00 |
| 59 | Cartagena, Keisy | 6 | $45,500.00 | $7,583.33 |
| 60 | Cibelli, Jane | 6 | $110,000.00 | $18,333.33 |
| 61 | Maragh, Collin | 6 | $47,500.00 | $7,916.67 |
| 62 | Lynch, Cathal A. | 6 | $61,500.00 | $10,250.00 |
| 63 | Houghton, Dove P. | 5 | $72,000.00 | $14,400.00 |
| 64 | Thompson, J. Willard | 5 | $112,500.00 | $22,500.00 |
| 65 | Tuomisto, Clifford | 5 | $33,750.00 | $6,750.00 |
| 66 | Hammond, Robert L. | 5 | $24,000.00 | $4,800.00 |
| 67 | Brown, Steven R. | 5 | $45,500.00 | $9,100.00 |
| 68 | Estrada, Eberd | 5 | $54,500.00 | $10,900.00 |
| 69 | Reid, Jr., Robert E. | 5 | $117,500.00 | $23,500.00 |
| 70 | Preciado, Ramon | 5 | $47,500.00 | $9,500.00 |
| 71 | Pradenas, Sergio H. | 5 | $34,000.00 | $6,800.00 |
| 72 | Walters, Henry | 5 | $35,500.00 | $7,100.00 |
| 73 | Hassig, Alison | 5 | $36,500.00 | $7,300.00 |
| 74 | Tammaro, III, John J. | 5 | $62,500.00 | $12,500.00 |
| 75 | Rigattieri, John | 5 | $32,500.00 | $6,500.00 |
| 76 | Follett, Norman C. | 5 | $57,500.00 | $11,500.00 |
| 77 | Dilodovico, Damon R. | 5 | $67,000.00 | $13,400.00 |
| 78 | Rogers, Ronald W. | 5 | $57,500.00 | $11,500.00 |
| 79 | Dunham, Bernard G. | 4 | $25,000.00 | $6,250.00 |
| 80 | Vitali, Marcus J. | 4 | $96,000.00 | $24,000.00 |
| 81 | Schoenthal, Phil | 4 | $42,000.00 | $10,500.00 |
| 82 | Pointer, Norman R. | 4 | $25,500.00 | $6,375.00 |
| 83 | Ward, Dennis | 4 | $50,000.00 | $12,500.00 |
| 84 | Wolfendale, Howard E. | 4 | $71,000.00 | $17,750.00 |
| 85 | Albert, Linda L. | 4 | $71,000.00 | $17,750.00 |
| 86 | Pattershall, Mary A. | 4 | $27,500.00 | $6,875.00 |
| 87 | Zimmerman, Matthew John | 4 | $46,500.00 | $11,625.00 |
| 88 | Adams, Douglas S. | 4 | $41,000.00 | $10,250.00 |
| 89 | Mongeon, Kathy P. | 4 | $51,000.00 | $12,750.00 |
| 90 | Salazar, Marco P. | 4 | $24,750.00 | $6,187.50 |
| 91 | Burton, Tim | 4 | $25,000.00 | $6,250.00 |
| 92 | Guerrero, Juan Carlos | 4 | $40,000.00 | $10,000.00 |
| 93 | Maldonado, Jonathan | 4 | $32,250.00 | $8,062.50 |
| 94 | Breen, Kelly J. | 4 | $57,500.00 | $14,375.00 |
| 95 | Magill, Patrick J. | 4 | $47,500.00 | $11,875.00 |
| 96 | Boggs, M. Joanna | 4 | $27,000.00 | $6,750.00 |
| 97 | Vera, Miguel | 4 | $27,500.00 | $6,875.00 |
| 98 | Dandy, Ronald J. | 4 | $22,500.00 | $5,625.00 |
| 99 | Daniels, Patrick B. | 4 | $24,500.00 | $6,125.00 |
| 100 | Linder, Jr., Louis C. | 3 | $27,500.00 | $9,166.67 |
| 101 | McBurney, Patrick B. | 3 | $39,000.00 | $13,000.00 |
| 102 | Leaf, Jr., Robert | 3 | $58,500.00 | $19,500.00 |
| 103 | Abrams, Ronald B. | 3 | $42,000.00 | $14,000.00 |
| 104 | McClelland, Paul G. | 3 | $13,500.00 | $4,500.00 |
| 105 | Mancilla, Carlos A. | 3 | $15,000.00 | $5,000.00 |
| 106 | Lingenfelter, Thomas H. | 3 | $19,250.00 | $6,416.67 |
| 107 | Leatherbury, King T. | 3 | $55,000.00 | $18,333.33 |
| 108 | Aguirre, Anthony | 3 | $39,000.00 | $13,000.00 |
| 109 | Barr, Donald H. | 3 | $42,000.00 | $14,000.00 |
| 110 | Beattie, Cody | 3 | $28,000.00 | $9,333.33 |
| 111 | Bouchard, Leslye G. | 3 | $22,500.00 | $7,500.00 |
| 112 | Campbell, William A. | 3 | $70,500.00 | $23,500.00 |
| 113 | Castillo, Michelle | 3 | $18,750.00 | $6,250.00 |
| 114 | Comi, Jr., Ralph W. | 3 | $21,000.00 | $7,000.00 |
| 115 | Conner, John D. | 3 | $16,500.00 | $5,500.00 |
| 116 | DeSanctis, Jaclyn | 3 | $17,500.00 | $5,833.33 |
| 117 | DiMauro, Stephen L. | 3 | $62,500.00 | $20,833.33 |
| 118 | Englehart, Jeffrey S. | 3 | $24,000.00 | $8,000.00 |
| 119 | Geist, David W. | 3 | $15,250.00 | $5,083.33 |
| 120 | Frock, Charles L. | 3 | $55,000.00 | $18,333.33 |
| 121 | Kravets, Bruce M. | 3 | $13,000.00 | $4,333.33 |
| 122 | Gaudet, Lacey | 3 | $57,000.00 | $19,000.00 |
| 123 | Harvatt, Charles R. | 3 | $37,500.00 | $12,500.00 |
| 124 | Hogan, William J | 3 | $25,000.00 | $8,333.33 |
| 125 | Hollahan, Heather | 3 | $20,000.00 | $6,666.67 |
| 126 | Houghton, Roy D. | 3 | $55,000.00 | $18,333.33 |
| 127 | Hushelpeck, Henry | 3 | $12,000.00 | $4,000.00 |
| 128 | Ice, Tim A. | 3 | $31,000.00 | $10,333.33 |
| 129 | Juarez, Calixto | 3 | $29,500.00 | $9,833.33 |
| 130 | Judy, Marcus | 3 | $15,000.00 | $5,000.00 |
| 131 | Keefe, Timothy L. | 3 | $39,500.00 | $13,166.67 |
| 132 | Kendall, Jr., Dennis S. | 3 | $18,750.00 | $6,250.00 |
| 133 | Ferreira, Fernando | 3 | $14,000.00 | $4,666.67 |
| 134 | Ryan, Derek S. | 3 | $56,000.00 | $18,666.67 |
| 135 | Shea, Timothy H. | 3 | $17,750.00 | $5,916.67 |
| 136 | Oliva, Robert | 3 | $16,500.00 | $5,500.00 |
| 137 | Orseno, Joseph F. | 3 | $24,000.00 | $8,000.00 |
| 138 | Pearce, Penny | 3 | $24,000.00 | $8,000.00 |
| 139 | Montoya, Marya K. | 3 | $37,500.00 | $12,500.00 |
| 140 | Smith, Thomas R. | 3 | $22,750.00 | $7,583.33 |
| 141 | Miller, Craig S. | 3 | $22,000.00 | $7,333.33 |
| 142 | Nunn, David | 3 | $25,500.00 | $8,500.00 |
| 143 | Salvaggio, Jr., Michael W. | 3 | $15,500.00 | $5,166.67 |
| 144 | Neilson, Katherine | 3 | $15,250.00 | $5,083.33 |
| 145 | Velazquez, Alfredo | 3 | $20,000.00 | $6,666.67 |
| 146 | Reynolds, Joan A. | 3 | $15,000.00 | $5,000.00 |
| 147 | Wilson, Tony | 3 | $53,500.00 | $17,833.33 |
| 148 | Rodriguez, John M. | 3 | $33,500.00 | $11,166.67 |
| 149 | Robb, John J. | 3 | $38,500.00 | $12,833.33 |
| 150 | White, Donald R. | 3 | $20,000.00 | $6,666.67 |
| 151 | McMahon, W. Thomas | 3 | $16,500.00 | $5,500.00 |
| 152 | Dunn, Felissa | 2 | $10,000.00 | $5,000.00 |
| 153 | Dunn, John J. | 2 | $12,500.00 | $6,250.00 |
| 154 | Houghton, T. Bernard | 2 | $11,250.00 | $5,625.00 |
| 155 | Eff, Joseph A. | 2 | $15,000.00 | $7,500.00 |
| 156 | Gaffney, Hubert | 2 | $17,500.00 | $8,750.00 |
| 157 | Egan, Jason | 2 | $25,000.00 | $12,500.00 |
| 158 | Rodriguez, Mario Rafael | 2 | $8,000.00 | $4,000.00 |
| 159 | Servis, Blane | 2 | $50,000.00 | $25,000.00 |
| 160 | Serey, Juan | 2 | $12,500.00 | $6,250.00 |
| 161 | Hadry, Charles P. | 2 | $21,000.00 | $10,500.00 |
| 162 | Rodriguez, Jorge W. | 2 | $9,500.00 | $4,750.00 |
| 163 | Romeka, Steven | 2 | $10,000.00 | $5,000.00 |
| 164 | Griffin, Jacqueline | 2 | $22,500.00 | $11,250.00 |
| 165 | Rideoutt II, Anthony M. | 2 | $17,500.00 | $8,750.00 |
| 166 | Stuart, Shea | 2 | $22,500.00 | $11,250.00 |
| 167 | Albright, George R. | 2 | $10,000.00 | $5,000.00 |
| 168 | Allen, Jeffrey S. | 2 | $9,500.00 | $4,750.00 |
| 169 | Allen, Randy | 2 | $11,500.00 | $5,750.00 |
| 170 | Amthor, K. Gordon | 2 | $17,500.00 | $8,750.00 |
| 171 | Aro, Michael Charles | 2 | $30,000.00 | $15,000.00 |
| 172 | Barth, Calvin | 2 | $17,000.00 | $8,500.00 |
| 173 | Battula, Aparna | 2 | $17,500.00 | $8,750.00 |
| 174 | Beattie, Stephanie S. | 2 | $8,000.00 | $4,000.00 |
| 175 | Vick, Timothy M. | 2 | $9,000.00 | $4,500.00 |
| 176 | Dibona, Bobby S. | 2 | $40,000.00 | $20,000.00 |
| 177 | Calderon, Luis | 2 | $15,000.00 | $7,500.00 |
| 178 | Dimitriou, Harry E. | 2 | $16,500.00 | $8,250.00 |
| 179 | Carlisle, John C. | 2 | $10,000.00 | $5,000.00 |
| 180 | Soto, Carlos | 2 | $12,500.00 | $6,250.00 |
| 181 | Chinn, Fred J. | 2 | $14,500.00 | $7,250.00 |
| 182 | Coletti, Jr., Edward J. | 2 | $32,500.00 | $16,250.00 |
| 183 | Curry, Dee | 2 | $17,500.00 | $8,750.00 |
| 184 | Delozier, III, Joseph W. | 2 | $37,500.00 | $18,750.00 |
| 185 | Shuman, Mark | 2 | $16,000.00 | $8,000.00 |
| 186 | Scott, Joan | 2 | $13,500.00 | $6,750.00 |
| 187 | Diaz, Jorge | 2 | $12,500.00 | $6,250.00 |
| 188 | Iwinski, Allen | 2 | $37,500.00 | $18,750.00 |
| 189 | Vargas, Jorge A. | 2 | $11,000.00 | $5,500.00 |
| 190 | Madrigal, Sr., Rodrigo | 2 | $20,000.00 | $10,000.00 |
| 191 | Martinez, Alexander | 2 | $12,500.00 | $6,250.00 |
| 192 | Pessanha, Ney | 2 | $8,000.00 | $4,000.00 |
| 193 | Martin, Sandee D. | 2 | $12,000.00 | $6,000.00 |
| 194 | Kotenko, Robert | 2 | $20,000.00 | $10,000.00 |
| 195 | Merryman, Ann W. | 2 | $37,500.00 | $18,750.00 |
| 196 | Popovich, James A. | 2 | $12,500.00 | $6,250.00 |
| 197 | Noble, James F. | 2 | $15,000.00 | $7,500.00 |
| 198 | Landicini, Jr., Chris | 2 | $17,500.00 | $8,750.00 |
| 199 | Lima, Rolando J. | 2 | $31,000.00 | $15,500.00 |
| 200 | Plummer, Bobby Lee | 2 | $35,000.00 | $17,500.00 |
| 201 | Marrotta, Patrick | 2 | $28,500.00 | $14,250.00 |
| 202 | Mangual, Manolo | 2 | $10,000.00 | $5,000.00 |
| 203 | McGuire, James D. | 2 | $16,000.00 | $8,000.00 |
| 204 | Stopherd, Edwin C. | 1 | $7,500.00 | $7,500.00 |
| 205 | Maher, Edward | 1 | $5,000.00 | $5,000.00 |
| 206 | Milian, Carlos J. | 1 | $7,500.00 | $7,500.00 |
| 207 | Chatterpaul, Naipaul | 1 | $7,500.00 | $7,500.00 |
| 208 | Synnefias, Dimitrios K. | 1 | $10,000.00 | $10,000.00 |
| 209 | Mann, Farrel | 1 | $7,500.00 | $7,500.00 |
| 210 | Cabrera, Luis | 1 | $5,000.00 | $5,000.00 |
| 211 | Buskey, III, Bob E. | 1 | $5,000.00 | $5,000.00 |
| 212 | Caruso, Nick Joseph | 1 | $12,500.00 | $12,500.00 |
| 213 | Collins, Timothy M. | 1 | $4,500.00 | $4,500.00 |
| 214 | Crane, Dean F. | 1 | $5,000.00 | $5,000.00 |
| 215 | Cox, Kenneth M. | 1 | $15,000.00 | $15,000.00 |
| 216 | Correnti, Armand W. | 1 | $10,000.00 | $10,000.00 |
| 217 | Correnti, Anthony | 1 | $15,000.00 | $15,000.00 |
| 218 | Cornwell, Jr., James L. | 1 | $4,500.00 | $4,500.00 |
| 219 | Coram, Robert E. | 1 | $8,000.00 | $8,000.00 |
| 220 | Chircop, Steven | 1 | $5,000.00 | $5,000.00 |
| 221 | Smith, Hamilton A. | 1 | $11,000.00 | $11,000.00 |
| 222 | Miller, F. Bruce | 1 | $5,000.00 | $5,000.00 |
| 223 | Minieri, Joseph | 1 | $25,000.00 | $25,000.00 |
| 224 | Ciresa, Martin E. | 1 | $10,000.00 | $10,000.00 |
| 225 | Cipriano, Robert V. | 1 | $5,000.00 | $5,000.00 |
| 226 | Merryman, Elizabeth M. | 1 | $16,000.00 | $16,000.00 |
| 227 | Smylie, Timothy J. | 1 | $7,500.00 | $7,500.00 |
| 228 | Talley, Jeff | 1 | $7,000.00 | $7,000.00 |
| 229 | Contreras, Javier | 1 | $8,000.00 | $8,000.00 |
| 230 | Aleksic, Sonja | 1 | $14,000.00 | $14,000.00 |
| 231 | Arnold, Pamela A. | 1 | $7,500.00 | $7,500.00 |
| 232 | West, Benjamin F. | 1 | $7,500.00 | $7,500.00 |
| 233 | McCall, Brian E. | 1 | $4,000.00 | $4,000.00 |
| 234 | McCarthy, William E. | 1 | $7,500.00 | $7,500.00 |
| 235 | Meehan, Elizabeth E. | 1 | $5,000.00 | $5,000.00 |
| 236 | Tsirigotis, Jr., James | 1 | $5,000.00 | $5,000.00 |
| 237 | Alexander, Bruce F. | 1 | $16,000.00 | $16,000.00 |
| 238 | Weeks, Michael Lee | 1 | $5,000.00 | $5,000.00 |
| 239 | Alcala, Cesar | 1 | $5,000.00 | $5,000.00 |
| 240 | McGee, Paul J. | 1 | $5,000.00 | $5,000.00 |
| 241 | Albertrani, Louis | 1 | $4,000.00 | $4,000.00 |
| 242 | Worton, Dorothy Elisabeth | 1 | $5,000.00 | $5,000.00 |
| 243 | Zavitsanos, James | 1 | $10,000.00 | $10,000.00 |
| 244 | Zubenko III, Gerald | 1 | $5,000.00 | $5,000.00 |
| 245 | McCutchen, Jason | 1 | $5,000.00 | $5,000.00 |
| 246 | Voss, Katharine M. | 1 | $5,000.00 | $5,000.00 |
| 247 | Thurston, Jerry A. | 1 | $4,500.00 | $4,500.00 |
| 248 | Crowell, Susan L. | 1 | $10,000.00 | $10,000.00 |
| 249 | Uhacz, Wendy | 1 | $16,000.00 | $16,000.00 |
| 250 | Davidovich, Jamen | 1 | $7,000.00 | $7,000.00 |
| 251 | Boykins, Kevin | 1 | $5,000.00 | $5,000.00 |
| 252 | Boucher, Lilith E. | 1 | $10,000.00 | $10,000.00 |
| 253 | Ashton, Patrick | 1 | $5,000.00 | $5,000.00 |
| 254 | Betancourt, Eli | 1 | $7,500.00 | $7,500.00 |
| 255 | Ayres, Jr., Joseph W. | 1 | $10,000.00 | $10,000.00 |
| 256 | Bedard, Alan | 1 | $7,500.00 | $7,500.00 |
| 257 | Beattie, Todd M. | 1 | $25,000.00 | $25,000.00 |
| 258 | Walters, David | 1 | $10,000.00 | $10,000.00 |
| 259 | Bartoni, Wayne P. | 1 | $4,000.00 | $4,000.00 |
| 260 | Matier, Sandra | 1 | $5,000.00 | $5,000.00 |
| 261 | Tapscott, Carlyne | 1 | $7,500.00 | $7,500.00 |
| 262 | Martin, August R. | 1 | $7,500.00 | $7,500.00 |
| 263 | Pinkney, Dave | 1 | $5,000.00 | $5,000.00 |
| 264 | Hammond, Heath | 1 | $4,000.00 | $4,000.00 |
| 265 | Gulyas, Peter | 1 | $16,000.00 | $16,000.00 |
| 266 | Plesa, Jr., Edward | 1 | $40,000.00 | $40,000.00 |
| 267 | Plaza, Alberto | 1 | $7,500.00 | $7,500.00 |
| 268 | Katz, Gary R. | 1 | $7,500.00 | $7,500.00 |
| 269 | Simoff, Andrew L. | 1 | $5,000.00 | $5,000.00 |
| 270 | Rogers, J. Michael | 1 | $4,000.00 | $4,000.00 |
| 271 | Robinson, Catherine H. | 1 | $25,000.00 | $25,000.00 |
| 272 | Runco, Jeff C. | 1 | $12,500.00 | $12,500.00 |
| 273 | Pierce, Jr., Joseph H. | 1 | $5,000.00 | $5,000.00 |
| 274 | Gaudet, Linda S. | 1 | $10,000.00 | $10,000.00 |
| 275 | Ryerson, James T. | 1 | $5,000.00 | $5,000.00 |
| 276 | Garibay, Lucia | 1 | $6,250.00 | $6,250.00 |
| 277 | Kolibos, Ioannis E. | 1 | $4,000.00 | $4,000.00 |
| 278 | Kee, Willie J. | 1 | $7,500.00 | $7,500.00 |
| 279 | Jones, J. Larry | 1 | $5,000.00 | $5,000.00 |
| 280 | Iverson, Gerald | 1 | $8,000.00 | $8,000.00 |
| 281 | Preciado, Guadalupe | 1 | $7,500.00 | $7,500.00 |
| 282 | Racanelli, Mark Joseph | 1 | $5,000.00 | $5,000.00 |
| 283 | Huston, Rory K. | 1 | $7,500.00 | $7,500.00 |
| 284 | Rappaport, Mitchell | 1 | $5,000.00 | $5,000.00 |
| 285 | Houle Webb, Lucy A. | 1 | $4,000.00 | $4,000.00 |
| 286 | Rodriguez, Franklin | 1 | $4,000.00 | $4,000.00 |
| 287 | Raymond, Robert A. | 1 | $5,000.00 | $5,000.00 |
| 288 | Rodriguez, Ceasar | 1 | $6,250.00 | $6,250.00 |
| 289 | Riddle, Luanne | 1 | $4,000.00 | $4,000.00 |
| 290 | Jones, Jr., Michael E. | 1 | $16,000.00 | $16,000.00 |
| 291 | Hess, Jacob G. | 1 | $11,000.00 | $11,000.00 |
| 292 | Helmetag, Robert P. | 1 | $7,500.00 | $7,500.00 |
| 293 | Haynes, Ernest M. | 1 | $12,500.00 | $12,500.00 |
| 294 | Furlong, Kenyon G. | 1 | $12,500.00 | $12,500.00 |
| 295 | Jones, Carl C. | 1 | $5,000.00 | $5,000.00 |
| 296 | Day, Diane M. | 1 | $8,000.00 | $8,000.00 |
| 297 | Gamber, Robert E. | 1 | $10,000.00 | $10,000.00 |
| 298 | Nunley, Randy | 1 | $6,250.00 | $6,250.00 |
| 299 | Shaw, Timothy J. | 1 | $7,500.00 | $7,500.00 |
| 300 | Lezell, David G. | 1 | $7,500.00 | $7,500.00 |
| 301 | Dibben, H. Kathleen | 1 | $7,500.00 | $7,500.00 |
| 302 | Shelansky, Richard | 1 | $7,500.00 | $7,500.00 |
| 303 | Shanley, Timothy | 1 | $5,000.00 | $5,000.00 |
| 304 | Lockhart, Alan J. | 1 | $20,000.00 | $20,000.00 |
| 305 | Lane, Scott J. | 1 | $5,000.00 | $5,000.00 |
| 306 | Davis, Samuel G. | 1 | $4,500.00 | $4,500.00 |
| 307 | Davies, Joseph G. | 1 | $5,000.00 | $5,000.00 |
| 308 | Jenkins, Rodney | 1 | $10,000.00 | $10,000.00 |
| 309 | Sienkewicz, William M. | 1 | $10,000.00 | $10,000.00 |
| 310 | Fields, Kevin J. | 1 | $12,500.00 | $12,500.00 |
| 311 | Cuttino, Marion L. | 1 | $12,500.00 | $12,500.00 |
| 312 | Murillo, Ricardo A. | 1 | $5,000.00 | $5,000.00 |
| 313 | Fernandez, Miguel A. | 1 | $18,000.00 | $18,000.00 |
| 314 | Lotruglio, Edward | 1 | $7,500.00 | $7,500.00 |
| 315 | Salzman, Timothy E. | 1 | $5,000.00 | $5,000.00 |
| 316 | Frangella, Jr., James A. | 1 | $20,000.00 | $20,000.00 |
| 317 | Saville, Niall | 1 | $32,000.00 | $32,000.00 |
| 318 | Foglia, Anthony | 1 | $7,500.00 | $7,500.00 |
| 319 | McKenna, Todd | 1 | $6,250.00 | $6,250.00 |
| 320 | Dotolo, David | 1 | $7,500.00 | $7,500.00 |
| 321 | Lawrence, II, James L. | 1 | $4,000.00 | $4,000.00 |
| 322 | Komlo, William R. | 1 | $25,000.00 | $25,000.00 |
| 323 | Servideo, Robert | 1 | $5,000.00 | $5,000.00 |
| 324 | Farrior, Anthony | 1 | $5,000.00 | $5,000.00 |
| 325 | Fairlie, Scott H. | 1 | $16,000.00 | $16,000.00 |
| 326 | Kopp, Glenn | 1 | $4,000.00 | $4,000.00 |
| 327 | Servis, Jason | 1 | $12,500.00 | $12,500.00 |
| 328 | Servis, John C. | 1 | $25,000.00 | $25,000.00 |
| 329 | Kopaj, Paul | 1 | $5,000.00 | $5,000.00 |