Jock Darius Thorpe returns with a bang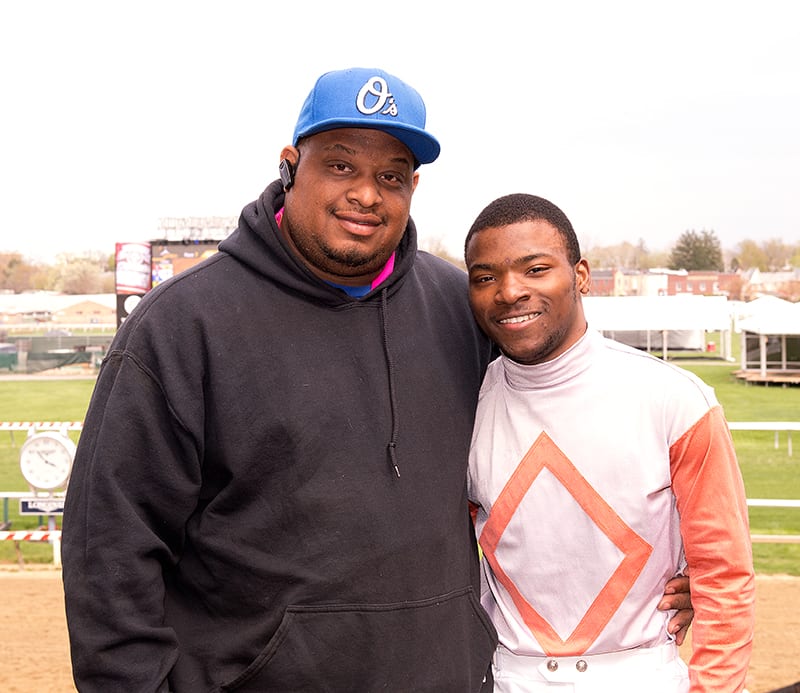 Avon (left) and Darius Thorpe. Photo by Jim McCue, Maryland Jockey Club.
From a Maryland Jockey Club release
Nearly eight months after hurting his knee in a mid-December spill, apprentice rider Darius Thorpe returned to action with a victory in his first mount back Aug. 12 at Laurel.
Thorpe, 20, was cleared to ride Aug. 9 and was a rallying 1 ½-length winner aboard C & B Stable's My Jersey Boy ($14.20) for trainer Charles Frock in the $15,000 six-furlong claiming event.
"It was a dream come true. That's all I wanted, for everything to come together and it would come together if I could get that win," Thorpe said. "I got the win and everything just fell into place. You can't ask for anything better."
A five-pound apprentice, Thorpe has added one second and one third in eight subsequent mounts at the summer meet. He was hurt when his horse, Burford, was bumped by Bama Sam near the five-eighths pole and fell on Dec. 19 in a six-furlong maiden claimer at Laurel.
Thorpe spent several weeks in therapy for his knee and had been working horses in the morning at Laurel to prepare for his comeback. His uncle, Avon Thorpe, who has raised him since his youth, is the long-time assistant to Hall of Fame horseman King Leatherbury.
"You just had to be steady and stay with the routine as if you were riding the whole time. Just stay light, eat right and act like you were riding every day. Don't pay attention to the injury," Darius Thorpe said. "It's come back full extension and everything, 100 percent. The doctor gave me an extra six weeks and it did nothing but help."
In his first full season of riding, Thorpe had a record of 59-60-66 with $1.052 million in purse earnings from 693 mounts in 2015.
LAUREL NOTES 
Jockey Victor Carrasco, injured August 7, will be out until the end of the month, his agent said.