"Excited" Dominguez set to take spot in Hall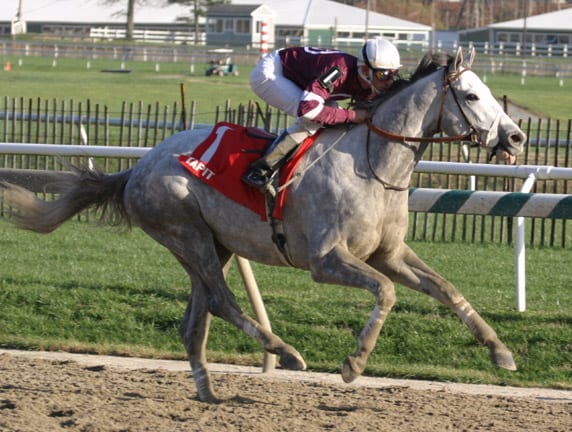 Ramon Dominguez aboard Tapit in the 2003 Laurel Futurity. Photo by Laurie Asseo.
From a Maryland Jockey Club release
It didn't take long after first arriving in the United States from his native Venezuela two decades ago for people to seek Ramon Dominguez out. His gracious, humble and classy manner made him popular and approachable. His talent, determination and intelligence made him one of the most desired, respected and successful jockeys of all-time.
Dominguez, 39, found success wherever he rode, from his first winner at Hialeah Park in South Florida to his last accomplishments in New York. But it was after making the move to Maryland in 1999 that he rose to national prominence, winning several riding titles and nearly every major stakes race to launch a career that would ultimately land him among horse racing's immortals.
On Friday, Dominguez will join trainer Steve Asmussen and horses Rachel Alexandra and Zenyatta as contemporary inductees into the National Museum of Racing and Hall of Fame in Saratoga Springs, N.Y.
Also among the Class of 2016 are 1945 Preakness-winning jockey Wayne Wright and 19th century racehorse Tom Ochiltree, winner of the 1875 Preakness, as chosen by the museum's Historic Review Committee; and Pillars of the Turf selections Arthur 'Bull' Hancock Jr. and William Woodward Sr.
"It's one thing to be impactful enough if you were expecting it but when I was not really prepared or expecting this it's very rewarding in so many ways. It was icing on the cake, for sure," Dominguez said. "It was very overwhelming in a good way. I was extremely excited. So many great memories came before my eyes. My whole career I could see in a matter of seconds, very rewarding and satisfying memories since I started getting on horses back in Venezuela until now. It took me a while for the whole idea to sink in."
According to statistics provided by Equibase, Dominguez earned 1,161 of his 4,985 career victories in Maryland, as well as $27,222,712 of a lifetime bankroll that totaled $191,620,278 from 1996 to 2013. Dominguez and his wife, Sharon, still own a home in Maryland near the Fair Hill Training Center.
"Those were really the tracks and the racing circuit where I was given the opportunity. It was the time when I partnered up with my agent, Steve Rushing. He was someone that everyone liked and he had a lot of respect, so that was extremely helpful to grow my business," Dominguez said. "I created great relationships with people there. There are so many great horsemen and it was such a privilege to be able to ride for so many great trainers that were true horsemen.
"At the same time I was able to ride with jockeys where some of them were like me, trying to make a name for themselves, but there were also others that had a proven record," he added. "I felt like I was on cloud nine just to be able to ride there consistently. From the get-go I had to really focus on winning a riding title because I knew it was within reason. I have nothing but great memories. My wife and I lived in Maryland for a few years and made many great friends and loved the area."
Dominguez is another in a long line of Maryland-based jockeys to find a home in the Hall of Fame, among them Chris Antley, Sam Boulmetis Jr., Frank Coltiletti, Kent Desormeaux, Lavelle "Buddy" Ensor, Linus "Pony" McAtee, Chris McCarron and Edgar Prado.
During his time in Maryland he won six riding titles at Laurel Park and historic Pimlico Race Course between 2000 and 2004, more than a dozen graded stakes, two editions of the Laurel Futurity, and still ranks first with 17 career Maryland Million victories.
On May 19, 2006 at Pimlico, Dominguez won the Black-Eyed Susan (G2) with Regal Engagement and the then-Grade 1 Pimlico Special aboard Invasor in his North American debut. Invasor would go on to be named Horse of the Year and a 2013 Hall of Famer.
Dominguez also won five editions of the Dixie (G2) and three in the Miss Preakness (G3), as well as the 2003 De Francis Memorial Dash (G1), 2011 Barbara Fritchie (G2), 2003 and 2008 General George Handicap (G3), and 2011 Allaire DuPont (G3). The first of his two Laurel Futurity wins came on Tapit, now one of the sport's most influential sires.
In May 2014, 15 months after injury ended his career prematurely, Dominguez was awarded the Preakness Special Award of Merit.
"We still have a home in Maryland that is five minutes from Fair Hill. I recently went there and it was great to see so many people. I was in the Laurel area not too long ago and had a chance to catch up with so many friends," Dominguez said.
"I received great feedback from horsemen that have been there for a long time and they tell me if you come here now you will be blown away by all the changes that have been made. It's great to see. I know purses are great but it also seems like the actual structure is really picking up and has also evolved where Maryland is here to stay for a long time, which is great."
Dominguez began riding professionally in Venezuela at age 18 and came to the U.S. in 1996, going on to win 20 riding titles on the New York Racing Association circuit and be the leading rider at Delaware Park from 2004 to 2007. He won three straight Eclipse Awards as champion jockey from 2010-12 and set a single-season record for purse earnings of $25,639,432 in 2012, broken by Javier Castellano the following year.
In all, Dominguez won 160 graded stakes including 44 Grade 1 events, three Breeders' Cup races and was the regular rider for 2011 Horse of the Year Havre de Grace as well as champions Gio Ponti and Hansen. He twice finished second in the Preakness (G1), the second jewel of the Triple Crown and Maryland's biggest race, with Scrappy T. in 2005 and First Dude in 2010.
On Jan. 18, 2013, Dominguez suffered what doctors called a traumatic brain injury when was unseated after his mount, Convocation, clipped heels with another horse at Aqueduct Racetrack. Dominguez was kicked in the helmet by another horse and spent nearly a month in the hospital before being released. He announced his retirement on June 14, 2013.
"It has been a very drastic shift from being very active and being out on the track and getting to ride so many horses. That took me a while to adapt to the thought of not riding again and now I'm at a point where I'm very happy with what's happening," he said. "My passion will always be riding. I will always miss many aspects of riding. At the same time, I'm able now to enjoy other things and some of life's simple pleasures like spending time with the family that perhaps was minimized greatly before.
"We are working with a company we created really helping people, whether it is to create an additional source of income; sometimes people don't have retirement for whatever reason," he added. "It's something we have always been passionate about, giving back and contributing to different organizations and businesses where we can do that and at the same time help ourselves. It has been a great journey."
To earn induction, jockeys typically either must be licensed for 20 years if still active or wait five years after retirement. Less than a month after his injury, the Hall of Fame Executive Committee waived the latter requirement because of the circumstances that ended his career.
"I knew that initially they made some changes to see if I could qualify and when I was informed that I actually qualified, that was already a big accomplishment. I feel like that was great. There's no such thing as an easy group when it comes to being nominated to the Hall of Fame. Like all the people who were nominated I felt as if I had enough accomplishments and credits to be there and once I knew I was nominated that was great," he said.