Safety first for new Delaware safety steward Reese Howard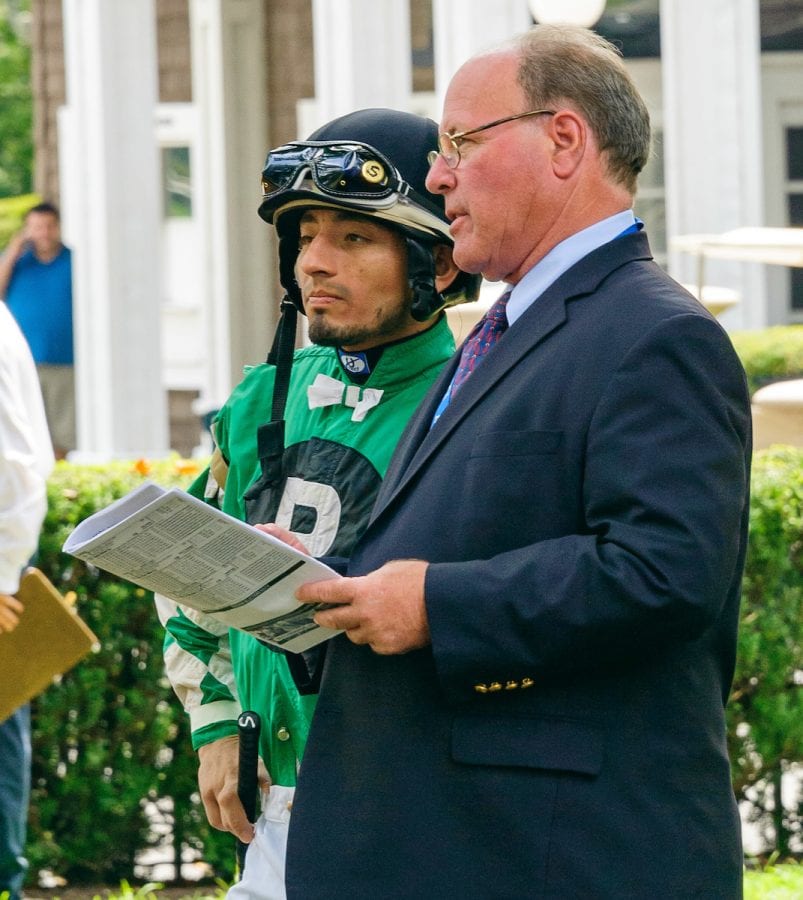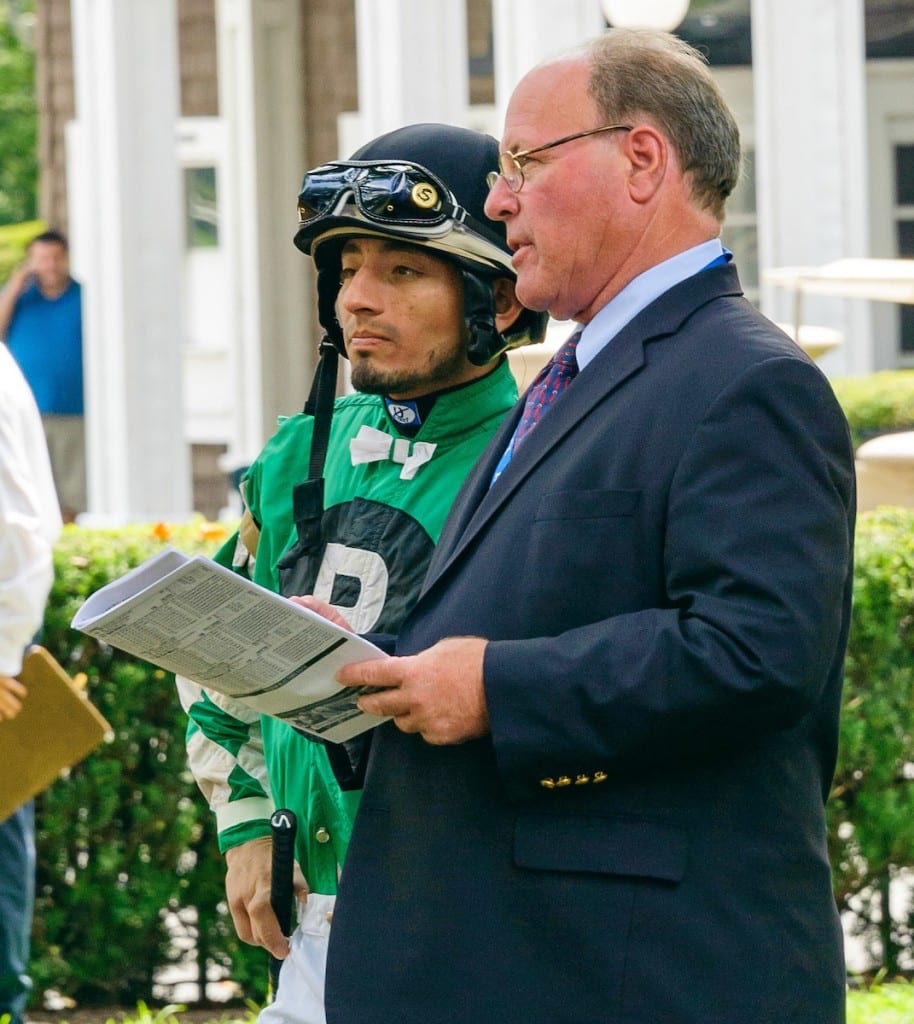 Reese Howard talks it over with jockey Gabriel Saez. Photo by HoofprintsInc.com
by Doug McCoy
The Delaware Thoroughbred  Racing Commission has created the post of safety steward for Delaware Park and has appointed former steeplechase jockey Reese Howard to man that position
California became the first state in the country to hire a steward to actively oversee compliance with safety standards in 2011 after the state legislature passed a law requiring such a position. Since then a number of states have followed in California's footsteps.
Howard, who rode over the jumps for 10 years, took over as safety steward on July 1 after completing a week of classes and instructions conducted by the Racing Officials Accreditation Program. The training program concluded with a rigorous test candidates were required to pass in order to be accredited.
The 65-year-old took a few minutes recently to explain the duties of his post and why the role of safety steward is so vital to racing.
"If there's one overriding tenet that guides our thinking and my actions in this post, it's that the horse comes first," Howard said shortly before the afternoon program started this week. "If I do my job right in insuring we have healthy, well cared for horses racing at Delaware, then that means there will be fewer injuries and accidents. That means the exercise riders and jockeys and backstretch personnel are safer."
He continued, "Then, with healthy, well cared for horses racing that will produce better, more competitive races which means the fan will have a more attractive product to wager on, they will wager more and that will enable to track and the horsemen to garner more funds for operating costs and purses.
"So it all comes back to the horses. They are the key to whatever happens in this business."
Howard's work day begins between 5:30 and 7:00 a.m.
"I begin by patrolling the backstretch, observing and when needed, making stops to talk with trainers or backstretch personnel," the official explained. "I really believe the vast majority of horsemen are honest, hard working folks who do all they can to make their horses as healthy and happy as they can. Unfortunately, it only takes a few individuals who try to take an edge to put the business in the headlines and alienate the public. One of my duties is to act as a deterrent to those types. If someone observes something they think is inappropriate they can come to me in confidence, and I'll investigate to see if action should be taken. I also check the helmets and protective vests worn by the jockeys and exercise riders to make sure they comply with safety standards."
After going to his office to write up reports Howard goes to the jock's room where he makes inspections of the riders' saddles and whips.
"I found two saddles since the meet start where the stirrup strap was badly frayed and ready to snap, so I had the valet replace those. If you've ever had a stirrup strap snap during a race you'd understand how important that piece of equipment is," he said.  "I also check whips to make sure they comply to standards and aren't broken down near the tip. That would cause injury to the horse. Then later I spend time in the paddock as well as going up to the stewards' stand. It's a full day for sure, but if you feel your efforts are making a difference, it's worth it."