Records fall on Laurel Park turf course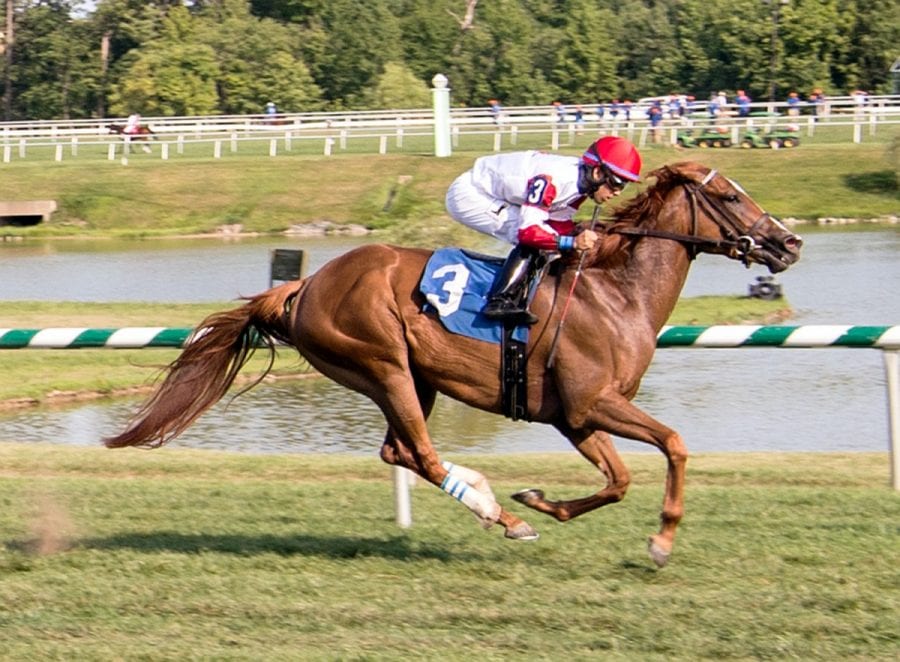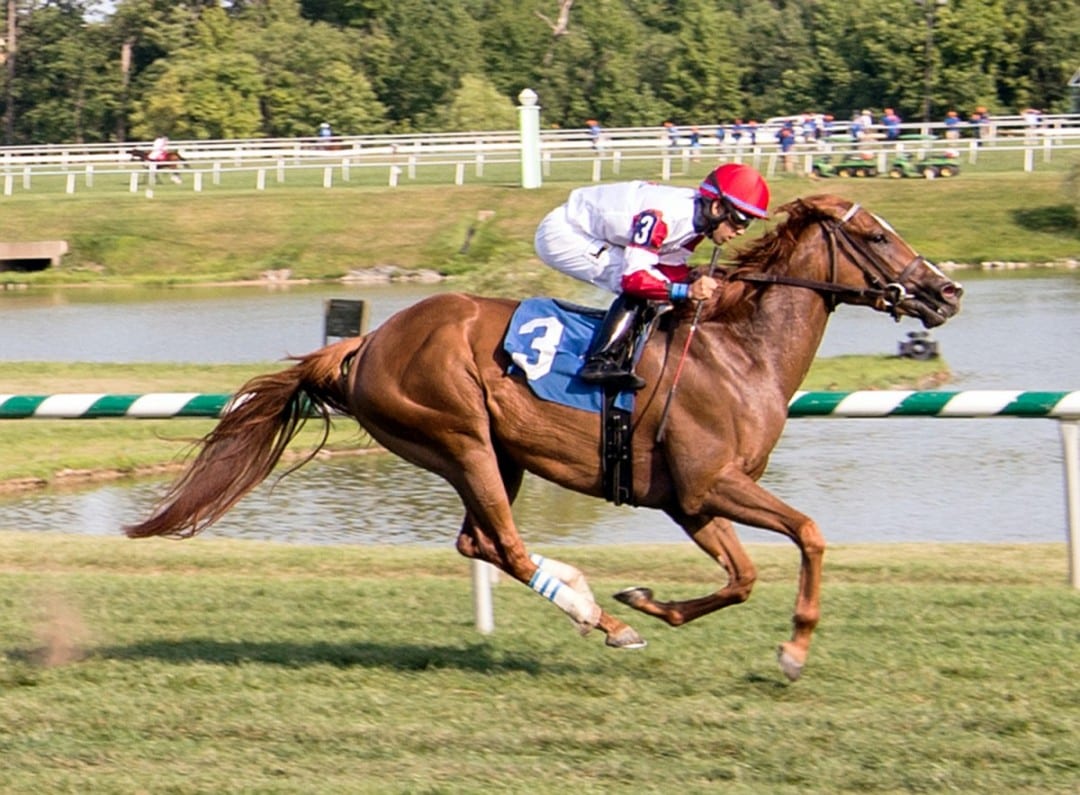 Coastal Sea won at Laurel Park on July 24. Photo by Jim McCue, Maryland Jockey Club.
From a Maryland Jockey Club release
Opal Eileen Paul's Coastal Sea was bottled up in traffic before budging her way through a narrow seam in mid-stretch and drawing clear under a hand-ride to win Sunday's eighth race at Laurel Park in track record time.
Ridden by Angel Cruz for trainer Tim Keefe, Coastal Sea ($7.20) ran 5 ½ furlongs in 1:01 over a firm Bowling Green Turf Course, breaking the previous mark of 1:01.04 set by Whatsnottolike on Sept. 26, 2012.
It was the fourth record set over the Bowling Green layout this year and second of the day, following Heiko's victory in 1:40.47 for 1 1/16 miles in the third race. Seeking Treasure captured the Dahlia Stakes in a record 1:33.99 for one mile on April 16.
Making just her second career start and first since a two-length debut victory July 2 at Laurel, Coastal Sea raced in a tight pack behind horses as Michaelslittelally and Delightful Erin dueled for the lead, posting fractions of 21.71 seconds, 44.35 and 55.46 in the $42,000 allowance contest.
Cruz ranged up behind Delightful Erin and waited for room to split her and Michaelslittleally on his inside, allowing Coastal Sea to open up and turn back a late bid from favorite Elusive Joni for the win.
"She's done everything right since she's come from Florida," Keefe said. "We thought she'd break a little more aggressively this time than she did last time. Second-time starter you never know what to expect, especially with a filly. They're going to be a little more wound up more than likely, and she was in the paddock. She settled a bit in the post parade.
"We talked about just getting her to relax," he added. "I figured she'd be a little closer. I did worry about traffic when she did come trying to make the stretch run and she did run into a little bit of traffic. Angel did a nice job, he never turned the stick over and never hit her. We're trying to win the race and teach her something at the same time, and keep it all good experiences for her."
While Coastal Sea rallied from towards the rear of her field, Heiko had the exact opposite trip, pulling to the front early and never looking back.
Pressed by Intrepid Citizen from the outset, 7-year-old gelding Heiko turned away his lone challenger in the stretch and extended his win streak to three races with a record-setting performance in Sunday's third race, a $7,500 starter allowance.
Heiko ($6.40), ridden by Edwin Gonzalez for trainer Dimitrios Synnefias, ran 1 1/16 miles over a firm Bowling Green Turf Course in 1:40.47, breaking the previous mark of 1:40.96 set by 6-year-old Relentless Ride on April 17.
Nicholaos Panopoulos and Sotirios Sakatis' Heiko jumped straight to the front from post 2 with Intrepid Citizen at his right flank, going the first quarter-mile together in 23.57 seconds and continuing through a half in 46.30 and six furlongs in 1:09.81 chased by Cruise More with 12 ½ lengths back to the rest of the field.
The top two turned for home together but Heiko responded when roused by Gonzalez and sprinted clear to a 2 ¼-length victory in the $25,000 starter allowance, keeping him perfect in three 2016 starts.  Intrepid Citizen faded to sixth, while Barney Rebel and Diana's Vendetta ran on late to fill the place and show slots, respectively.
"I was going easy in hand. He likes to go on the lead and he broke running," Gonzalez said. "My horse can run. He kept waiting for the other horse to come to him and then he started running again."