For Gina Rosenthal, twists and turns with racing at the center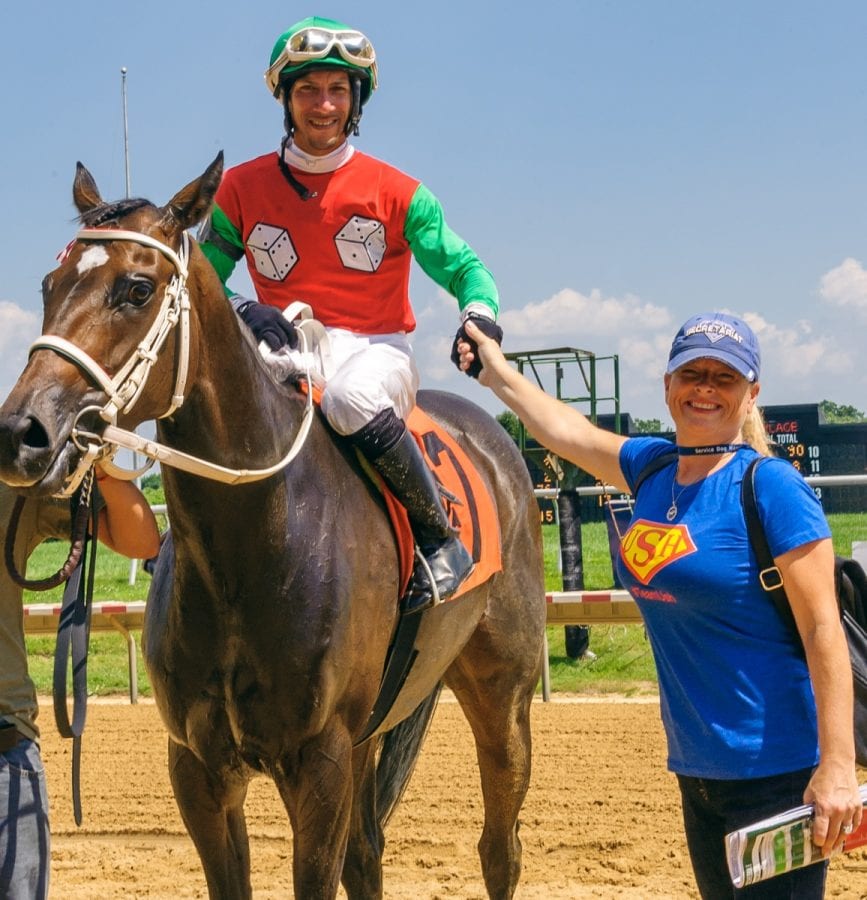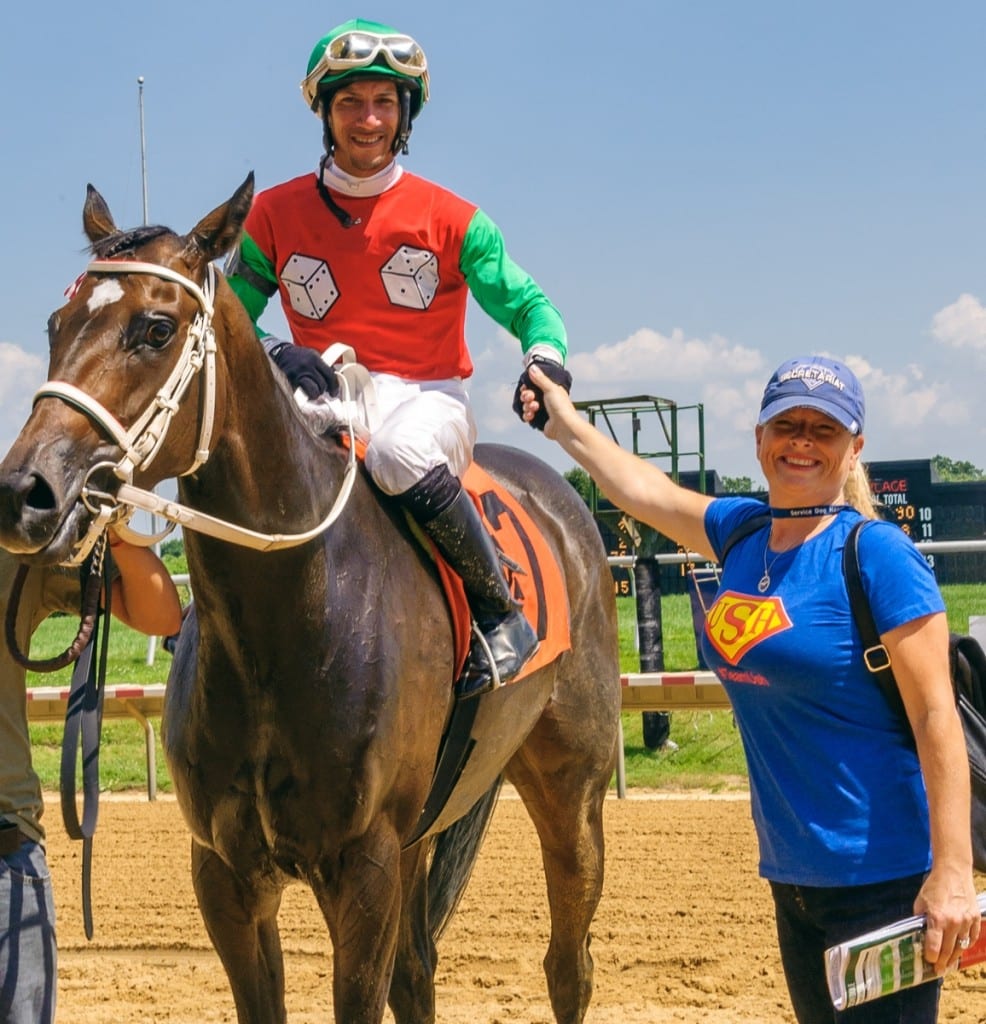 Outwithbigdaddy with jockey Daniel Feliciano and trainer Gina Rosenthal. Photo by Hoofprintsinc.com
by Doug McCoy

Perhaps it was only natural that Gina Rosenthal's life would focus on racing in some form or another. A young Gina Rosenthal would often be at the side of her daddy, jockey Luigi Gino, as the rider made his morning rounds.  She was walking hots for pocket money as early as age 10.
"My life revolved around racing for as I can remember," Rosenthal said this week, "Of course I had no idea the twists and turns my life would take, but I'm not surprised racing has been at the center of things one way or another."
Rosenthal worked on the backstretch for a time and also worked on front side at Maryland tracks in various departments from admissions to mutuels to public relations. All the while, Rosenthal continued to stay in the racing end as a small-time owner and breeder while raising three children. She worked for a time for the Maryland Jockey Club as a an on-air race analyst and later served in the same capacity for Timonium and its summer's end 10-day meeting.
"My life has been kind of a juggling act for the past 20 years or so," Rosenthal admitted from her No Guts No Glory Farm in Woodbine Maryland.  "Having a family, raising the kids (Gino 22, Anthony, 17, Lorenzo 11, and Angelina, 7),  trying to make a living while also trying to breed, raise and own horses of my own. It's had its share of ups and downs, that's for sure."
Rosenthal got one of the biggest breaks as an owner back in 2010 when she went to the Timonium sale with her mentor, trainer John Robb. Robb had purchased a couple of horses from the Thornmar Farm of Charles and Cynthia Mcginnes, and as they were leaving, Charles Mcginnes told Robb that he would give the trainer another horse.
Robb said he had all the babies he could handle but that Gina would take him.  "I told him I'd take anything he wanted to give me," Rosenthal recalled with a chuckle.
Glib was a buy-back who had some issues, but he could run.  The next fall the son of Great Notion rolled past the leaders into the stretch of the $100,000 Jim McKay Maryland Million Nursery Stakes and went on to post a 4 ½-length victory en route to a season in which he earned nearly $140,000.
Glib also happened to be in the center of two controversies that year when stakes races in which he was involved ended up before the Maryland Racing Commission.  The Commission ruled in Glib's favor in each case.  They overturned a stewards' decision to disqualify Glib after a naproxen overage in the Maryland Million, thus allowing him to remain the winner.  And they upheld the stewards' decision to DQ King and Crusader because that runner had received Lasix after the cutoff time prior to the Maryland Juvenile Championship, which elevated Glib to first.
Rosenthal also had a runner named Mylilsecret, who made just over $200,000.
Although Rosenthal had been a "hands-on" owner for some time, she officially took out her trainer's license in January of 2014 and now trains a modest but well-balanced string of 10.  Seven are her own, and three others for outside interests like Tim O'Donohue.
A strong and long-time supporter of the Delaware Certified Thoroughbred Program, Rosenthal says the bonus payouts to the owners and certifiers of horses in the program are crucial to outfits such as hers.  In fact, the day we spoke, she had a Delaware-certified runner entered at Delaware.
"I mean, with a horse like Outwithbigdaddy, who I'm running later today at Delaware Park, if he wins it means as owner as well as the certifier of Outwithbigdaddy, we will earn an additional $6,000 over and above the regular purse," Rosenthal explained.  "That means he'll earn $18,000 of an original pot of $20,000. That's serious money."
Outwithbigdaddy did, in fact, win that day.
Rosenthal also has a promising 2-year old filly named Michael's Butterfly who was impressive leaving the maiden ranks at Delaware Park in her second start. The filly earned $10,200 bonus money from the D.C.T.P. for that win. Now with an eye on some 2-year-old filly stakes at Delaware Park later this meeting, Rosenthal is well aware an additional 50% of the listed purse splits for her Delaware Certified runner would be a big financial boost to the owner of No Guts No Glory Stable.
The name of Gina Rosenthal's farm and stable just about says it all. After almost 25 years of juggling a family, career, and a dream of being successful owning, breeding and racing her own horses, the hard-working single mom's aspirations are becoming reality. No Guts No Glory Farm was built in the spring of 2015, and now Rosenthal can foal and raise her young horses on her own spread.
"You only truly appreciate what success you may achieve if you haven't also gone through the failures and disappointments necessary to get there," the horsewoman reflected.  "In life and in racing, sometimes you just have a take a shot and hope for the best."