Pegasus World Cup assigned Grade 1 status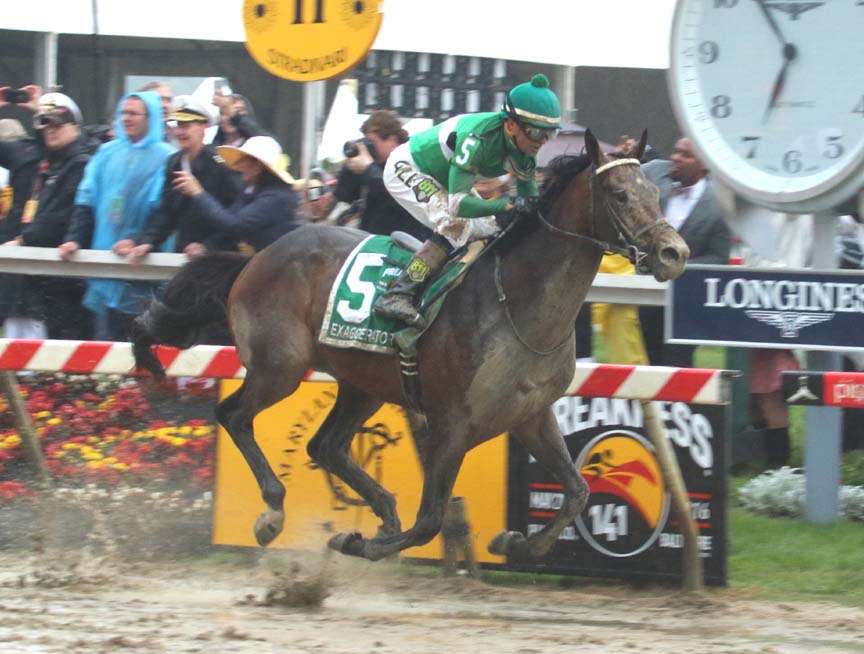 Exaggerator won the Preakness. Photo by Laurie Asseo.
From a Thoroughbred Owners and Breeders Association release
The American Graded Stakes Committee of the Thoroughbred Owners and Breeders Association announced today it has voted to assign Grade I status to the Pegasus World Cup Invitational, formerly the Grade I Donn Handicap, for its 2017 renewal.  At its first meeting after the 2017 Pegasus World Cup Invitational, most likely in April 2017, the committee will evaluate the 2017 running and nomination process and race conditions for any 2018 renewal.
While the Donn is a Grade 1 race of long standing, questions have arisen about the Pegasus World Cup because restrictions on entry — entry in the race is controlled by the 12 people or groups who pay $1 million for one of the slots — may not strictly meet AGSC criteria.
TOBA, based in Lexington, Ky., was formed in 1961 and is a national trade organization of leading Thoroughbred breeders and owners. TOBA's mission is to improve the economics, integrity and pleasure of the sport on behalf of Thoroughbred owners and breeders. Projects managed by TOBA include the American Graded Stakes Committee, Claiming Crown, Ownership Seminars, Breeding, Conformation & Pedigree Clinics, TOBA Owners Concierge and the Sales Integrity Program. TOBA, in collaboration with The Jockey Club, has also created a free information resource called OwnerView to provide pertinent information to new, prospective and current Thoroughbred owners. TOBA provides international representation for U.S. owners and breeders on the International Grading and Race Planning Advisory Committee, International Cataloguing Standards Committee and International Breeders Federation. Thoroughbred Charities of America (TCA) is the charitable arm of TOBA. TOBA Media Properties, a subsidiary of TOBA, owns The Horse magazine, Eclipse Press and is co-owner of The Blood-Horse LLC. TOBA is represented on the board of directors of the National Thoroughbred Racing Association and the Racing Medication and Testing Consortium as founding members.