Totally Thoroughbred show set for Sunday at Pimlico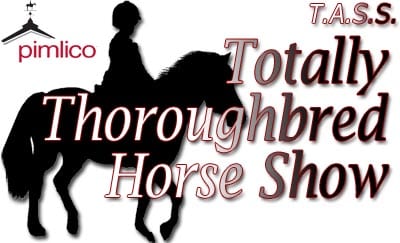 From a Maryland Jockey Club release
The Totally Thoroughbred Horse Show to benefit the Foxie G Foundation and Mid-Atlantic Horse Rescue will take place Sunday, July 17 in the infield at historic Pimlico Race Course.
A Thoroughbred Alliance Show Series (TASS) Member Show, it is open to thoroughbred horses only which will compete under their Jockey Club registered name.
Since 2012, the Totally Thoroughbred Horse Show has raised more than $45,000 to benefit thoroughbred aftercare organizations.
Horses will show in five divisions: the In Hand Division sponsored by Maryland Million Ltd.; Low Hunter Division and Child/Adult Amateur Working Hunter Division, sponsored by the Maryland Thoroughbred Horsemen's Association; Open Working Hunter Division sponsored by the Maryland Horse Breeders Association; and the Jumper Division. Trainer Rodney Jenkins, an inductee in the Show Jumping Hall of Fame, will be one of the judges.
All classes except for Low Hunter Division are eligible for TASS year-end award points in their respective divisions.  You can click here to learn more.