Ashley Castrenze and the process of becoming a solid pro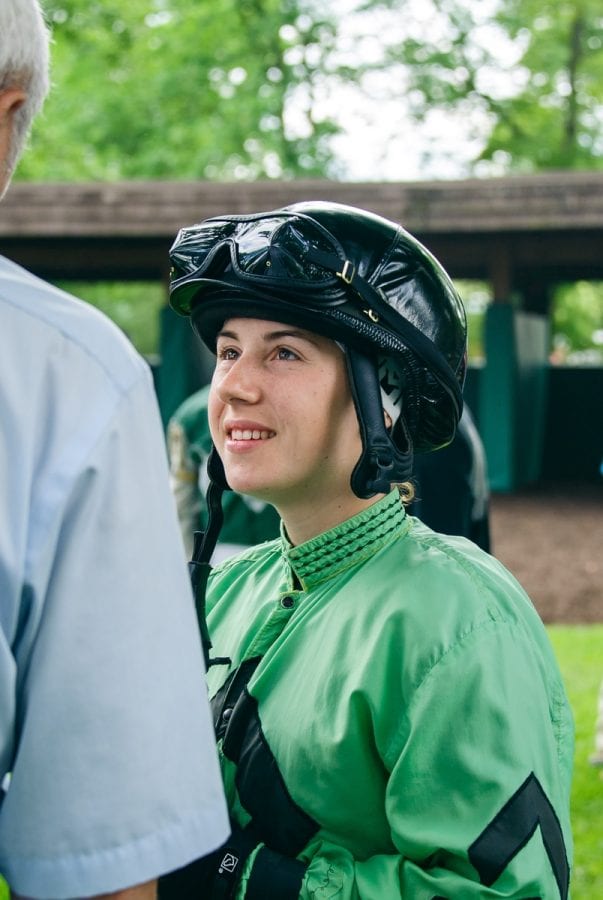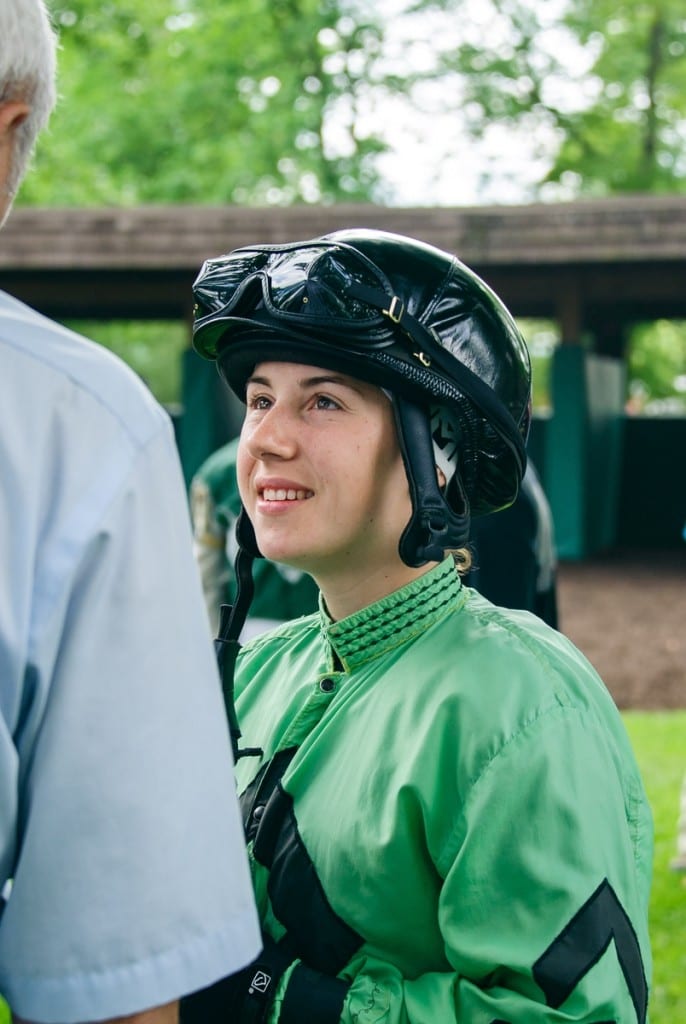 Ashley Castrenze. Photo by HoofprintsInc.com
by Doug McCoy
Apprentice jockey Ashley Castrenze's career left the gate running when the 19-year-old won with her first mount on April 15 at Tampa Bay Downs. The daughter of trainer and former jockey Jackie Acksel and late trainer Charles Castrenze captured that first race aboard the Tom Proctor trainee Sister Pat. She won another race at Tampa for Proctor, for whom she had exercised horses the past two years, then came north to ride at Delaware Park and other tracks in the mid Atlantic region.
The apprentice kept her perfect record intact when she teamed up with veteran horseman Mark Reid to win on her next two mounts at Penn National before finally tasting defeat when she finished third in her fifth start.
Through June 9, Castrenze has won 11 races from 28 mounts overall with four seconds and five thirds.
She has also earned her first suspension. She was disqualified from another win last week at Delaware Park, and the stewards slapped her with a seven-day vacation for "careless riding" that extends through June 13. She currently is in the top 10 in the rider standings at Delaware Park with five wins from 17 starters and purse earnings of $94,222.
Clearly, it's been an exciting start for Castrenze, but the journey from apprentice to solid journeyman is a process. "I'm still learning, there's no question about it," Castrenze said recently.
Trainer David Nunn, who has also been riding Castrenze, has known the rider from her early days galloping horses. She worked for Nunn's brother Doug at Monmouth Park before they recommended she go to work for Proctor. The trainer, who once worked with Bill Perry when the New England conditioner had the standout handicap horse Formal Gold, said that her ability to learn is one of Castrenze's biggest strengths.
"She's a smart young lady, very smart," said Nunn. "Even when she first started getting on horses for us she was quiet on a horse and had good hands and she was quick to learn. She's a very hard worker, she's got a strong work ethic. I think she learned that from her mother and her family growing up."
Reid, a consummate horseman who has been on the race track more than 40 years, adds that the rider's ability to communicate with her mounts is another positive trait.
"Ashley's got nice, soft hands and she's got that knack of being able to get horses to relax then respond when she calls on them," Reid observed. "I've seen a lot of jockeys ride down through the years and a very small percentage of them just seem to have to have special something that enables them to feel a horse's emotional state, whether they're nervous and agitated or calm and relaxed. And she gets horses to run without beating them up. The horses she rides for me come back after a race still relatively fresh and happy because she got them to give their best without drilling them."
Castrenze, a former show horse rider, candidly admits there's work to do for her to become a top rider.
"I think I need to continue to work on finishing stronger down the lane but I think I'm getting better at learning where to place horses so they have the best chance to win," Castrenze said. "And I'm also learning how to ride on the grass. I really enjoy turf racing because it's often the trip a horse gets and how a rider places a horse that can make the difference between winning and losing a race. It calls for some strategy and quick thinking and that makes riding on the grass so interesting.
"I know there's still a lot for me to learn," Castrenze concluded. "I'm getting to know the other jockeys, and they let me know if I'm doing something wrong. I know I can't expect to keep winning at the pace I have thus far, but I feel if I keep working hard and paying attention, I can develop into a solid professional like my mom was."