Analysis: Fasig-Tipton sale enjoys day two recovery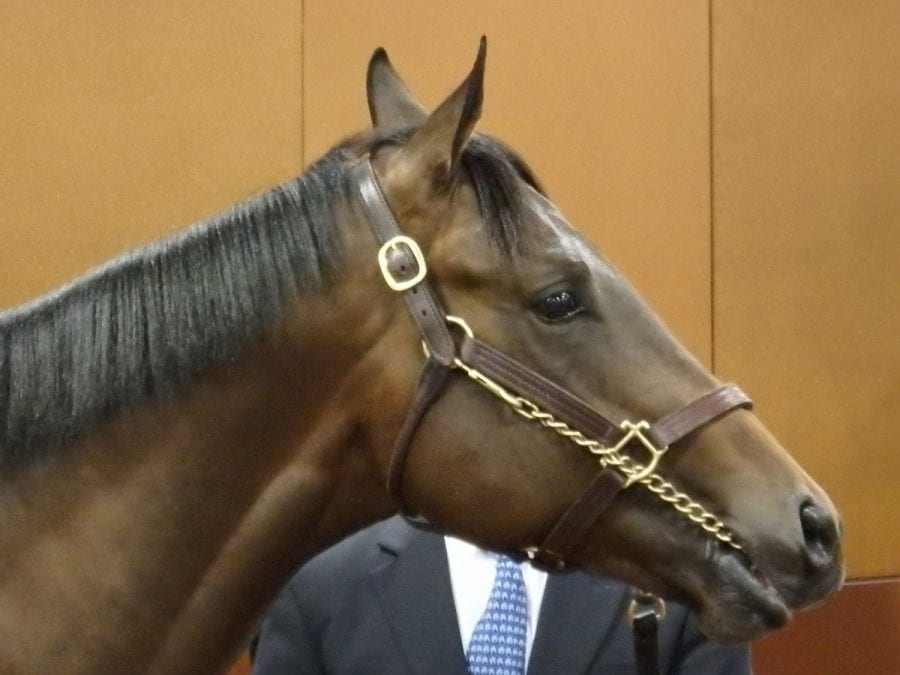 Hip 234 sold Monday. Photo by The Racing Biz.
by Frank Vespe
The market rallied strongly on the second, and final, day of Fasig-Tipton's Midlantic Two-Year-Old sale yesterday, and the result was a record: more than $23 million in sales for the two-day event.
"Today is what we had hoped yesterday would be," said Fasig-Tipton Midlantic Sales Director Paget Bennett near the end of the sale. "It was great, a lot more horses getting done."
The day two average was up a shade from the first day, to more than $69,000. And though the median fell, from $34,000 to $32,000, perhaps the most important number was the buyback rate. While 31 percent of horses through the ring failed to meet their reserves on the first day, just 20 percent were bought back on the second.
Why?
Bennett suggested that the first day may have represented something of a feeling-out period, with buyers "testing to see what people wanted for their horses," she said.
Perhaps so. Notably, nine horses that failed to meet their Monday reserves brought top bids of at least $100,000; on Tuesday, only one did. And at least one consignor reported removing a reserve price on a horse late in the day Tuesday after seeing the direction of the market.
The one horse that failed to meet her reserve on Tuesday, Holy Gold, brought a top bid of $145,000; she has already run twice, finishing second in maiden special weight races in New York both times.
Bennett and others also suggested that Tuesday's offerings may have been superior to those of Monday.
"There were a few stronger pages today, which picked it up," said Woodberry Payne. Payne advised a client on the purchase of what he called a "big, lovely" Giant's Causeway colt on Monday and also prepped a couple of horses that sold at the event.
"The way the book fell, we had a lot of good horses [Tuesday]," added Bennett. "A lot of the faster works just happened to be today."
In fact, four of the six horses to breeze an eighth of a mile in 10 seconds flat sold on day two. So did the two horses who tied for the fastest quarter-mile, 21 2/5 seconds, and the fastest to work three-eighths.
And those speedsters included the sale's top two purchases, Hip 490, an Uncle Mo filly with a gaudy catalog page who fetched a top bid of $1 million; and Hip 461, a Pennsylvania-bred colt by Maryland sire Friesan Fire, who brought $825,000.
Yet while the top of the market seemed to thrive – all told, 59 horses were sold for $100,000 or more – travails in the middle and lower ends of the market continued to be on many minds.
"It's the same everywhere," said Bennett. "The top is good, and the middle and the bottom – there's not a lot of market for those."
Seventy-one of the 337 hips sold – 21 percent – brought at least $75,000. One hundred thirty-one brought $25,000 or less.
"I do sense that you might not have as many buyers in the lower and middle part of the market as you have had in the past, and this sale has always been really good in that area," said Pete Denk of THT Bloodstock, which advised a client in purchasing two Maryland-breds at the sale. "It seems like the consignors are telling me they're struggling in that part of the market."
"The middle market just doesn't seem like it's here," agreed Payne.
One reason may have been the apparent paucity of local trainers, what THT's Kerry Thomas called "the usual suspects," at the event.
"A lot of the Maryland faces were missing," said Fasig-Tipton's Bennett. "That's what some people said this morning, that some of the Maryland guys weren't here, and the comment made was that they don't have the people to buy them horses."
Their absence, some suggested, may also be the result of a lack of star power in the regional sire ranks. As Not for Love faded from the scene and then was pensioned, no sire in the region has truly filled that void. In fact, three of the top four sires on the region's general sire list are either dead or pensioned, leaving leader Jump Start all by himself, and no living mid-Atlantic stallion has sired more than one stakes winner in 2016. Nationally, more than 100 sires have multiple stakes winners this year.
"I think one thing everyone wants to see is Maryland have great stallions again," said Denk. "I'm sure they have some good ones, but they're a little bit under the radar."
That's why some at the sale were so excited to see a Friesan Fire go for $825,000. That may – or may not, as time will tell – mark him as a sire with the potential to fill the void of stallions in the $15,000 to $25,000 range. He has a ways to go – he currently stands for just $4,000 and has sired a single stakes winner to date, now with his second crop of runners competing.
"I think there's definitely some momentum in Maryland," said Denk. "People see these purse bonuses from the racing side. I think it should be reflected in a higher quality of horse being produced here soon and better racing."
Twenty horses bred in the region brought top bids of at least $50,000. Of those, seven – six bred in Maryland – went for $100,000 or more.
"A lot of it is the type of horse," observed Bennett. "The market tells you what they want, and it can be brutally honest. I'm just glad that we ended on a high note."
[su_table]
| | | | | |
| --- | --- | --- | --- | --- |
| STATE | SOLD | TOTAL | AVERAGE | NOT SOLD |
| MARYLAND | 34 | $1,639,500 | $48,221 | 6 |
| NEW JERSEY | 6 | $129,000 | $21,500 | 0 |
| PENNSYLVANIA | 19 | $1,274,000 | $67,053 | 9 |
| VIRGINIA | 3 | $140,000 | $46,667 | 2 |
| WEST VIRGINIA | 4 | $173,000 | $43,250 | 0 |
[/su_table]