Fasig-Tipton 2yo sale carries hopes for momentum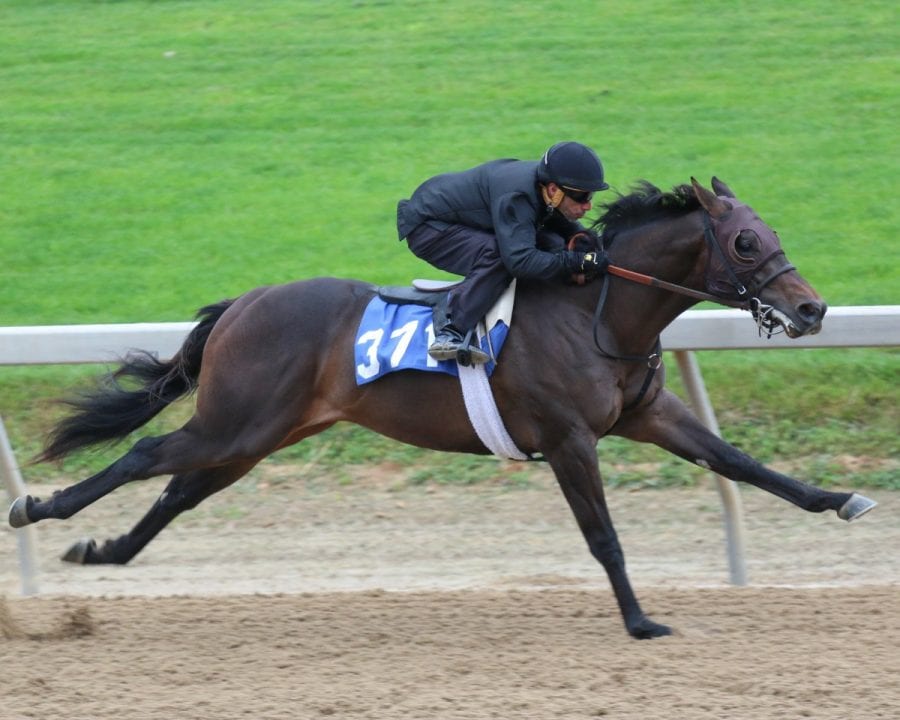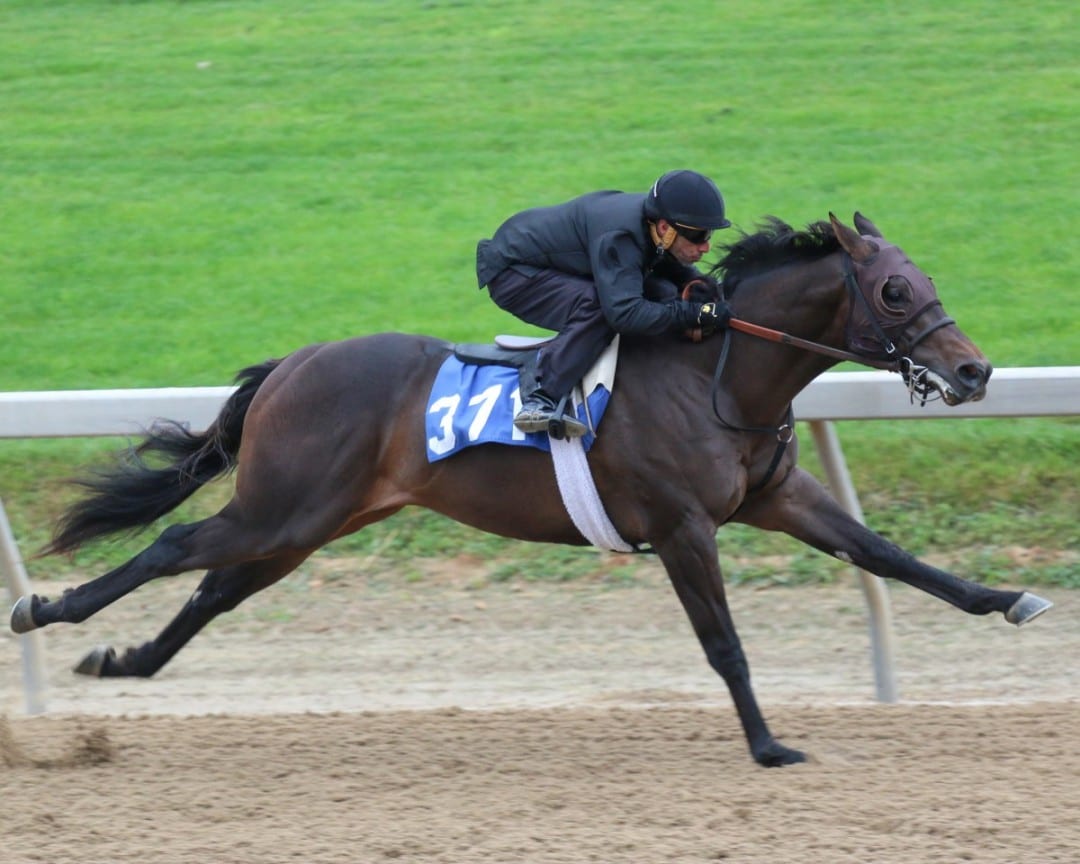 Hip 371, a Harlan's Holiday colt, worked an eighth in 10 seconds flat. Photo by George Adams.
by Frank Vespe
If momentum matters, the Fasig-Tipton Two-Year-Olds in Training sale that opens Monday at the Timonium Fairgrounds has a head start.
On the racing front, the Maryland Jockey Club reported record attendance and handle at this past weekend's Preakness and Black-Eyed Susan days, the latest in a long string of positive reports from the company.
And horses bred in the mid-Atlantic — who account for a modest 83 of the 601 on offer — have been thriving of late.  Two bred in Pennsylvania, Mor Spirit and Tom's Ready, competed in the Grade 1 Kentucky Derby earlier this month.  Another Pennsylvania-bred, Disco Chick, took the $100,000 Skipat Stakes Friday at Pimlico, while venerable Maryland-bred Ben's Cat took the $100,000 Jim McKay Turf Sprint later on that same card.
And of course, Maryland-bred Cathryn Sophia won the Grade 1 Kentucky Oaks the day before the Derby, solidifying her claim as among the very best of her generation this year.
All in all, it's quite a bit of momentum to build on.
"With the good buzz from the Preakness that carries over, and from our perspective, with the Maryland-bred buzz from Cathryn Sophia, that's going to help the Maryland-breds in the sale," said Maryland Horse Breeders Association executive director Cricket Goodall.
"Racing's on the upswing [in the mid-Atlantic], and the sale should be, too," agreed consignor Kip Elser, who said he had 17 on the grounds to sell.
The 598-hip catalog — before outs — represents a more than 20 percent increase over the 490 hips offered in 2015.  And Elser believes it's not just quantity but quality that will be on offer.
"I definitely think there are more good horses than in previous years," he said a few days before the sale.  "I've got a better overall group, quite a few nice horses, and from what I'm hearing and seeing around the grounds, others do, too."
Perhaps the buzziest of entrants, on paper at least, is Hip 510, a Creative Cause colt out of the Ecliptical mare Exclusive Rosette.  Exclusive Rosette is the dam of a pair of stakes winners and, more significantly, also foaled Littleprincessemma, the dam of 2015 Triple Crown hero American Pharoah.  The colt on offer breezed an eighth of a mile in 11 seconds flat.
Six horses shared fastest breeze honors going an eighth of a mile, all in 10 seconds flat.  That number included Hip 461, a Pennsylvania-bred, Maryland Million certfied Friesan Fire colt out of the stakes-winning Crafty Prospector mare Crafty Toast; and Hip 592, a West Virginia-bred More Than Ready filly.
Of those horses breezing a quarter-mile, eight went in 21 2/5 seconds or 21 3/5 seconds.  Among those: Hip 170, a Maryland-bred Ice Box colt (21 3/5); and Hip 85, a New Jersey-bred Wicked Rich filly.  Elser's Kirkwood Stables is consigning Hip 32, a Maryland-bred Into Mischief filly out of a good female family that breezed in 21 4/5 seconds.
Overall, 40 of the hips on offer were bred in Maryland, with 28 bred in Pennsylvania.  Six were bred in New Jersey, followed by Virginia (five) and West Virginia (four).  There are also two Delaware-certified horses in the event.
"Specific state-bred horses, wherever they are in the mid-Atlantic, should be strong," Elser said, "because every state-bred program is giving good money."
"I think it's great for Maryland if you can come in and pay a reasonable price and get a really good horse," added Goodall, pointing out that Cathryn Sophia cost just $30,000 as a yearling.  "That's what you saw in the yearling sale last year — the RNAs [horses whose reserve was not attained and thus were not sold] were down, so obvioulsy people were more accepting of what the horses were bringing."
Indeed, a common lament among some consignors in recent years has been the difficulty of selling mid-market horses.  There's plenty of money for a horses that checks all the boxes, the feeling goes, but not much for a horse that's less than perfect.
"The problem is everybody wants a Saturday, 4 o'clock horse," explained Elser.  "There's tremendous value for buyers out there just because of the number of horses that are maybe Wednesday feature horses.  That part of the market has been lagging."
But Goodall said that, while the middle of the market has been tough at times, she believes it may be stronger in the Maryland sales than at some other venues.  "Maryland has a more established core of people willing to spend $30,000, $40,000, $50,000 every day," she said.
And Elser added that this sale's reputation as a place where a buyer can find a good horse at a fair price helps.  "Maryland has always been the home of the 100-cent dollar," he said with a laugh.
For commercial breeders and consignors, the hope is that this sale provides another data point to the growing sense that the market is moving in the right direction.  And they say that, though, for example, claiming horses provides more action quicker, buying two-year-olds and developing them has higher upside.
"This is the best way to grab the brass ring," said Elser.  "It's proven over time that buying a two-year-old and developing them is the best way to get more than you paid for."