O'Neill "very happy" with Nyquist's "good energy"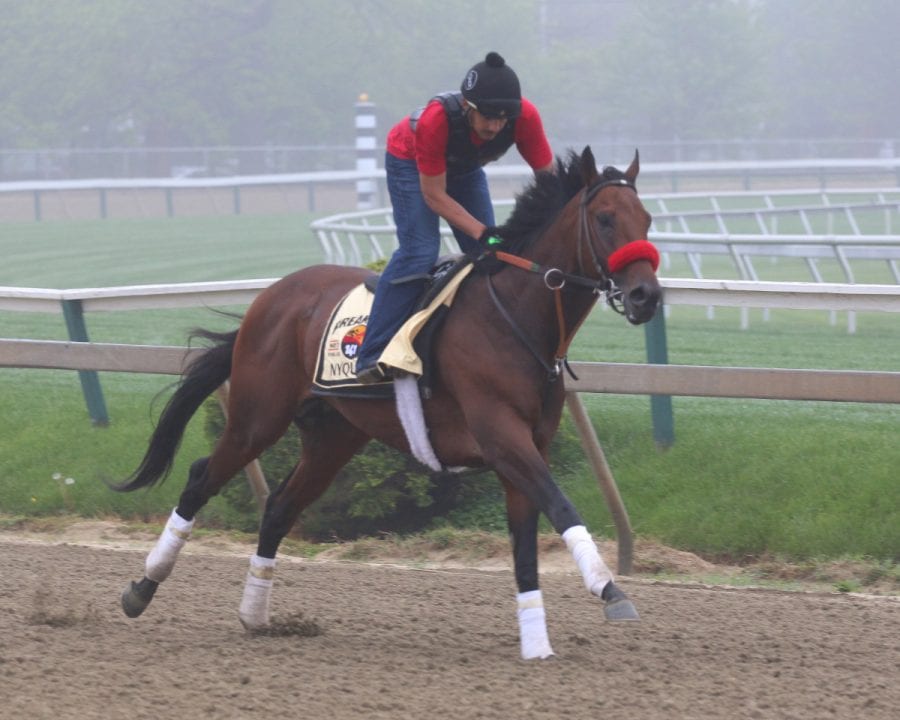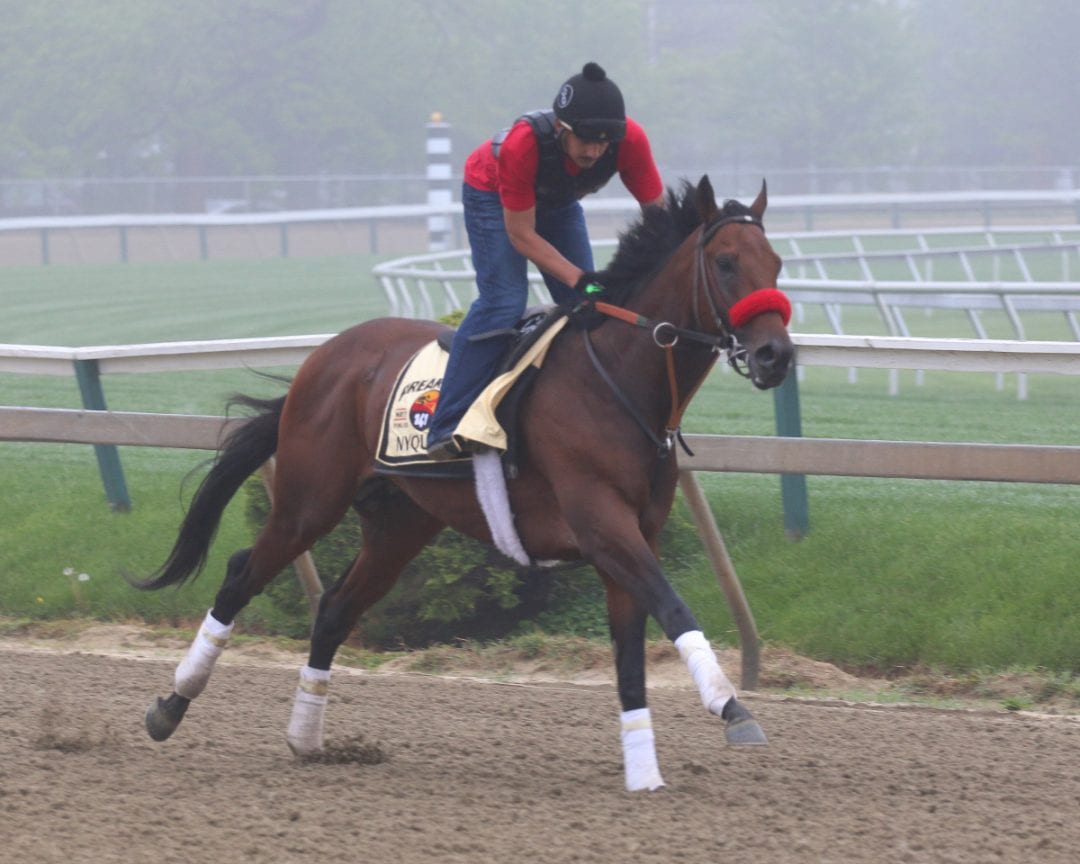 Nyquist on the track at Pimlico. Photo by George Adams.
by Frank Vespe
It's quiet at Pimlico these days, the horses that once populated the backside now mostly housed at Laurel Park, and those slated to race on May 20 and 21 generally still in Kentucky.
The calm before the storm.
That certainly seems to suit Nyquist, and trainer Doug O'Neill, just fine.
"It's like being at a training center," O'Neill marveled to the much smaller media scrum this morning.  "It's so tranquil and nice out there."
Nyquist, the undefeated Kentucky Derby winner, jogged and then galloped across the Pimlico surface this morning, nothing more than than a good stretch of the legs for a horse who already owns eight wins and nearly $5 million in purse earnings.
"[Exercise rider] Jonny [Garcia] was happy with him, which is the main thing," said O'Neill.  "He was much more relaxed early on in his gallop.  He finished up strong, he's cooling out super, so very happy with the way the morning went."
O'Neill gave much of the credit for Nyquist's apparent well-being — "he seems like a happy horse," he said — to Garcia.
"Jonny is so valuable," O'Neill explained.  "These horses really feed off our energy.  If you're not happy and excited and appreciative to be here every morning serving them, they sense that.  Jonny – he smiles, like the rest of us he feels very privileged to be able to ride horses for a living.  I think every horse he is able to get on really benefits from his horsemanship and his energy."
That certainly seems to be the case with Nyquist, who appears to be thriving in the aftermath of the Derby.
"He shipped in here to Pimlico with no troubles at all," the trainer noted.  "He's nice and settled in.  Our 24-hour security guard even commented on how much he's sleeping at night.  He's held his weight well, and I think that's credit to [jockey] Mario [Gutierrez] for giving him such a trouble-free, clean trip [in the Kentucky Derby] to be able to not use more energy than he needed to. The trip he got really helps us for the race here for sure.
"He's eating great — appetite's strong. Energy's great," O'Neill added, words that can't have heartened rival trainers.  "He's really relaxed here, had good energy on the track — so very happy with the way he's coming into it."
[su_youtube_advanced url="https://youtu.be/-IgCLtn2bpI" rel="no"]