O'Neill: Brother Dennis "has magic powers at the sales"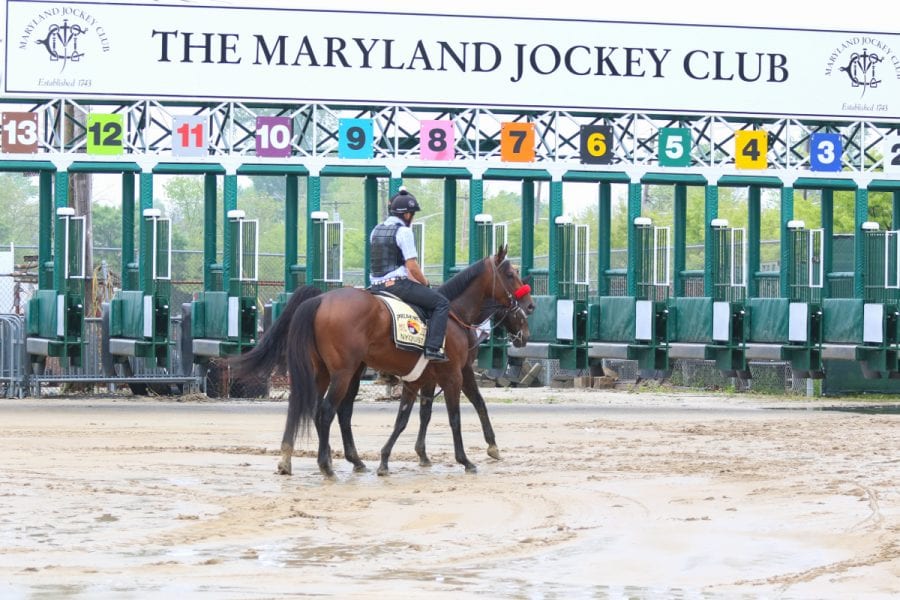 Nyquist on the track at Pimlico. Photo by George Adams.
Interview by Gary Quill
Back in 2012, trainer Doug O'Neill and his team arrived in Baltimore with a Kentucky Derby winner owned by Reddam Racing LLC and hopes of becoming the first Triple Crown winner in 34 years.
I'll Have Another, a chestnut Flower Alley colt, won the Preakness but was scratched out of the Belmont the day before, dashing that Crown dream.
A lot has changed since then — including American Pharoah's breaking the Triple Crown jinx after 37 years when he took all three races last year.
But not everything.
O'Neill and his team arrived in Baltimore this week, once again with a Reddam-owned Derby winner in tow, this time in the form of Nyquist, a brown Uncle Mo colt.  O'Neill says it remains the same team as it was in 2012.
And the man who picked out Nyquist — Doug's brother Dennis, whom he also called "my best friend" — is also the man who picked out I'll Have Another.  "He's got magic powers at those sales," Doug O'Neill said of his brother.  "I don't know what he does."
The return on investment for I'll Have Another was somewhat higher, it's fair to say.  He cost just $35,000 at auction as a two-year-old.  Nyquist, on the other hand, fetched a much heftier $400,000 at the Fasig-Tipton Florida Select two-year-olds in training sale last March.
But with eight wins in eight starts and nearly $5 million in the bank already, Nyquist is certainly doing his sharge.
"Nyquist is just another of those horses he's led us to that's just a special horse," said Doug O'Neill.
It was the third time Nyquist had been sold, fetching $230,000 and $180,000 as a yearling and a weanling, respectively.  And Doug O'Neill speaks with admiration of the skills required to pick a good horse out of a crowded marketplace.
"Those sales are like the NFL combine," he explained.  "You're just watching so many athletes that are very similar.  It's like splitting hairs."
Perhaps so, but the resultant difference is much greater: the gap between a $400,000 bust and a champion racer for whom the sky's the limit.
"It takes special powers to pick out the ones that are going to do it come game time," said Doug O'Neill.  "And Dennis has been brilliant at that."
[su_youtube_advanced url="https://youtu.be/t3bS7wf_8v0″ rel="no"]