John Servis to judge MHBA Yearling Show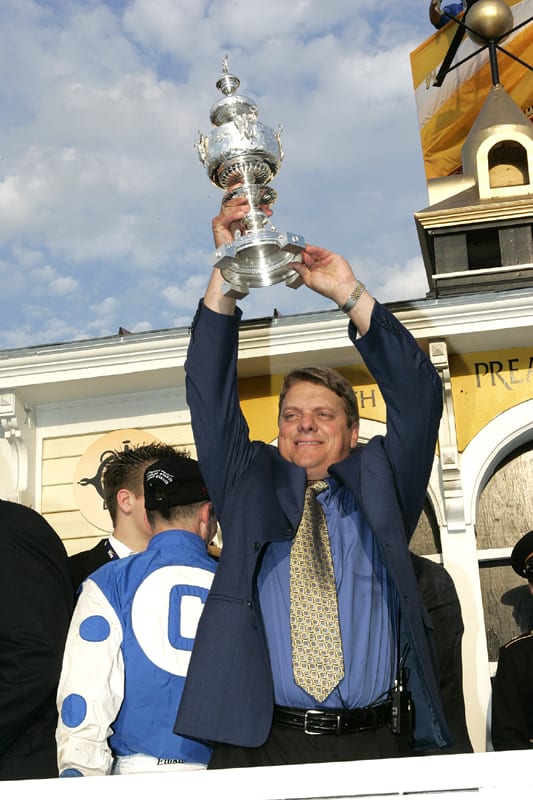 John Servis. Photo by Jim McCue, Maryland Jockey Club.
From a Maryland Horse Breeders Association release
Kentucky Derby-winning trainer John Servis, who sent out Maryland-bred Yearling Show graduate Cathryn Sophia to win this year's $1 million Kentucky Oaks-G1, will judge the 82nd annual Maryland Horse Breeders Association Yearling Show. Open to all yearlings eligible for Maryland-bred registration, the show will be held at the Maryland State Fairgrounds' Horse Show Ring in Timonium on Sunday, June 26.
Servis became only the 26th trainer in history to saddle the winners of both the Derby and the Oaks, and he did it with his only two starters. He sent Smarty Jones through an undefeated spring of 2004 which resulted in victories in both the Derby and Preakness Stakes. Smarty Jones was second in the Belmont Stakes for the only loss of his career.
A native of West Virginia, Servis took out his trainer's license in 1984. Based at Parx Racing, he has sent out the winners of more than 1,500 races and his runners have earned in excess of $45.5 million. Other top runners from his barn include Grade 1 winners Round Pond and Jostle, the latter one of the top 3-year-old fillies in the nation in 2000 after winning the Grade 1 Coaching Club American Oaks and Alabama Stakes.
The list of judges in the MHBA Yearling Show's long history is a who's who of renowned horsemen. The celebrated group includes 26 Hall of Famers and Triple Crown-winning trainers James "Sunny Jim" Fitzsimmons, Max Hirsch, Lucien Laurin and Billy Turner. Among Maryland-bred yearlings to have competed in the show are Eclipse Award-winning Hall of Famer Safely Kept, Eclipse Award-winning juveniles Smart Angle and Declan's Moon, and millionaires Urbane and Cherokee's Boy. Cathryn Sophia, exhibited by her breeder Bob Manfuso at the 2014 show, finished second in her class. The filly has earned just shy of $1 million from six starts to date.