'He's back': Ben's Cat rallies to win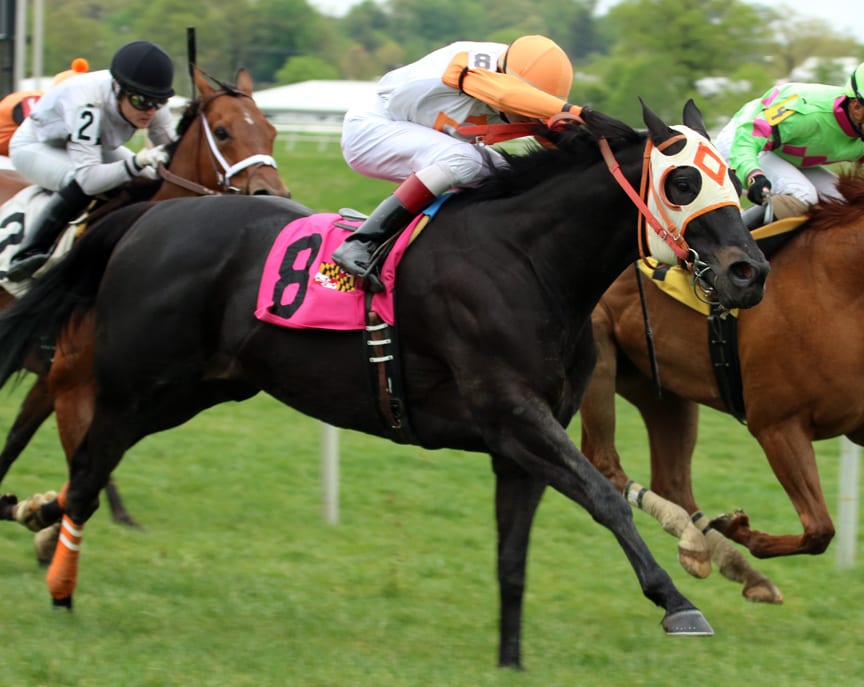 Ben's Cat. Photo by Laurie Asseo.
by Frank Vespe
For a moment, the normally loquacious King Leatherbury struggled for words.  But just for a moment.
"I wasn't worried about last year even though he tailed off a tiny bit at the end," he said.  "He's back.  The Cat is back."
Ben's Cat, the remarkable 10-year-old Parker's Storm Cat gelding who has been the Leatherbury barn's standard-bearer almost since his 2010 debut, made his 2016 debut a winning one when he rallied mid-track to run down Rapid Dan in the late stages and post a neck victory in a $52,000 allowance race this afternoon at Laurel Park.  That was the 31st victory of his remarkable career and pushed his lifetime earnings past the $2.5 million mark.
"We couldn't have wanted a better return than that," said Leatherbury while watching the replay.  "I mean, down the stretch, look at that."
Under Trevor McCarthy, Ben's Cat, breaking from the eight-hole, was wide throughout and launched his winning rally while five wide.  Rapid Dan, who led the field through a quarter-mile in 22.96 seconds and a half in 45.78, held on gamely for the place.  Night Officer, the Laurel Park track record-holder at the 5 1/2 furlong, grassy distance, loomed a threat entering the lane but had to settle for third, 1 1/4 lengths in arrears of the winner.  Running time was 1:03.21 over a track rated good.
For McCarthy, the leading rider during the current Laurel Park stand, it was his first chance to pilot Maryland's most popular runner.  Julian Pimentel had ridden Ben's Cat in every one of his prior starts since May 18, 2012.
"It's a big opportunity for me," said McCarthy, who thanked Leatherbury, assistant trainer Avon Thorpe, and the barn's team for their work on the spry old-timer.
Ben's Cat, under steady left-handed urging, closed a 3 1/2 length gap in the final furlong.
"He's an extremely good horse, probably one of the best horses I've ever been on," McCarthy said.  "I mean, when he kicked, he kicked."
Ben's Cat is a product of a long Leatherbury connection and is himself a Leatherbury homebred.  He is out of the Thirty Eight Paces mare Twofox — both runners that Leatherbury himself trained.  He is also a half-brother to near-millionaire Ah Day.
In four seasons prior to this one, Ben's Cat had posted three wins and a second in his season debuts.  His Beyer speed figures in those season-openers had been 91, 91, 92, and 91 — the very picture of consistency.  Leatherbury, for one, is hopeful this season will bring more of the same.
"He looks just like his old self," the octogenarian Hall of Famer said.  He said Ben's Cat would next be pointed at the Jim McKay Turf Sprint Preakness weekend — "that's my race, man!" — and then likely head to Penn National for the Pennsylvania Governor's Cup.
McCarthy said he's ready.
"He goes out there, he has fun, and he gives it his all," the rider said.