Seeking Treasure sets Laurel record in Dahlia win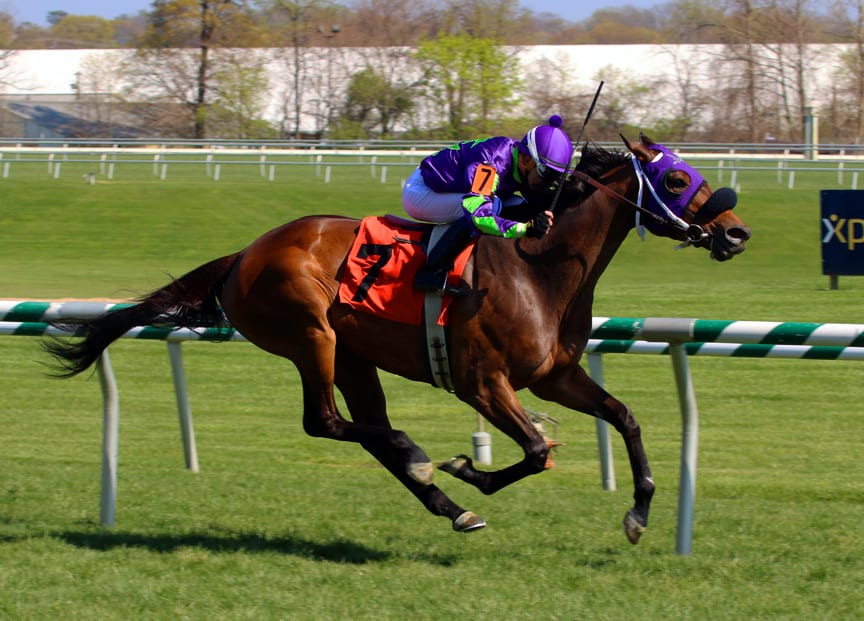 From a Maryland Jockey Club release
Trapped behind a wall of horses, Steven E. Frum's Seeking Treasure found a seam in deep stretch to split rivals and sprint clear to a record-setting upset of the $75,000 Dahlia Stakes Saturday at Laurel Park.
Ridden by jockey Alex Cintron, subbing for the injured Julian Pimentel, Seeking Treasure ($26.60) hit the wire in 1:33.99 for one mile over a firm turf course, breaking the previous track record of 1:34.17 set by Sweet Talker on April 15, 2006.
Seeking Treasure's mile is the fastest recorded over Laurel's Bowl Game Turf Course.  The track has five different turf "courses," created by moving the temporary rail in or out.  The fastest turf mile ever recorded at Laurel, 1:33.30 by Saint Pierre in 2012, came over the Kelso Course.
It was the seventh win from 32 lifetime starts and first in a stakes for Seeking Treasure, a 6-year-old mare who was second by two lengths as the favorite in her only previous try over the Laurel grass, a 1 1/16-mile allowance Nov. 1.
"We haven't been able to catch a fast turf track for quite a while," Frum said. "She really likes it this way."
Sent off at 12-1, Seeking Treasure was reserved in the early going under Cintron as Gypsy Judy took the field of nine older fillies and mares through a quarter-mile in 23.48 seconds and a half in 46.48 tracked by narrow 3-1 favorite Hope Cross and Nakuti to her outside.
Gypsy Judy was still in front after six furlongs in 1:10.42 as Nakuti began to launch her bid with Hope Cross and Bride to Be in contention. Stuck with horse underneath him and no room to run, Cintron patiently waited until Gypsy Judy began to fade and surged between her and Nakuti in the final eighth of a mile.
Seeking Treasure finished a half-length ahead of Ginger N Rye, who came with a dramatic late rush down the center of the course to get second. Nisharora, All in Fun, Bride to Be, Nakuti, Silverville, Gypsy Judy and Hope Cross completed the order of finish.
"My horse he has showed speed before. I had instructions that if the pace was slow I could be in front, and if the pace was fast I can be far back," Cintron said. "I got a good trip to the quarter pole and then I got stuck in traffic. Thankfully at the eighth pole I found some room and she just took off."
Seeking Treasure's best previous black-type finish came when second by a nose in the Kentucky Downs Ladies Sprint Stakes behind Grade 2 winner Sky Treasure last September, one start prior to her runner-up finish at Laurel.
Purchased by Frum for $4,500 as a 2-year-old in January 2012, Seeking Treasure earned $45,000 for the win to push her career bankroll to $314,629.
"She just barely got beat at Kentucky Downs in the big race there," Frum said. "She likes seven furlongs, a mile, a mile and a sixteenth. We'll see what pops up next."