Karamanos thriving with top mounts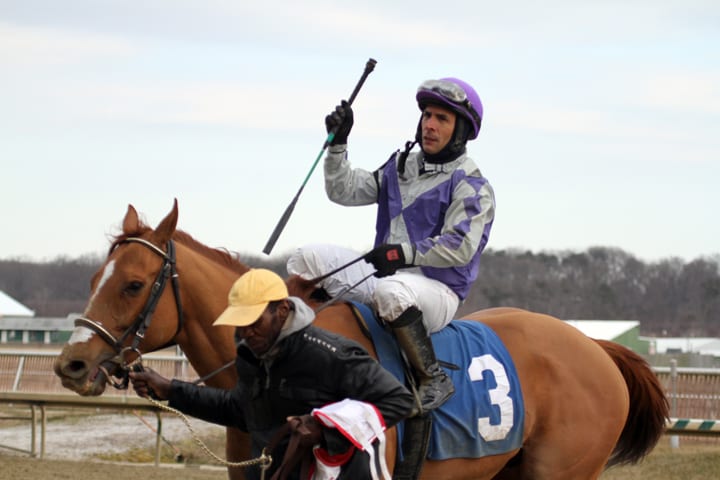 From a Maryland Jockey Club release
Horacio Karamanos rode his first winner in the United States back in 2000, when he guided Hallow Connection home to victory at the former Calder Race Course. Even though it came after Karamanos had already been one of the top riders in his native Argentina, where he won more than 1,500 races before moving his tack to South Florida, he remembers it like it was yesterday.
"It was for Walter Canessa, the trainer. He's from Chile," Karamanos said with a smile. "It was my first win in the United States."
Karamanos would go on to win 32 races during his first year in the U.S. and upon taking his business to Maryland in 2002 has established himself as one of the circuit's most successful riders. He's currently the regular rider for graded-stakes winners Page McKenney and Lady Sabelia, and he won three races Friday at Laurel Park.  He has 20 mounts lined up for this weekend.
Approaching 1,900 career wins, the majority of them coming in Maryland, Karamanos won Laurel Park's summer meet and finished third overall in the state standings with 169 victories in 2002. Overall, he ranked 24nd in North America in wins in 2002 while setting career highs with 237 wins and more than $5 million in purse earnings.
In addition to three other riding titles in Maryland, Karamanos also won six riding titles at Colonial Downs, including three straight from 2007 to 2009. In 2007, he won the Virginia Derby (G2) aboard long shot Red Giant for seven-time Eclipse Award-winning trainer Todd Pletcher.
Especially known for his talents riding on the turf, Karamanos is a multiple graded-stakes winning jockey on both the turf and dirt. On March 26 at Laurel Park, he captured the $75,000 Primonetta Stakes by a half-length aboard Lady Sabelia, giving the horse and rider team its fifth stakes win (including the Barbara Fritchie (G2) last February) since January 2015.
Lady Sabelia's trainer, Robin Graham, has a special appreciation for Karamanos' skill set.
"He gets along with fillies really well," Graham said. "I know he rides the colts well, too, and he gets the whole idea of getting them to relax and then finish well. I think that's the biggest thing with any of them."
Karamanos had two other wins on the March 26 program and his early patience and strong finish were on clear display in the sixth race, in which he rallied aboard first-time starter Proud to Say to win a 5 ½-furlong turf race for trainer Mary Eppler.
"One of the things in a race, like you saw the other day [with Proud to Say], he was coming up in the hole, the hole closed and he took another course. He's ready to adjust at any time," Eppler said.
Like with Graham and Lady Sabelia, Karamanos and Eppler have had a lot of success together recently with Page McKenney.
Karamanos is riding a four-race winning streak aboard the 6-year-old gelding, all in stakes, including the General George (G3) at Laurel Park Feb. 15.
"I really like Horacio, he rides well for me," Eppler said. "I think he excels on turf. I think he's probably the best rider we have in Maryland on the turf."
"He's almost unbeatable on the grass," Graham agreed.
Karamanos, who is currently third in Laurel's winter meet standings with 33 wins and fourth with nearly $1.1 million in purse earnings, is thankful for the opportunities to ride Page McKenney and Lady Sabelia.
"Right now, both horses are having very good moments," Karamanos said. "Page McKenney ran big last time and he is very good. And, Lady Sabelia, you know her, she's very good right now."
Page McKenney is being pointed to the Charles Town Classic (G2) April 23, while Lady Sabelia's next main target in the Skipat Stakes May 20 at Pimlico Race Course on the Black-Eyed Susan (G2) Day undercard.
In addition to Lady Sabelia, Page McKenney and Red Giant, Karamanos has also won graded stakes aboard Secret River in the 2002 All Along Breeders' Cup (G3), Bending Strings in the 2004 Safely Kept Breeders' Cup (G2) and London Lane in the 2013 Colonial Turf Cup (G2). He is represented by agent Frank Douglas.
"I feel good, I ride for good trainers and I ride good horses," Karamanos said. "I have a good agent and I'm confident with what I do."