Cathryn Sophia takes connex back to "big stage"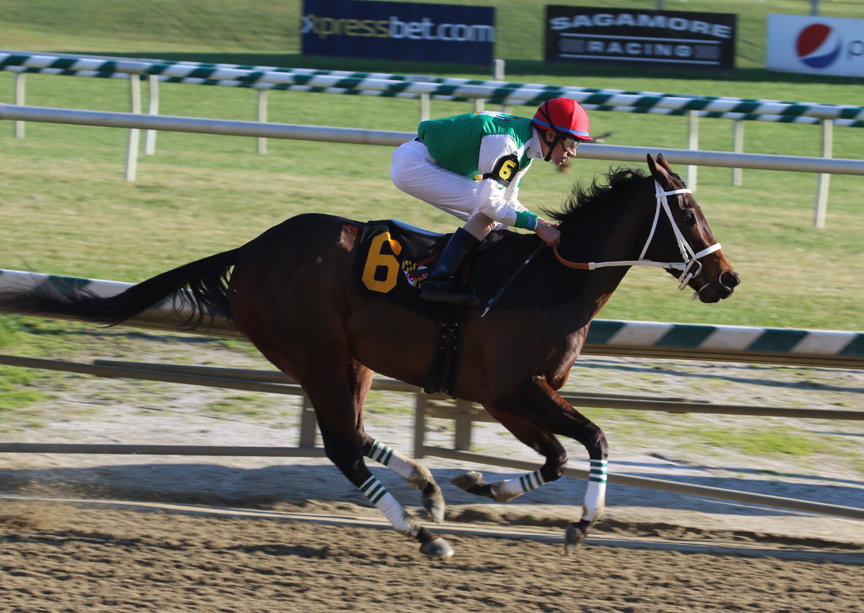 Photo of Cathryn Sophia winning the Gin Talking at Laurel Park by Laurie Asseo.
by Teresa Genaro
As a yearling, the bay filly wasn't terribly remarkable. Her breeder, Robert Manfuso, thought that the modest $30,000 she brought at 2014 Fasig-Tipton Midlantic fall yearling sale was a fair price, and when she got to the barn of trainer John Servis, his assessment of her was frank.
"I wasn't impressed," he said, sitting in his office at the Palm Meadows training facility in Boynton Beach, Florida last month. "She's not going to sweep you off your feet when you look at her. She's crooked, and she can be a little bit of a handful."
Named Cathryn Sophia by owner Chuck Zacney, that unexceptional-looking Maryland-bred filly has run her way to an undefeated record and favoritism in the Grade 1 Ashland at Keeneland on Saturday, winning her four starts by a combined 40 1/2 lengths, most recently taking the Grade 2 Davona Dale at Gulfstream Park in February by seven..
And while Zacney liked her looks and catalog page at the sale and was pleasantly surprised that she didn't bring a higher price, he never dreamed that she'd be his Kentucky Oaks filly.
"She's not real big, but she looked well balanced and she had a good head on her shoulders," he said. "She looked athletic and for $30,000, it was worth taking a chance. But I never expected this."
Sent to Eisaman Equine in Florida, she didn't necessarily distinguish herself there, either, Zacney saying that he didn't exactly receive "glowing reports" about her early training. Some early minor issues resulted in a few setbacks, but, said Servis, she's been well worth the wait.
"The first time we really got to set her down and let her breeze a little bit," he said, "My son and I looked at each other and we were like, 'Whoa. That was pretty impressive.'"
Something of a handful in the mornings, when she has to be chased around her stall by Servis and grooms armed with cookies and peppermints, she greets a visitor with equanimity, then rests her head against her trainer's shoulder.
"She can be grumpy in the morning," he said. "She's sweet later on."
On Saturday, as the even-money choice, she'll face only four rivals, but two are graded stakes winners: Rachel's Valentina, winner of the Grade I Spinaway at Saratoga and a distant second to Songbird in the Breeders' Cup Juvenile Fillies, and Carina Mia, making her first start since winning the Grade 2 Golden Rod at Churchill Downs last November. Rachel Valentina hasn't raced since the Breeders' Cup last October.
But Cathryn Sophia's greatest challenge may come not from one of her rivals, but from the Ashland's 8 1/2-furlong distance. Though her pedigree is filled with stamina—she's by Street Boss out of a Mineshaft mare—she's yet to run beyond a mile or around two turns.
Servis is unconcerned.
"Early on, I didn't really think she'd go that far," he admitted. "But the way she's run the last couple of times, I don't think it's going to be an issue. We did a little better than a two-minute lick around both turns [at Palm Meadows] to see how she'd handle it, and she was awesome."
Manfuso has bred four generations of Cathryn Sophia's family, which has, he said, the one dimension all breeders and buyers want to be able to identify.
"They want to be racehorses. They give you that extra effort that makes them kind of special," he said. "That's what you see in this family."
Cathryn Sophia's dam Sheave will be bred back to Street Boss this year.
Both Servis and Zacney are familiar with the anticipation of bringing a horse to Louisville on the first weekend in May. Servis trained Smarty Jones to Kentucky Derby victory in 2004; the following year, Zacney and his partners watched their Afleet Alex finish third in the run for the roses, beaten just a length. Both horses ended up winning two legs of the Triple Crown.
Cathryn Sophia sits at fourth on the Kentucky Oaks leaderboard with 60 qualifying points; she'll add 100 to that total if she wins the Ashland, but even if she loses, she's got more than enough points to be guaranteed a spot in the 14-horse field on May 6.
"It's exciting to be back on the big stage again," said Zacney, who runs in the name of Cash is King and named the filly for his niece. "To win two Grade 2 races at Gulfstream was really a lot of fun."