Maryland equine fatality rate drops 37 percent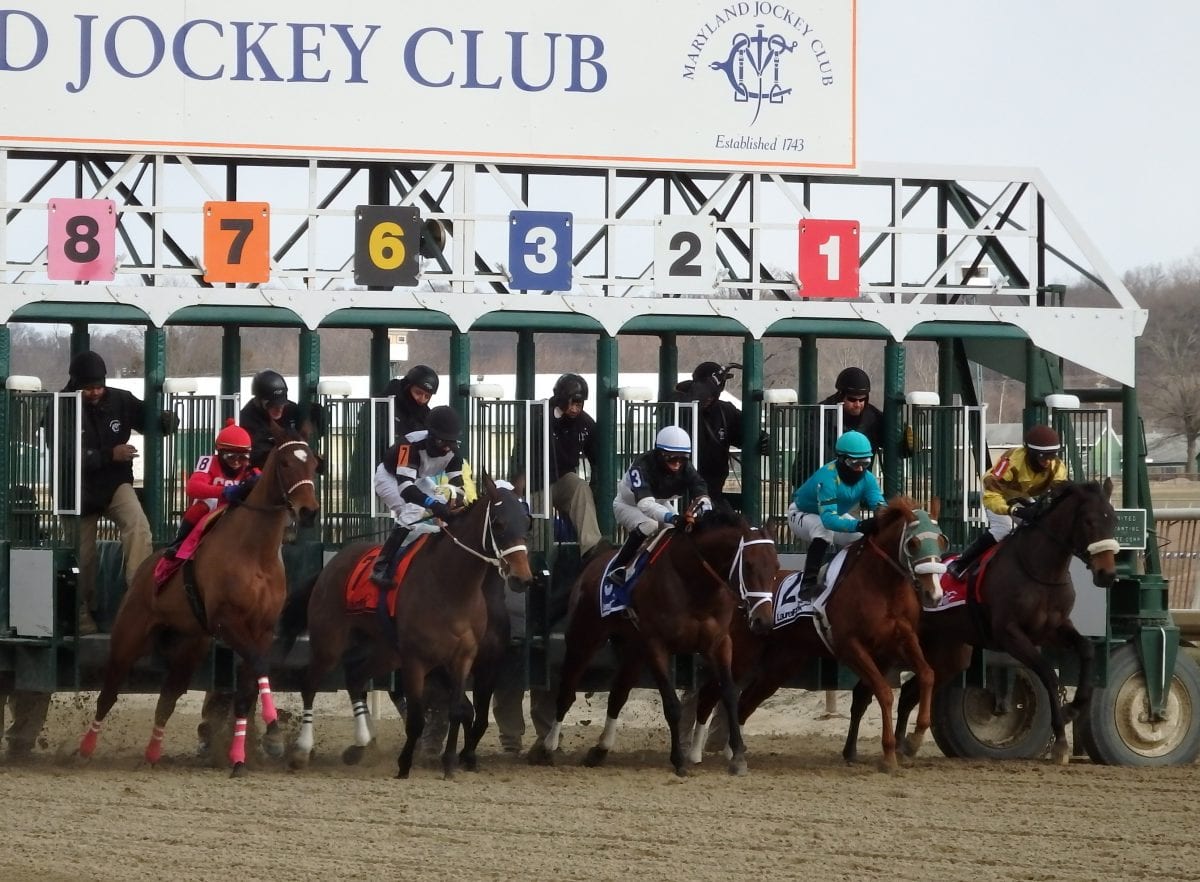 by Frank Vespe
The incidence of equine fatalities in Maryland fell to its lowest rate since 2011 in 2015, according to data from The Jockey Club released last week.
The combined fatality rate at Laurel Park and Pimlico Race Course dropped to 1.35 deaths per 1,000 starters. That was a 37 percent drop from the 2014 rate and also 17 percent below the 1.62 national figure. Maryland has averaged 1.97 deaths per 1,000 starters over the last seven years.
Nationally, the Jockey Club reported 1.62 fatalities per 1,000 starts, its lowest rate since it started publishing data from the Equine Injury Database in 2009.
The data, from the Jockey Club's Equine Injury Database, includes "fatal injuries of Thoroughbreds that occurred during a race as reported by veterinary officials and includes Thoroughbreds that succumbed to a race-related injury within 72 hours after the race day."
Elsewhere in the mid-Atlantic, Delaware Park saw its fatal injury rate tick down slightly, to 2.47 per 1,000 starters, after hitting 2.58 per 1,000 starters in 2014. That number was a bit higher than Delaware's seven-year average of 2.25 fatalities per 1,000 starts.
Other mid-Atlantic tracks — Charles Town, Monmouth Park, Parx Racing, and Penn National — did not make summary fatality data available through the Jockey Club program. Presque Isle Downs, in Erie, PA, runs on a synthetic surface and has had a stellar safety record throughout the seven years of the Equine Injury Database; in 2015, its fatality rate was one horse per 1,000 starters.
"I'm tickled to death," Maryland Jockey Club president and general manager Sal Sinatra said of the drop in fatalities..
The frequency of fatalities on the two major Maryland tracks has fallen by more than 52 percent since 2013, when a spate of deaths at Laurel Park prompted the state Racing Commission to convene a health and safety committee and take a number of steps designed to promote equine and human safety.
"While even one fatality is too many, we believe the dramatic decrease in fatalities since the Commission, along with its health and safety committee, the horsemen, and the racetrack, took remedial steps is a good sign," said Maryland Racing Commission member Bruce Quade, the chairman of the Commission at that time. "We will continue to be vigilant in taking whatever steps we need to take to protect the safety of our equine and human athletes."
Quade particularly cited Commission executive director Mike Hopkins and commissioner David Hayden for their work on the health and safety committee.
In the face of a Laurel Park fatality rate that topped three horses per 1,000 starters in 2013, the Commission-adopted reforms included stricter pre-race vet checks and a void-claim rule when horses die on or are vanned off the racetrack. It also moved quickly to become one of the first states to adopt the full suite of multiple medication violation rules recommended by the Association of Racing Commissioners International.
Sinatra attributed the decline in part to three factors.
"One was we used more turf, which tends to be a safer surface," he said. "And two, you're starting to see the long-term effects of the new drug rules."
The third, he said, is good fortune that came disguised as bad: difficult weather during the early part of 2015 led the track to cancel numerous days of racing in February and March. That was precisely the time period in 2013 when Laurel Park experienced an unusual increase in equine fatalities. This year, the track took a three-week hiatus following its Presidents Day card.
The Maryland Jockey Club's efforts to improve field size — which increases wagering and is thus good for business — have led it to card an increasing number of grass races. Turf starters accounted for nearly 33 percent of starters in Maryland last year — up from less than 24 percent in 2014, and nearly double the 16.8 percent of grass runners Maryland hosted in 2009.
And the turf fatality rate in Maryland since 2009 has been just about half of the dirt fatality rate: 1.1 per 1,000 starters versus 2.2 on the main track.
In addition to the Commission's actions on medication, Sinatra noted that the track itself has adopted a house rule that trainers of claimed horses must provide the state veterinarian a record of all joint injections the horse has received in the 30 days prior to the claim. That rule, Sinatra said in January, is meant to protect the kind of warhorses that populate most tracks' cards on most days.
"It's been the biggest thing when horses wind up in the retirement circle," Sinatra said at the time. "Most of the things you hear about are horses being young and arthritic in their joints, and I think it's just because people are trying to relieve pressure on these horses and they're being overdone."
This change, he said, enables trainers to see that, if a horse had received an injection shortly before the claim, there is no need to do another one immediately. He said that it benefits "the horses that are being traded around."
Sinatra said that the Maryland Jockey Club had had Dr. Mick Peterson, the executive director of the Racing Surfaces Testing Laboratory at the University of Maine, in to test the Laurel Park surface last year, which he found to be "in good shape."
He said that the plan is to get Peterson down in April to ensure the Pimlico surface is ready for the Preakness meet.
| | | DELAWARE PARK | | LAUREL PARK | | PIMLICO RACE COURSE | |
| --- | --- | --- | --- | --- | --- | --- | --- |
| | | Fatalities | Per 1000 starters | Fatalities | Per 1000 starters | Fatalities | Per 1000 starters |
| 1 | 2015 | 12 | 2.47 | 8 | 0.97 | 7 | 2.43 |
| 2 | 2014 | 11 | 2.58 | 17 | 2.22 | 5 | 1.86 |
| 3 | 2013 | 6 | 1.31 | 25 | 3.18 | 5 | 1.87 |
| 4 | 2012 | 14 | 2.76 | 17 | 2.01 | 4 | 1.67 |
| 5 | 2011 | 20 | 2.98 | 8 | 1.02 | 3 | 1.33 |
| 6 | 2010 | 13 | 1.71 | 21 | 2.46 | 4 | 2.54 |
| 7 | 2009 | 15 | 2.02 | 17 | 1.98 | 3 | 2.02 |