FOR JOHN VELAZQUEZ, AN AUTHENTIC CHANCE AT FIRST PREAKNESS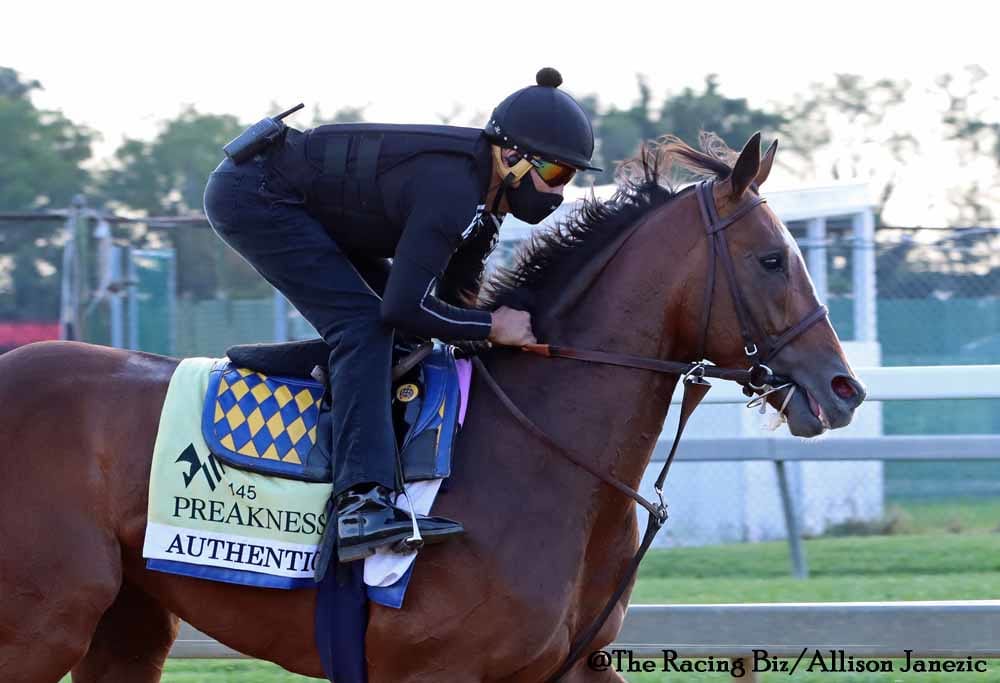 "I'm getting more press than the winner," Velazquez said after War of Will won last year's edition.
This Saturday he's on the favorite, Authentic, who won the Kentucky Derby four weeks ago, a race that brought clouds to a clear three-year old Horse of the Year coronation of Tiz the Law.
"[Bodexpress] was not behaving good in the gate," Velazquez said last year on the NBC telecast. "He wasn't standing really well, and he had me against the wall in the gate. When the doors opened, I was kind of off right from the start, and he kind of jumped sideways. I had my feet out of the irons, and I lost my balance and I went off."
The Preakness is the only jewel missing from the Velazquez triple crown, which already includes three Kentucky Derby wins and two Belmont scores. Other than perhaps the Breeder's Cup Classic, also a possibility for Authentic, the Preakness is the biggest single victory missing on his racing resume.
Though the Kentucky Derby was Velazquez's first race aboard Authentic, he rode him as if he'd known him all his life. Watching tape and getting good instruction from trainer Bob Baffert proved to be a winning combination.
"I was hoping that my horse reacted," Velazquez explained on the September 12th edition of Off to the Races radio. "I waited for Tiz the Law to come right next to me and make sure my horse engaged him. I watched the Haskell and other races. My horse has things he likes to do when he's down in the lane. You can see him duck and wait for competition. This time I waited for the horse to came to me instead of opening up before they came to me."
Velazquez, fortunately not so experienced that he would pass on advice from trainer Bob Baffert, said some insight from the Hall of Famer trainer about stick use helped.
"When he came to me, he was engaged to be competitive," continued Velazquez. "Once I got to whip lefthanded, he responded right away. That's what was different between the Haskill and the Derby. He was engaged earlier in the race and then he had competition down the lane, so he understood what the business was."
Along with Animal Kingdom and Always Dreaming, Authentic's Kentucky Derby win was the third for Velazquez, who appears to win with "A"s in the Run for the Roses. Velazquez must have earned "A"s often as a graduate of the Escuela Vocacional Hipica Agustin Mercado Reveron jockey school in Puerto Rico, but not right away.
"I didn't grow up around the racetrack but I grew up around horses," remembered Velazquez. "I knew a little bit about horses, but it was totally different going to the jockey school. You get there and you think you about horses and you know nothing. It was totally different than what I was used to."
Such as riding in a saddle, something he hadn't done until going to school. Velazquez admitted that he went from being quite green upon entering the school to well-instructed upon leaving it.
"You learn from the bottom up and also go through stages to pass from galloping on the main track to racing horses to breaking from the gate," Velazquez stated. "Two months before you graduate you do practice races in the morning, riding with full gear as a jockey, weighing in and weighing out, everything without the public. Then before graduation you ride practice races in the afternoon for the kids to get use to fans and everyone else. I learned a lot. It's a great program they have. You go to classes as well to learn about horses, to learn English. I'm very proud to have been in the school. Without the school, I would not be here."
Now Authentic may provide Velazquez with the best opportunity to gather his elusive Preakness in his 10th attempt. Twice he's finished second with Itsmyluckyday in 2013 and Kentucky Derby winner Animal Kingdom in 2011.
Though Tiz the Law is sitting this one out waiting for the Breeder's Cup Classic, Velazquez will find much more company in the Preakness with Art Collector, filly Swiss Skydiver, and even perhaps Baffert stablemate Thousand Words making sure Authentic's not too lonely going up the Pimlico backstretch.
"I'm gonna play it the same way like we did in the derby. I'm gonna see who wants to, you know, go to the lead," Velazquez said Thursday after winning the Grade 3 Chick Lang with Yaupon. "I know that my horse is fast, and I'm not going to give it away. So if they need to go to the lead, they need to run fast enough where I don't have to, you know, take a hold of my horse. If I have to let him go a little more quickly before we pass under the wire the first time just to put the pressure to them, and if they want to take it, take it, and if they don't go on, I ended up on the lead, as well."
Whatever the outcome he'll relish another opportunity going from a quick "Bodexpress" exit to having an "Authentic" chance. It must have been quite a sight to see the 2019 Preakness field getting smaller in front of you while standing in the dirt.
LATEST NEWS