Artful Splatter retains Geisha title as Commission rejects Robb appeal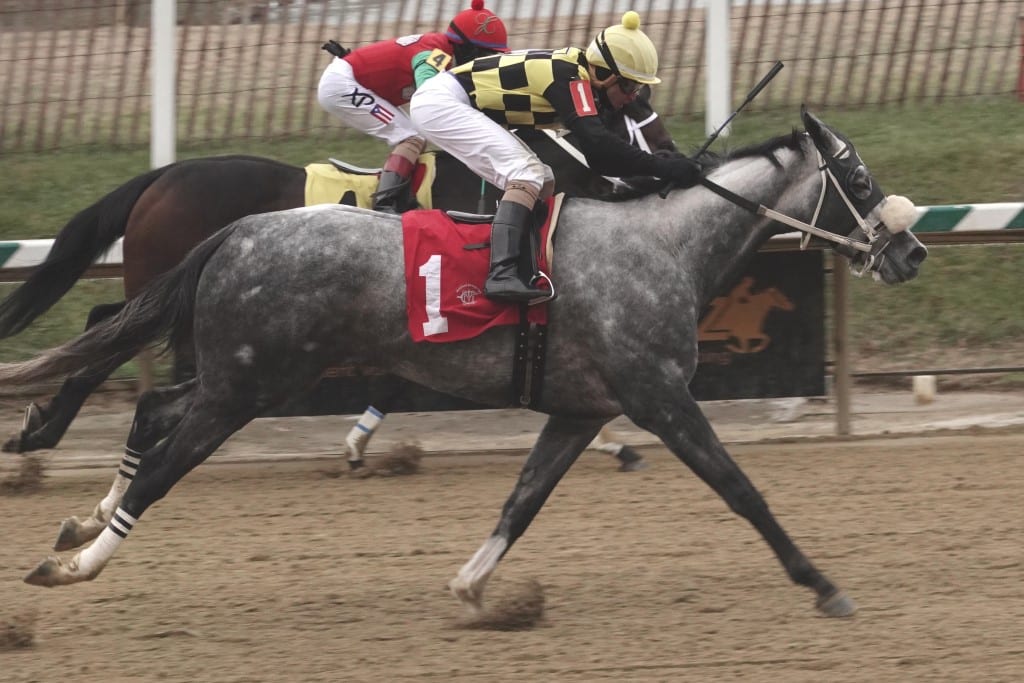 Artful Splatter (outside) withstood the late run of Anna's Bandit (inside), and objections by the latter's trainer and jockey, to win the Geisha Stakes at Laurel Park. Photo by Laurie Asseo.
It took nearly five hours and a hearing that was equal parts testy and tedious to reach a conclusion that many – including the appellant himself – expected all along.
But in the end, the Maryland Racing Commission decided unanimously Thursday to uphold its stewards' decision in the Geisha Stakes; first-across-the-wire Artful Splatter remains the winner. The "official" written decision is expected within 30 days.
That decision may not be the last word, however.
"I had a briefcase full of evidence that I wasn't allowed to use," trainer-owner John Robb said afterwards. "I can't lose if I can put the evidence in."
That means, he said, that he will likely appeal the case to the state circuit court.
The case arose following the one-mile Geisha January 18. Anna's Bandit, a horse Robb trains for his and wife Gina's No Guts No Glory Farm, was rallying in the middle of the track late in the contest under regular pilot Xavier Perez.
Leader Artful Splatter, ridden by Alex Cintron for trainer Kieron Magee and owner Jim Wolf, veered several paths to her right under left-handed encouragement from Cintron.
Anna's Bandit then dove down to the inside, switching to her left – incorrect – lead in the process, before subsequently switching leads back to her right and then finishing strongly to finish a half-length short.
Robb and Perez both filed objections, and the stewards also lit the inquiry light. But after a lengthy delay, the stewards dismissed the claims of foul and left the order as is, with Artful Splatter in first and Anna's Bandit in second.
The stewards – who also had decided unanimously – primarily believed there was sufficient clearance between the two horses when Artful Splatter came across in front of Anna's Bandit. They also felt that Anna's Bandit had come in slightly herself.
"The question you have to decide is whether there was sufficient clearance, and there was," attorney Steve Allen argued in closing. He represented Wolf, the owner of Artful Splatter. "Anna's Bandit lost the race, but it wasn't because Artful Splatter came over."
Robb argued that evidence of past races was critical to his case. Specifically, he noted that Anna's Bandit had a tendency – demonstrated on her past performances – to finish strongly.
And he argued that Cintron knew, or should have known, that his horse would duck out when struck left-handed. In two very recent prior races, the chart does note that Artful Splatter had "drifted" or "wandered" out from the rail towards the middle of the track during the stretch run.
He also had what he said were messages from Hall of Fame jockeys Chris McCarron and Ramon Dominguez supporting his case.
But the Commission – through a seemingly never-ending series of objections – refused to permit evidence of past races, deciding that it must keep its focus simply to what happened on the track on January 18.
"The evidence really comes down to the film" of the race, said Maryland Assistant Attorney General Catherine Bellinger, who represented the stewards in the case.
What he saw on the film, former jockey Vincent "Jimbo" Bracciale said, convinced him that Artful Splatter interfered with Anna's Bandit.
Bracciale, who won over 3,500 races in a lengthy career, disagreed with Allen, who suggested that perhaps Anna's Bandit merely switched leads because she was tired.
"She had enough strength to put herself back on [the correct lead] again," he pointed out.
But he demurred when asked whether he thought the foul had changed the outcome of the race.
"I don't think I should be the person to make that decision," he told Allen.
Bracciale's testimony occasionally spurred chuckles. On multiple occasions, he interrupted the attorneys to flesh out his points, and all three lawyers had to ask how to pronounce his last name.
For good measure, Allen ended his cross-examination of Bracciale by saying, "Just a couple last questions, and I'll be done," followed by a few seconds of silence and then, "No further questions."
With some of what Robb considered to be vital evidence left on the shelf, his attorney, Lorraine Lawrence-Whittaker argued in part that the rules of the race are impermissibly vague. There is no standard of what "intimidate" means, she pointed out, or what constitutes "sufficient clearance."
Without standards, it's left to jockeys to police themselves, she added, and they are inclined to push the envelope to increase their chances of winning.
"This is a tragedy waiting to happen," she told the Commission. "This rule, the way it's being applied, is amorphous, and it needs to be tightened up."
Perhaps so, Allen replied. "But that's for a different day."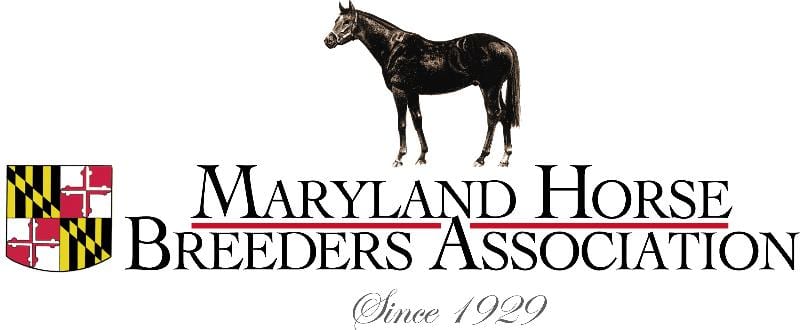 On February 27 the Maryland Horse Breeders Association will host a talk with Alvin Stone, author of a book about and son of longtime groom Stoney Stone.