FASIG-TIPTON MIXED ODDS 'N' ENDS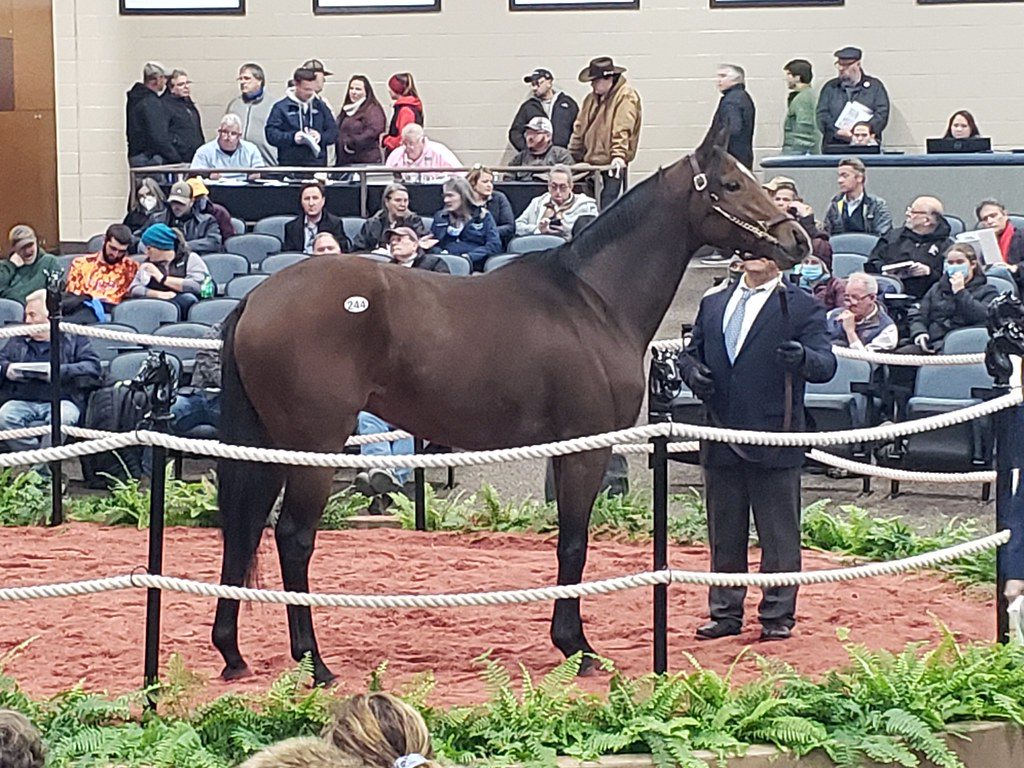 BUSY BESECKER
Owner Joe Besecker figured to make a splash and did so, sending 84 horses through the ring at Tuesday's mixed sale. Twenty-six of them didn't find a new home, but 58 others did. They brought Besecker just shy of $1.2 million in revenue.
For good measure, in addition to the 26 he didn't sell, Besecker also bought a weanling filly by Hoppertunity and a mare in foal to Great Notion. Besecker's sales horses all were consigned by Northview Stallion Station (David Wade).
BACK HOME
One of the Besecker Battalion to sell was Buff Hello. The two-year-old Buffum colt won the Maryland Million Nursery this fall, has earned nearly $100,000 in his short racing career, and brought a top bid of $95,000. That all makes for a nice return on Besecker's $26,000 purchase price a year ago.
And Buff Hello shouldn't take long to acclimate to his surroundings. He was purchased by Euro Stable, a client of trainer Claudio Gonzalez. Gonzalez trained Buff Hello for Besecker.
YOU'RE THE TOP
The sale topper was, yes, a Besecker product. New York-bred Safalow's Mission brought a top bid of $130,000 from Linda Rice as agent for Thelma and Louise Stable.
Safalow's Mission has raced twice, finishing second and third against restricted maidens at Belmont and Aqueduct. Safalow's Mission is a two-year-old gelding by Mission Impazible.
NOT THIS YEAR(LING)
It was a tough year for the yearlings, at least at this sale. The 11 yearlings through the ring fetched a total of $94,000. That was good for an average of just $8,545 – the lowest of any group of horses.
On the other end of the spectrum were the 12 racing/broodmare prospects, who brought an average of $23,416, the highest.
STATELY
The top Midlantic-breds by state:
Maryland: Money Fromheaven, consigned by GreenMount Farm as agent, brought a top bid of $120,000 from Stoneriggs Farm. The stakes-winning Munnings mare was sold as a racing or broodmare prospect.
New Jersey: Hip 174, a weanling filly by Irish War Cry, brought a top bid of $10,500 from MCA Racing Stable. She was consigned by Northview Stallion Station (David Wade) as agent.
Pennsylvania: Pennsylvania-bred Buff Hello (see above) was the Keystone State's top seller.
Virginia: Hip 148, a weanling Include colt, brought a winning bid of $25,000 from BTR Racing Inc. He was consigned by Morgan's Ford Farm and has plenty of black type under his third and fourth dams.
West Virginia: Cary Frommer paid $36,000 to acquire Hip 201, a weanling Midshipman filly who was consigned by Gracie Bloodstock as agent.
FAMOUS SIBS
A couple of horses with pretty notable siblings went through the ring.
Ferris Allen paid $52,000 to acquire Cosmicality, who was Hip 346. Cosmicality, a three-year-old Broken Vow colt, broke his maiden on the turf in his most recent start, his first try on turf. He's a half-brother to likely Horse of the Year Knicks Go and was consigned by Gracie Bloodstock as agent.
Hip 369, a three-year-old Uncle Lino gelding who was fourth in his only start to date, is a half-brother to the multiple stakes winner Chub Wagon. He was consigned by Daniel Lopez and George Chestnut to dissolve a partnership and was purchased, for $25,000, by Charles Zacney.
And Late Night Larry, Hip 392, went for $8,000 to SAB Stable Inc. He was consigned for Joe Besecker by Northview as agent. Late Night Larry, an unraced Not This Time gelding, is a half to five stakes horses, including Grade 2 winner Bern Identity.
LATEST NEWS